It's hard to imagine, but there used to be a time when I didn't drink coffee. As a young woman in my early twenties, I didn't need it to get me up in the mornings. In fact, I scoffed at the poor saps who were dependent on their daily caffeine fix. Now, at the ripe old age of thirty, I am a full-fledged coffee addict. My drink of choice is a cappuccino, but after making these cupcakes, I'm beginning to think that I might replace my morning usual with these. They're like coffee and a muffin(ish) all in one. That makes for a well rounded breakfast, and they're vegan, so they're guilt free, right?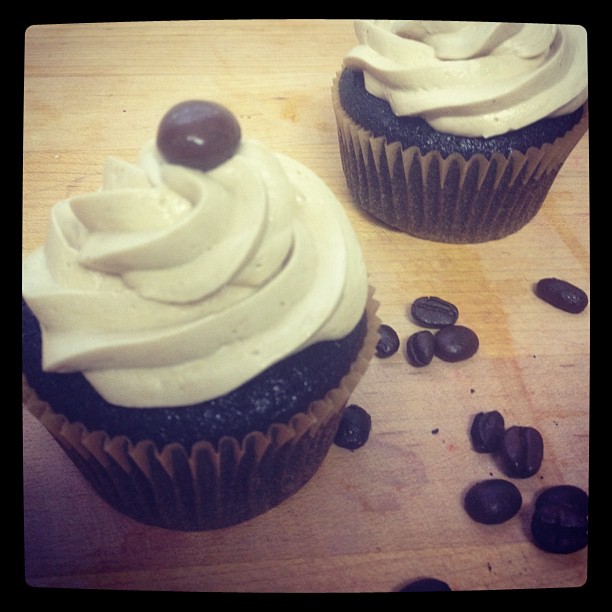 Vegan Mocha Cupcakes with Espresso Buttercream Frosting
Adapted from Vegan Cupcakes Take Over the World.
makes 12 cupcakes
Mocha Cupcakes
1 cup soymilk
1 tsp. apple cider vinegar
3/4 cup sugar
2 tablespoons instant espresso powder
1/3 cup vegetable oil
1 tsp vanilla
1 cup all-purpose flour
1/3 cup cocoa
1/2 tsp baking powder
3/4 tsp baking soda
1/4 teaspoon salt
Espresso Buttercream Frosting
1/2 cup nonhydrogenated shortening
1/2 cup nonhydrogenated margerine (such as Earth Balance)
3  cups powdered sugar
1 tsp vanilla
1 tsp espresso powder
3 tablespoons soymilk
For the cupcakes:
1.Preheat the oven to 350
2. In a large bowl, whisk together the soymilk and vinegar. Set it aside for a couple of minutes to curdle.
3. Add the sugar, oil, espresso, and vanilla to the "buttermilk." Whisk until the mixture is foamy.
4. In a separate bowl, sift the flour, cocoa, baking soda, baking powder, and salt.
5. Add the flour mixture into the wet ingredients and mix until all the ingredients are combined.
6. Pour batter into lined or greased cupcake pans and bake for 18-20 minutes.
7. Cool completely before frosting.
For the frosting:
1. Dissolve the espresso powder in the soymailk
2. Beat together the shortening and the margerine until fluffy, about 2 minutes.
3. Add the powdered sugar and continue beating for about 3 minutes.
4. Add the soymilk mixture and beat for an additional 5 minutes.
5. Pipe the frosting onto the cupcakes and top with a chocolate covered espresso bean. (I used the star tip that came in my Ateco set).
I've made this recipe more times than I can count, and it's only failed me once. I had moved to a new apartment, and had yet to unpack my oven thermometer. After about 18 minutes, I took the cupcakes out, and they sank. Nobody likes sunken cupcakes (although they did turn into some tasty cake balls), and I'm certain that this mishap had to do with the fact that my new oven was 25 degrees cooler than I thought. If you don't have an oven thermometer, let your oven preheat for at least 15 minutes before you put the cupcakes in. Most older ovens take at least that much time to fully heat up. For some reason (maybe because they are vegan?), these cupcakes are a little bit more sensitive to oven temperature.