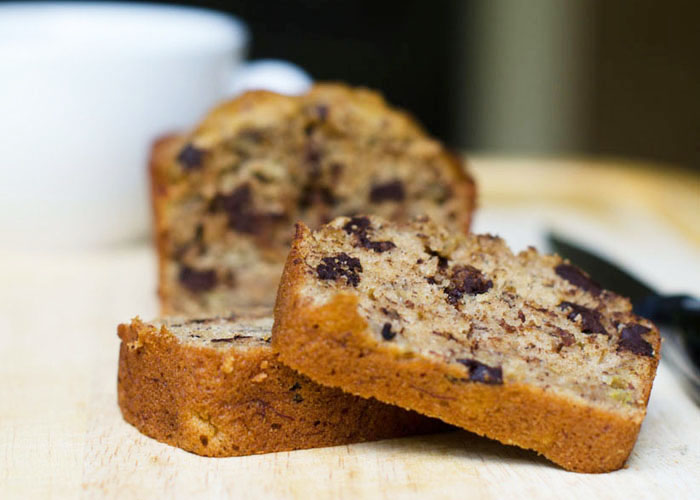 I don't like bananas, but every once in a while, I'll try to convince myself that I do. I tell myself, they're good for you, they're the perfect post run snack, they make a quick and easy breakfast, they don't taste that bad. Every month or so, I'll have the same inner dialogue at the  grocery store as I pass by the bananas, and lo and behold, they end up in my basket. I promise myself that this time, I really will eat them, but inevitably, they sit on the counter until they look something like this.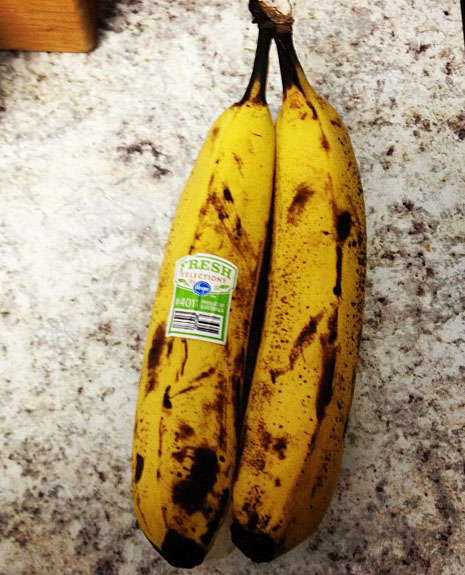 The only thing worse than a banana is a brown, mushy banana. Unless of course, you can disguise it as dessert.
Since brown bananas are a common occurrence at my house, I'm always trying to think of recipes that use them up. This one is my favorite so far. The bananas give it just the right amount of sweetness without making it too banana-y (is that a word?) and of course, chocolate makes everything better. I used these mini chocolate chunks from Whole Foods, but you can any chip/chunk variation you want.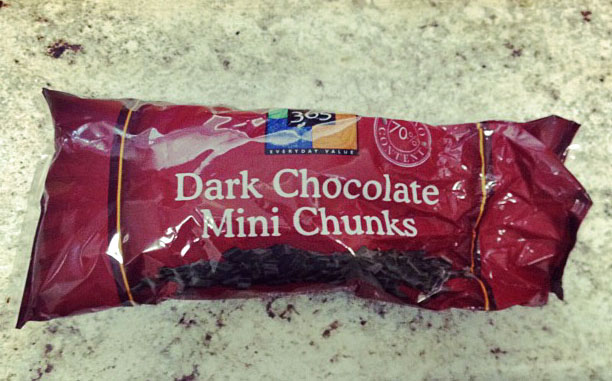 It's like having dessert of breakfast, but it's healthy! Well, kind of healthy. I mean, there is whole wheat flour in it.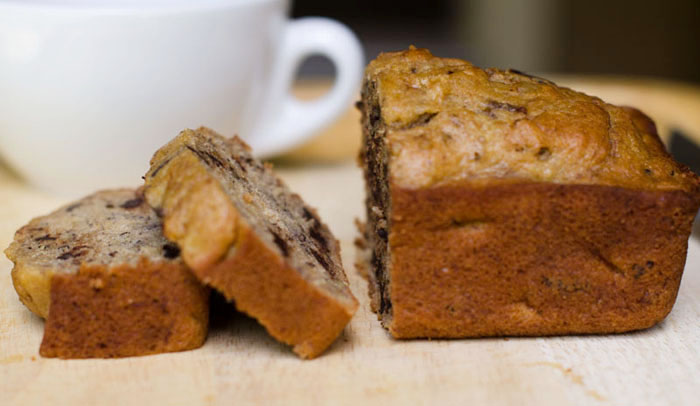 Chocolate Chunk Walnut Banana Bread
adapted from Cooking Light
Ingredients:
1 1/2 cups (about 3) mashed ripe bananas
1/3 cup plain fat-free yogurt
5 tablespoons butter, melted and slightly cooled
2 large eggs, room temperature
1/3 cup granulated sugar
1/3 cup packed light brown sugar
3/4 cups all-purpose flour
3/4 cups whole wheat pastry flour
3/4 teaspoon baking soda
1/2 teaspoon salt
3/4 teaspoon ground cinnamon
1/2 cup dark mini chocolate chunks
1/3 cup chopped walnuts
1. Preheat the oven to 350 degrees
2. Grease a 9×5 inch loaf pan.
3. Combine the bananas, yogurt, butter, and eggs in a large bowl or stand mixer. Beat at medium speed until blended. Add the sugars and beat until blended.
4. Combine the flours, baking soda, salt, and cinnamon in another bowl. Whisk the ingredients together and add to the banana mixture. Beat until just combined.
5. Fold in the chocolate chips and walnuts. Pour the mixture into the greased baking pan and bake for 50-55 minutes or until a toothpick in the center comes out clean.
Note: I often divide this between 3 mini loaf pans and reduce the cooking time to 30-35 minutes.