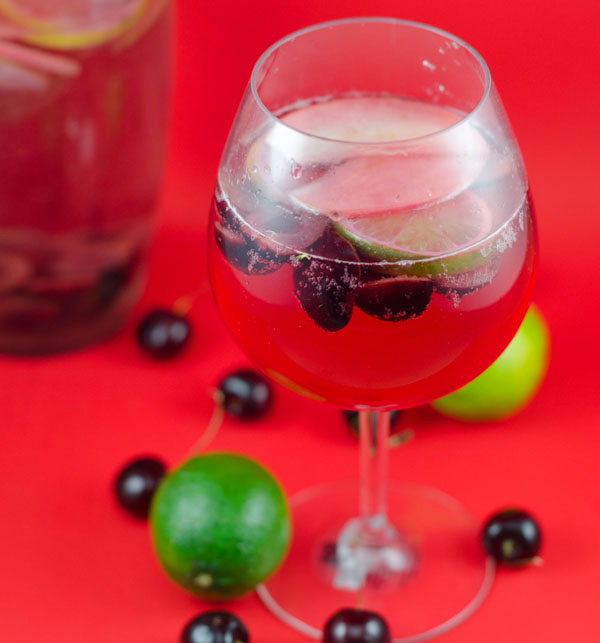 A couple of months ago, I stopped by Sonic to get a cherry limeade. It had been a really long day of teaching, and it was just starting to get hot here in Texas. I was grumpy, sweaty, and I remember thinking that I wished that the cherry limeade I ordered was a little bit stronger. Then I thought, hey, I could make something like that! Cherry limeade sangria!
It just so happens to be drink week here at The Cake Merchant, and I had an abundance of limes left over from last week's local grocery delivery. Since cherries are also in season, my cherry limeade sangria dreams have finally come to fruition.
Although sangria is traditionally made with red wine, I am a total lightweight, and nothing puts me down faster than a glass of red wine. Seriously, one glass and I'm passed out on the couch snoring. It's not cute. Since this sangria was to accompany our 4th of July celebration, I thought white wine would be the best option so that I could actually be awake to see the fireworks. The fact that it's cut with a little bit of soda makes it very drinkable. I would go so far as to say it's dangerously drinkable, but who doesn't like a little danger in their sangria?
Cherry Limeade Sangria
adapted from BHG
Ingredients:
2 cups cherries, pitted and halved
1 apple, thinly sliced (I used Pink Lady)
4 small limes, thinly sliced
1 750 ml bottle of white wine (I used Pinot Grigio)
2 cups of 7-up or Sprite
Directions:
1. Combine the first 4 ingredients in a large pitcher. Let the pitcher sit in the fridge overnight.
2. Top off with soda just before serving.