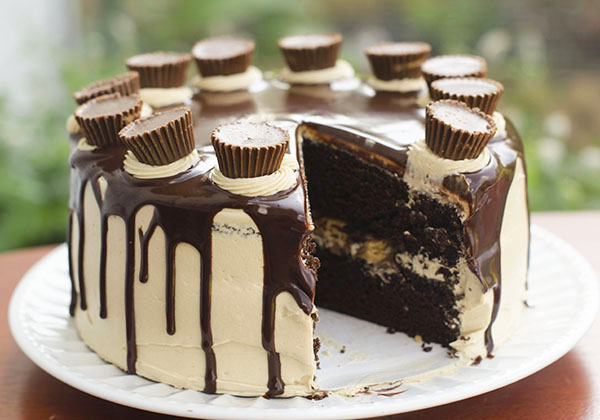 August is a month of birthdays for some of the people that are nearest and dearest to me. 23 years ago today, my little brother Neil was born. Neil also happens to be my webmaster, and my go to person for tech support. Without him, this website would not exist.
Neil is not a foodie. He does not spend hours in the kitchen trying out new recipes or googling the best restaurants in the area. If he's hungry, he'll order a pizza or make a sandwich. He does not spend the majority of his day dreaming about layer cakes or swiss meringue buttercream. If he wants dessert, he'll eat a piece of candy. Sometimes I wonder if we're related.
I thought he deserved better than a piece of candy for his birthday, but he does have an affinity for Reese's Peanut Butter Cups. I decided to incorporate them into a chocolate layer cake with some peanut butter frosting. There are crushed Reese's in between the layers, and it's topped with a chocolate ganache. Although my usual go to chocolate cake is this one from Ina Garten, I was away from my usual baking tools and supplies, so I decided to simplify and try this one bowl recipe from Martha Stewart. I was good, but not amazing. I'm not sure if this was because I was out of my element, but I plan to try it again now that I'm back in Texas. The peanut butter frosting, however, turned out great even without my stand mixer.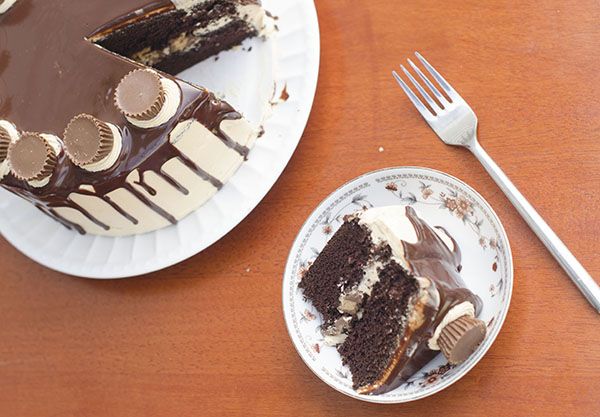 We got to celebrate last week when I was visiting Indiana. Happy Birthday Neil!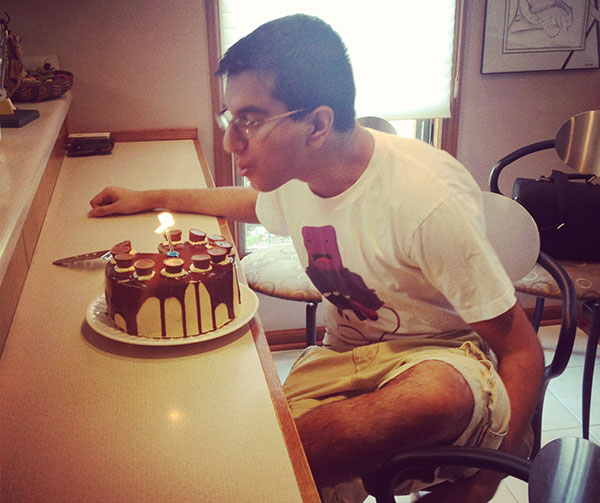 Chocolate Peanut Butter Cup Cake
Chocolate Cake:
adapted from Martha Stewart
makes one 2 layer 8 inch round cake
1 1/2 cups unsweetened cocoa powder
3 cups all-purpose flour
3 cups sugar
1 tablespoon baking soda
1 1/2 teaspoons baking powder
1 1/2 teaspoons salt
3 large eggs
1 1/2 cups buttermilk
1 1/2 cups warm water
3/4 cup vegetable oil
1 1/2 teaspoons pure vanilla extract
1. Preheat the oven to 350 degrees and line the pans with parchment paper.
2. In a large bowl, sift together the cocoa powder, flour, sugar, baking soda, baking powder, and salt. With the mixer on low, add the eggs, buttermilk, water, oil, and vanilla. Beat on low until combined.
3. Divide the batter between the cake pans and bake for 35-40 minutes, or until a toothpick inserted into the center comes out clean.
4. Let the cake cool for 10 minutes on wire racks before removing from the pans. Gently run a palette knife around the edges and invert the cakes onto racks. Turn the cakes over so that the tops are up to finish cooling completely.
Peanut Butter Frosting/Filling:
makes enough to frost and fill an 8 inch layer cake
2 sticks (1 cup) butter, room temperature
3/4 cup peanut butter
3 cups powdered sugar, sifted
1 tablespoon vanilla
1/4 cup heavy cream
1/2 cup peanut butter cups, chopped
1. With an electric mixer, beat the butter on medium speed until pale and fluffy, about 2-3 minutes. Add the peanut butter and continue beating, about 1 more minute or until combined.
2. With the mixer on low, add the powdered sugar. Increase the speed to medium and beat until smooth, and additional 3-5 minutes. Add the vanilla and heavy cream and beat until combined.
Chocolate Ganache:
4 oz. semisweet chocolate, chopped
2/3 cup heavy cream
1. Place the chopped chocolate in a bowl.
2. Heat the heavy cream on the stove until just boiling. Pour the heavy cream over the chocolate and stir until smooth.
To Assemble the Cake:
1. Place one layer of the cake on an 8 inch cake board. Place 1 cup of the frosting on top, and spread evenly with a palette knife. I like this one. Add the chopped pecans peanut butter cups.
2. Place the other cake layer on top (face down), and crumb coat the cake. Place a generous scoop of frosting on the top of the cake, and spread evenly across the top of the cake. Work your way around the sides until the entire cake is covered with a thin layer of frosting. I find that a turntable is helpful when frosting a layer cake. Let the crumb coat set in the fridge for about 30 minutes.
3. Once the crumb coat has set, spread a thicker layer of frosting on the top and sides of the crumb coat to create a smooth finish. Put the cake back in the refrigerator while you make the ganache. Pour the ganache over the cake. Decorate with additional frosting or whipped cream and peanut butter cups.