Last weekend, my dear friend Cat turned 30. We met when we were roommates and graduate students at the University of Southern California, and have been great friends ever since. Cat is a candy-a-holic. She can (and often does) eat 3 candy bars in one sitting and does not gain a pound. Not fair, I know. After we finished our studies, I ended up in Texas and Cat now lives in Florida. We don't often get to see each other on birthdays, so I felt lucky to get to spend her 30th with her.
I've seen this cake popping up all over Pinterest as well as blogs like Paige's Pantry and Recipe Girl. I've been wanting to make it forever, but Cat is the only person I know who would truly appreciate this cake and be able to handle the sugar shock. This cake really is as easy to make and decorate as it seems. I used a doctored boxed cake mix and a 3 ingredient homemade frosting (because canned frosting is just yuck), and  I didn't even bother with a crumb coat. The candy decorations hide all of the flaws. I made a vanilla cake with vanilla frosting, but you can use any flavor combination you want.
Here's what the inside of the cake looked like.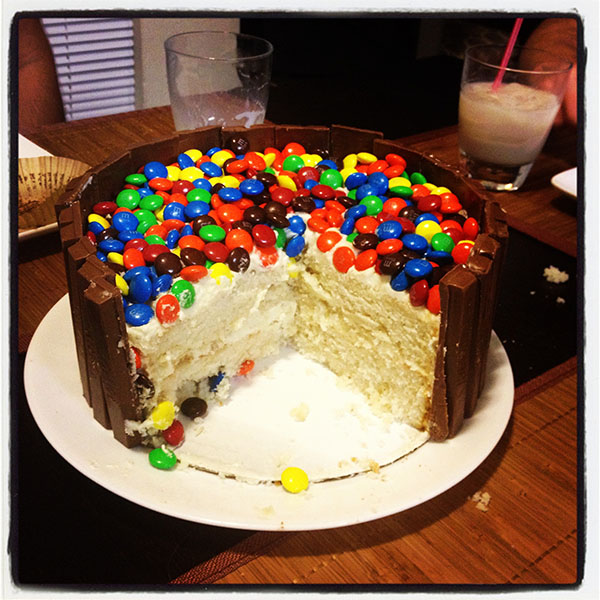 Archie the Cat trying to get Cat's Kit Kat Cake.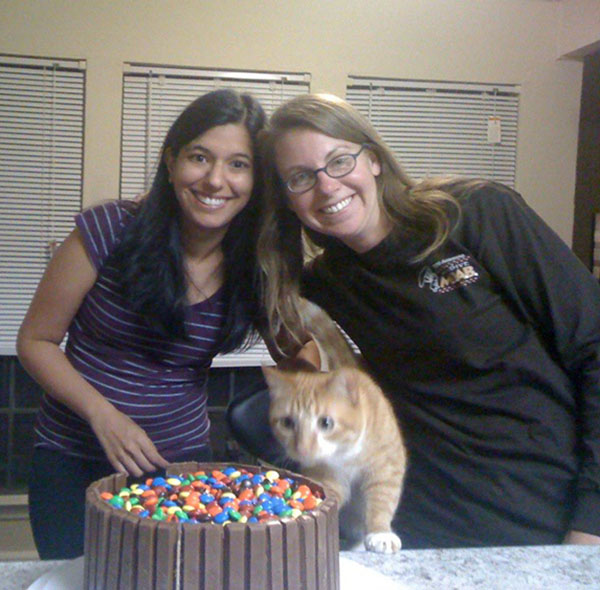 Kit Kat Cake
Ingredients:
Vanilla Cake:
adapted from Cake Central
makes one 2 layer 8-inch cake
1 18.25 oz. box white cake mix (I used Duncan Hines)
1 cup all-purpose flour
1 cup granulated sugar
pinch of salt
1 cup sour cream
1 cup water
3 whole eggs
2 teaspoons vanilla
Vanilla Buttercream Frosting:
makes enough to frost a 2 layer 8-inch cake
2 sticks of butter, room temperature
2 1/2 cups powdered sugar
1 tablespoon vanilla extract
Decorations:
10 Kit Kat Bars
One 12.6 oz bag of M&Ms
Ribbon
For the Cake:
1. Preheat the oven to 325 degrees. Line 2 8-inch cake pans with parchment paper.
2. In a large bowl, mix the cake mix, flour, sugar, and salt with a whisk. Add the remaining ingredients and beat with an electric mixer until combined, about 2 minutes.
3. Divide the batter evenly between the two pans.  Bake for 35-40 minutes, or until a toothpick inserted into the center comes out clean.
4. Let the cake cool for 10 minutes on wire racks before removing from the pans. Gently run a palette knife around the edges and invert the cakes onto racks. Turn the cakes over so that the tops are up to finish cooling completely.
Note: For a whiter cake, substitute the eggs with 4 egg whites and one tablespoon of canola oil.
For the Frosting:
1. In a stand mixer, beat the butter on medium until it becomes pale and creamy (2-3 minutes).
2. Add the powdered sugar and beat on low until combined. Add the vanilla and beat on medium, about 3 minutes.
3. Place one layer of the cake on an 8 inch cake board. Place 1 cup of the frosting on top, and spread evenly with a palette knife. Place the other cake layer on top (face down). Place a generous scoop of frosting on the top of the cake, and spread evenly across the top of the cake. Work your way around the sides until the entire cake is covered with a layer of frosting.
4. Stick the Kit Kats to the sides of the cake in groups two. Fill the top of the cake with M&Ms and tie with a ribbon if you wish.