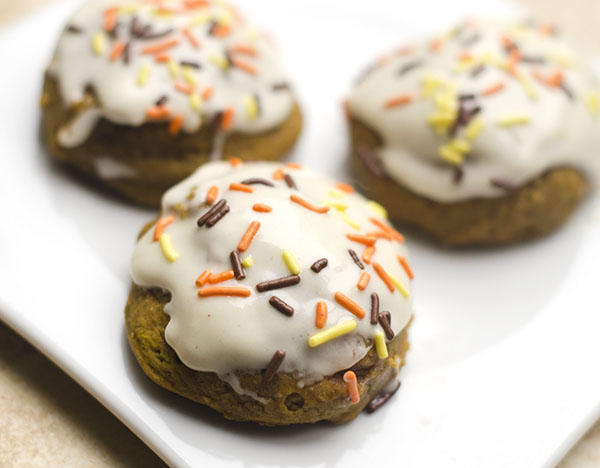 It's safe to say that I'm more than slightly obsessed with pumpkin. Whether it's sweet or savory, I love pumpkin flavored anything. For me, it's always pumpkin season, but when fall comes around, I have an excuse to bake with it even more. Today was the first day in a long time here in Dallas where it didn't feel like a sauna outside, so here's hoping that fall is just around the corner.
I've got my pantry stocked with an abnormal amount of pumpkin, and these cookies are the first of many recipes I want to share with you. I made two versions of this. The first time, I followed the original recipe. The second time, I swapped 1/2 cup of the butter with 1/2 cup of extra pumpkin for a lower fat version. The low fat version was good, but slightly cakier than the the original, and I had a to add a few minutes to the baking time.
I used about half of the sugar in the cream cheese icing that the original recipe called for, and it was still delicious and plenty sweet. This icing does not harden, and goes perfectly with the soft and chewy cookie. I used a large cookie scoop to make big cookies, so I only got about half of the cookies that the recipe called for.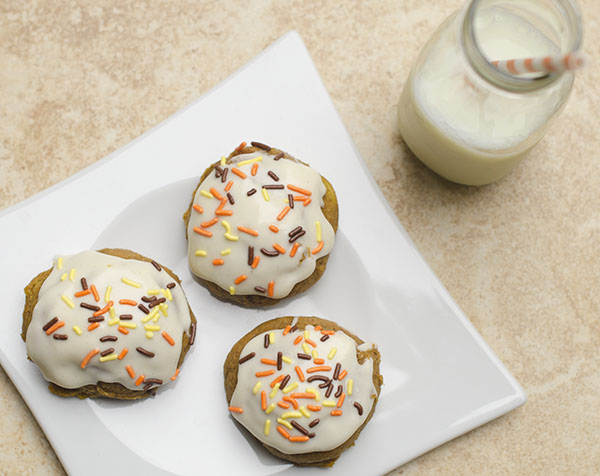 Pumpkin Cookies
adapted from Food.com
makes 24 big cookies
1 cup butter, room temperature
1/2 cup sugar
1/2 cup firmly packed brown sugar
1 cup canned pumpkin
1 egg
1 teaspoon vanilla extract
2 cups flour
1 teaspoon baking soda
1 teaspoon baking powder
2 teaspoons cinnamon
1/2 teaspoon ground ginger
1/2 teaspoon nutmeg
1/4 teaspoon salt
1. Preheat the oven to 350 degrees. Line your cookie sheets with parchment.
2. Beat the butter, sugar, and brown sugar until light and fluffy. Add the pumpkin, vanilla, and egg and mix together.
3. In a separate bowl, whisk together the flour, baking soda, baking powder, spices, and salt. Add to the pumpkin mixture and mix until incorporated.
4. Use the cookie scoop to drop the batter onto the lined baking sheets. Bake for 10-13 minutes or until golden around the edges.
Cream Cheese Icing
adapted from My Baking Addiction
1 (8 ounce) package cream cheese, softened
2 tablespoons butter, softened
2 1/2 cups confectioners' sugar
1 teaspoon vanilla bean extract
1-2 tablespoons milk
1. Beat the butter and the cream cheese until light and fluffy. Add the the confectioners sugar and vanilla and beat until incorporated. Add the milk a little bit at a time until you reach a spreadable consistency.
2. Spread the icing onto the cookies and top with some festive sprinkles.