It was about this time last year that I moved into a new apartment. I was so excited about my new kitchen. The appliances were so shiny, and everything was yet to be covered in flour and powdered sugar. When I was asked to bake some cupcakes for a friend's birthday party a few days after I moved in, I happily agreed. So what if all my baking tools were still in boxes? I couldn't wait to break in the oven!
After digging through some of my stuff, I scrounged up my cupcake pan and some mixing bowls, although my oven thermometer was nowhere to be seen. Oh well, I thought. I've made this recipe a million times. It'll be fine. I mixed up the batter, stuck the cupcakes in the oven, and when I pulled them out, they fell! Oh, the horror! If you've ever had your  cupcakes sink in the middle, you know what I'm talking about. I felt like such a baking failure.
Although the cupcakes tasted good, I couldn't bring them to the party. That would just be too embarassing. The solution- cake balls!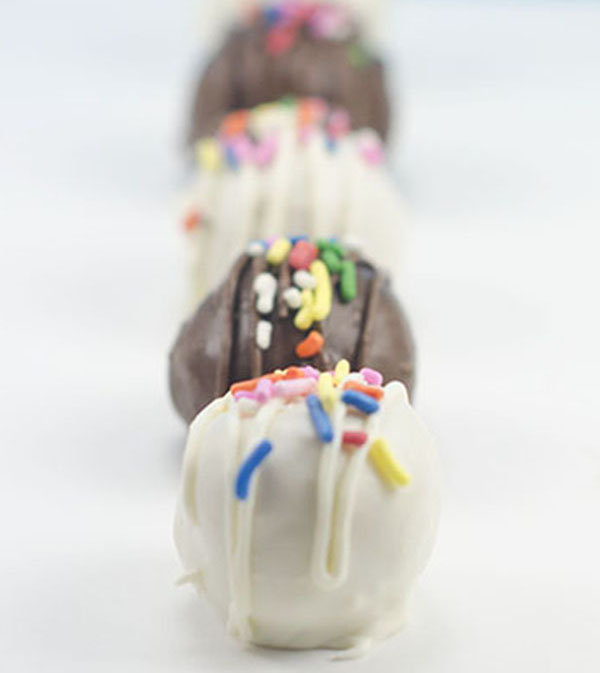 I've always been a fan of cake balls, but that day, they won a special place in my heart. I took my sunken cupcakes, mashed them up with some frosting, dipped them in chocolate, and of course, added some sprinkles.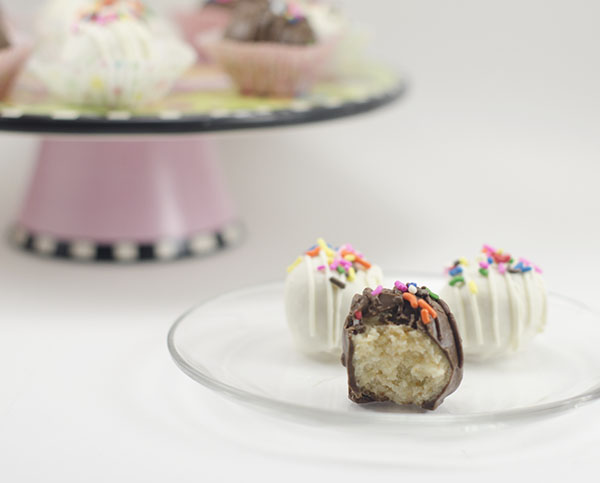 To me, a fallen cake is no longer a catastrophe. It's just a cake ball waiting to be born.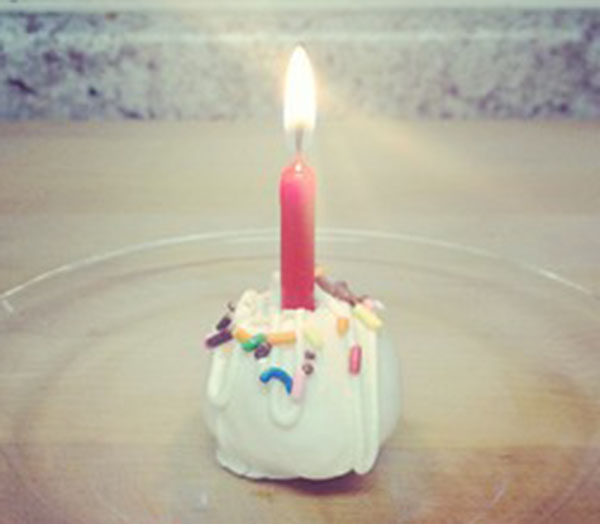 Birthday Cake Cake Balls
adapted from Cake Balls by Robin Ankeny
For the Cake and Icing
1 box vanilla cake mix
1/2 cup cream cheese icing (I used this recipe).
For the Coating and Decoration
1 package chocolate and/or white chocolate candy melts (I used Guittard)*
1/2 cup rainbow sprinkles
To make the Cake Balls
1. Bake the cake according to the instructions on the package.
2. While the cake is cooling, prepare the cream cheese icing.
3. After the cake has cooled, crumble the cake into a large mixing bowl until no chunks remain. Mix the icing into the crumbled cake mixture until it reaches a dough like consistency.
4. On a cookie sheet lined with waxed paper, portion out your cake balls. I did this using a small cookie scoop. After you portion out the cake balls, use your hands to roll them into a smooth ball shape and place them on the waxed paper. After you have rolled all of your cake balls, chill them in the refrigerator for several hours or the freezer for about 1/2 hour.
Dipping and Decorating the Cake Balls
1. Melt the candy melts in the microwave. A measuring cup works well for this. I recommend putting them in initially for about 60 seconds. After that, take them out and stir them. Continue microwaving in 30 second intervals until they are completely melted and smooth.
2. To dip the cake balls, I used this dipping tool. You can make your own by taking a plastic for and snipping off the middle prong. Dip the cake ball into the chocolate, tap off the excess, and place the tool onto a sheet of waxed paper. To remove the dipping tool, slide it out from underneath the cake ball.
3. To make the chocolate drizzle, fill an icing bag or a plastic bag with melted candy melts. Close off the top of the bag, and snip a very small amount off of the corner. Try a practice drizzle on some waxed paper to make sure you are getting the thickness you want. When the piping bag is ready, use consistent pressure and sweep it back and forth across the cake ball. Top with sprinkles before the chocolate sets.
Notes:
*For a smooth consistency, I've had good luck with Guittard candy melts. They are available at most specialty cake shops. Wilton candy melts are thicker when melted and don't taste as good. If Wilton is all you can find, you can thin it out with some shortening or paramont crystals.
Keep water away from your candy melts. Even a drop can cause it to seize and render it unusuable.
I found this really interesting. Chances are, you know someone with a September birthday.