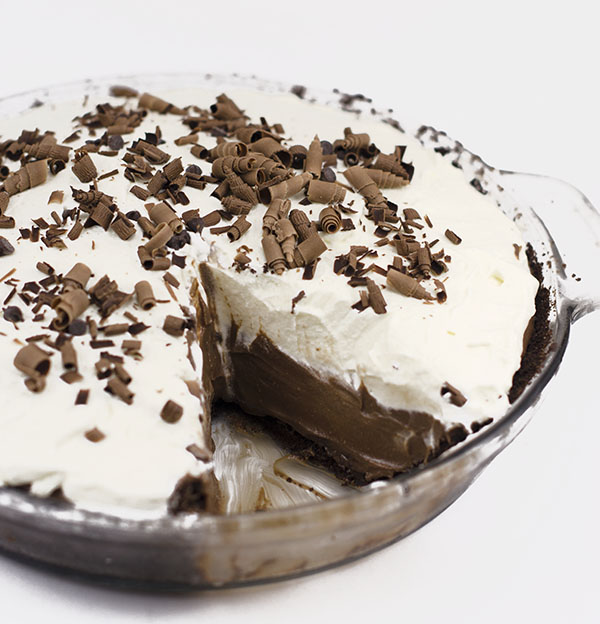 I have made a lot of cakes in my lifetime, and probably more cupcakes than I can count, but when it comes to pies, I am still a novice. In fact, I made my very first pie last Thanksgiving, and it was nothing short of a disaster. Thank goodness a mound of whipped cream can cover up even the most glaring mistakes. Recently, I had an insane craving for a chocolate cream pie. I just could not get it out of my head. I was so desperate, I thought about getting a store bought crust and some instant chocolate pudding to fulfill my craving, but I wanted to attempt a scratch version at least once before going the easy route.
After doing some research, I came across this recipe on Saveur's website, and the picture completely sucked me in. This pie contains 2 sticks of butter, 9 egg yolks, and lots of half and half and heavy cream, but it's totally worth every calorie. Bikini season is a long way off, anyway. It's also worth the effort that it takes to make it. The texture is silky but rich, with an intense chocolate flavor that you just can't get from a pudding mix. Keep in mind that the tastiness of this pie is directly proportional to the quality of the ingredients that you use. This is especially true for the chocolate, since that's where most of the flavor comes from. I used a combination of Scharfen Berger 62% and 70%, but you can use any good quality chocolate you like.
The original recipe calls for the elusive Nabisco chocolate wafers. I tried to find them, but didn't have a lot of success. I found a review on Epicurious that described searching for them as looking for a "red-haired, left-handed unicorn," and I would have to agree. I ended up just using chocolate graham crackers and adding some cocoa powder to get a darker color, and it worked out just fine.
I wasn't planning on subjecting you all to my second attempt at a pie, but I just had to share the recipe. This is truly on of the best desserts I have ever made, so I snapped a few quick pictures before taking this bad boy to a Downton Abbey viewing party. It's the perfect dessert for sharing, because if you don't, you will eat the whole thing in one sitting. Plus, whomever you share it with will totally be your BFF.
Chocolate Cream Pie
adapted from Saveur
makes 1 9-inch pie
For the Crust:
1 1/2 cups (about 10) chocolate graham crackers
8 tablespoons (1 stick) butter, plus more for greasing the plate
1/4 cup dark brown sugar
1 tablespoon Hershey's Special Dark cocoa (optional)
1. Preheat the oven to 350 degrees farenheight. Grease the bottom and sides of a 9-inch pie plate.
2. Crush the chocolate graham crackers into crumbs (I used a food processor to do this).
3. In a saucepan, melt the butter. Dissolve the brown sugar into the melted butter.
4. In a large bowl, combine the brown sugar/butter mixture with the cocoa and graham cracker crumbs. Once the graham cracker crumbs are moistened, press them evenly into the greased pie plate. The crumbs should come up the sides of the plate.
5. Put the crust in the refrigerator to chill for about 15 minutes, then bake for 10-15 minutes until the crust has set. Let the crust cool while you make the filling.
For the Filling:
3 1⁄2 cups half-and-half
2⁄3 cup plus 2 tablespoons sugar
1⁄4 cup cornstarch
9 egg yolks
8 tablespoons (1 stick) butter, cut into pieces
9 oz. bittersweet chocolate, finely chopped
2 oz. unsweetened chocolate, finely chopped
2 1⁄2 teaspoons vanilla extract
1. In a saucepan, heat the half and half until it starts to simmer. Remove the pan from the heat.
2. In a large bowl, whisk together the sugar, cornstarch, and egg yolks. In a slow stream, begin to drizzle in the hot half and half to the egg yolk mixture, whisking constantly. Be careful not to add too much of the half and half mixture at once, or you will end up with scrambled eggs.
3. Once all of the half and half has been added, pour the entire mixture back into the saucepan and cook over medium heat, whisking constantly. After about 3-4 minutes, the mixture will begin to bubble and thicken. You'll know it's ready when you can coat the back of a spoon.
4. Remove the pan from the heat and whisk in the pieced of butter and chopped chocolate a little bit at a time. Mix together until thoroughly incorporated.
5.Strain the mixture through a fine mesh sieve into another bowl. While the mixture is still hot, cover it with plastic wrap. This will ensure that no skin will form while it's cooling. Let it set in the refrigerator for at least 4 hours.
For the Topping:
2 cups heavy cream
2 tablespoons sugar
1 1/2 teaspoons vanilla extract
1 chocolate bar for chocolate shavings
1. Whip the heavy cream, sugar, and vanilla together until stiff peaks form.
2. To make the chocolate shavings, use a run a vegetable peeler along the side of a chocolate bar. If the chocolate is crumbly and not coming off in peels, put it in the microwave for 5-10 seconds until it is soft enough to peel.
To Assemble the pie:
1. After the filling has cooled, pour into the pie crust and spread evenly. Spread the whipped cream on top of the chocolate layer, forming a dome in the middle. Top with chocolate shavings.
Note: I had better luck slicing this pie after it had chilled in the refrigerator overnight. I would suggest that you make the crust and filling the day before you serve it so it has time to set up and doesn't turn into a big gloopy mess when you cut it.
Update 12/24/12: After making this several times, I have changed the chocolate from 11oz bittersweet to 9oz bittersweet plus 2 oz unsweetened chocolate. This is what the original recipe calls for, and I find that the consistency of the pie is better and much easier to slice with the addition of the unsweetened chocolate.
Ideas for leftover egg white: Swiss Meringue Buttercream, Meringue Cookies, Angel Food Cake. Or you could also make a meringue topping for the pie instead of topping it with whipped cream. Egg whites also freeze really well.