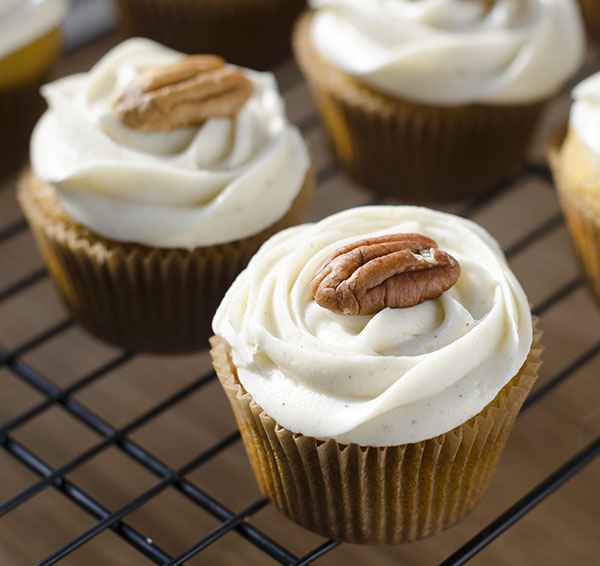 Let's talk about pumpkin cupcakes. They've become a popular flavor, and not just during the holiday season. I googled pumpkin cupcakes and came across pages and pages of recipes, so I don't plan to add another one into the abyss. My goal was to find the BEST pumpkin cupcake recipe out there. For me, a great pumpkin cupcake meets the following criteria:
1. It should have the texture of a cupcake and not a muffin. Not too airy, not too dense, and definitely not like a bread.
2. It has to be really pumpkiny (is that a word?)
3. The spices should be present without being overpowering
I tested three recipes- Ina Garten's, Martha Stewart's, and Stephanie Jaworski's. Here's what I thought.
1. Ina Garten's– this recipe differs from the others in that is uses vegetable oil and not butter. While I'm usually a huge fan of Ina's recipes, this one didn't do it for me. Don't get me wrong, I wouldn't kick it out of bed. It just wasn't what I was looking for. A little but too much on the muffin side, and not enough pumpkin flavor.
2. Martha Stewart's– This recipe used melted butter rather than oil. It also makes a larger batch. Other than that, I found it to be very similar to Ina Garten's recipe. Good, but not what I was looking for.
3. Stephanie Jaworski's– I found this on the Joy of Baking website. This recipe differs from the other in that it uses the creaming method. Softened butter is creamed together with the sugar, which cuts little air bubbles into the butter and makes a lighter cupcake. This was the winner in my book. The texture is exactly what I was looking for. I thought that the lack of brown sugar in the cupcakes would leave the flavor somewhat lacking in depth, but it had the most pumpkin flavor out of the three. This will now be my go to pumpkin cupcake recipe. The only thing I changed was substituting nutmeg for cloves. I don't like cloves and tend to avoid them when baking, but that is just personal preference.
Here's a picture of the inside so you can see the texture. Taking a bite was hard work, but I took one for the team…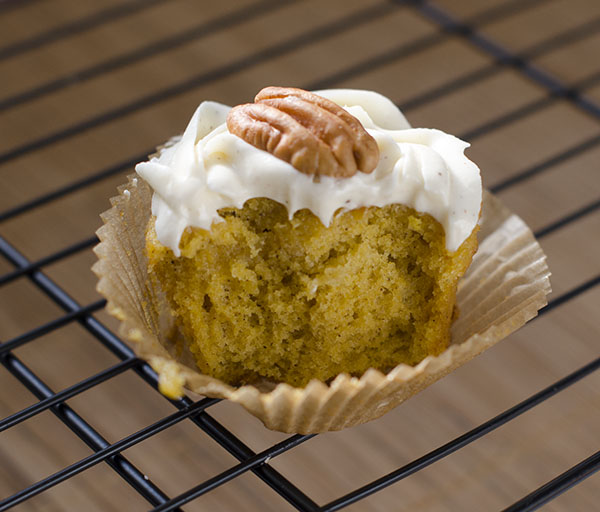 I used a Wilton 2D tip to pipe the frosting into a rose shape. Rather than start on the outside and swirl in, I started on the inside of the cupcake and made a swirl towards the outside. For a great video tutorial on how to pipe a rose, click here.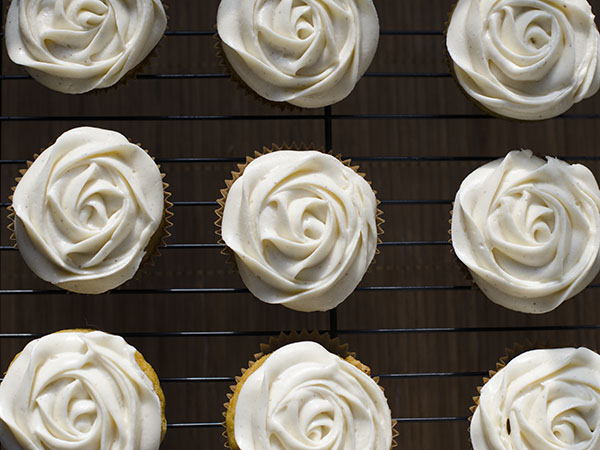 You can leave them plain, or top them with a pecan.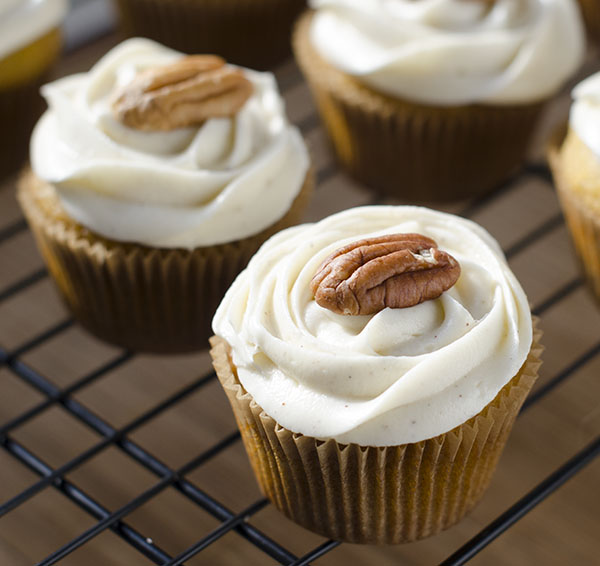 Pumpkin Cupcakes with Cinnamon Cream Cheese Frosting
Ingredients
For the Cupcakes:

1 1/2 cups (195 grams) all purpose flour
1 teaspoon baking powder
1/2 teaspoon baking soda
1 teaspoon ground cinnamon
1/4 teaspoon ground ginger
1/4 teaspoon nutmeg, freshly grated
1/2 teaspoon salt
1/2 cup (113 grams) unsalted butter, room temperature
1 cup (200 grams) granulated white sugar
2 large eggs, room temperature
1 teaspoon pure vanilla extract
3/4 cup (180 ml) solid packed, canned pumpkin puree

For the frosting:

8 ounces cream cheese, cold
1/2 cup (1 stick) butter, firm but not cold
A pinch of salt
1/2 teaspoon cinnamon
2 1/2-3 cups confectioner's sugar, sifted
1 teaspoon vanilla
Instructions
For the cupcakes:

Preheat the oven to 350 degrees fahrenheit and line a muffin tin with 12 paper liners.
In a large bowl, whisk together the flour, baking powder, baking soda, cinnamon, ginger, nutmeg, and salt.
In the bowl of an electric mixer, beat the butter and sugar and light and creamy. Add the eggs in one at a time, scraping the sides of the bowl after each addition. Add the vanilla extract and beat to combine.
With the mixer on low, add the dry ingredients and pumpkin in 3 additions, alternating between the two. Begin and end with the dry ingredients, until the batter has just come together.
Divide the batter evenly between the 12 liners (I used an ice cream scoop to do this) and bake for 18-20 minutes, or until a toothpick inserted into the center comes out clean. Cool completely on a wire rack before frosting.

For the Frosting:

Beat the cream cheese, butter, salt, and cinnamon on medium until creamy, about 2-3 minutes.
Turn the mixer down to low and add the confectioner's sugar. Beat until incorporated, scraping down the sides of the bowl when necessary. Add the vanilla and continue beating until combined. Pipe or spread the frosting onto the cooled cupcakes.
http://cakemerchant.com/2012/11/20/pumpkin-cupcakes-with-cinnamon-cream-cheese-frosting/
Cupcakes adapted from Joy of Baking
Frosting adapted from food.com via Sprinkles Cupcakes