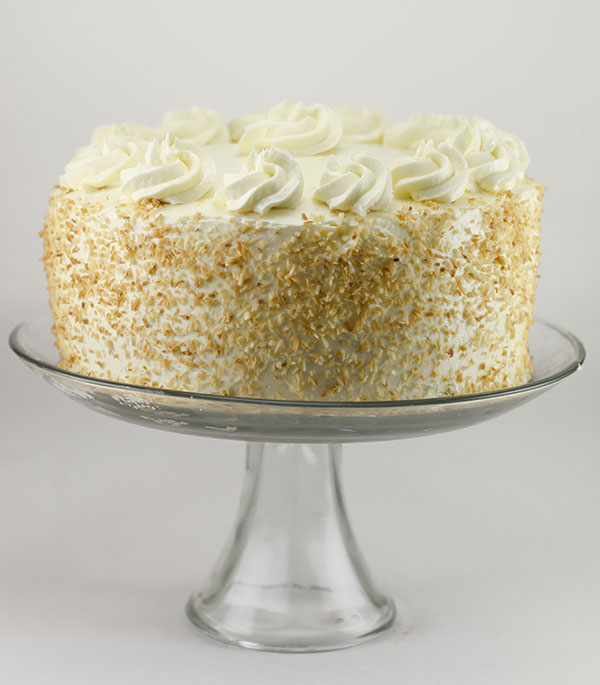 Happy National Cake Day! When I began writing this post, I had no idea that today was National Cake Day. In fact, this cake came about by accident. As you may know, I'm no genius when it comes to baking pies. I made this one from scratch a few weeks ago, and was quite proud of myself. It's one of my favorite recipes of all time, and last week, I had a chance to make it again. While I adore this recipe, it uses 9 egg yolks (yes, it is quite decadent)! There are only so many egg whites I can eat for breakfast, and my freezer was already full of them from previous chocolate pie and pudding recipes, so I thought about using them to make a cake.
After looking through some old cookbooks, I came across a coconut cake that sounded heavenly. All too often, coconut cakes are just vanilla cakes that are buried under a pile of toasted coconut. This cake claimed to real coconut flavor, both in the cake and the frosting. And guess what? It called for exactly 9 egg whites!
This recipe uses what is called the "reverse creaming method," in which the ingredients are mixed together in a different order than the traditional creaming method. It was an idea that was introduced by Rose Levy Berenbaum, author of The Cake Bible. For a more detailed explanation, click here. This was my first time using this method, and it won't be my last. The cake was so light and fluffy, but not in a weird airy boxed mix kind of way.
For the frosting, I used a swiss meringue buttercream. If you've never made swiss meringue buttercream before, you must try it! I've only made it about a dozen times, and while it may seem intimidating at first, it gets easier every time. Swiss meringue buttercream differs from the usual American buttercream in that it is not nearly as sweet, so it is the perfect complement to a lighter cake. The secret to making swiss meringue buttercream is in the temperature of the butter. Before I start making the buttercream, I take the butter out of the fridge and cut it into chunks. By the time I'm ready to use it, it's softened, but not so soft that the buttercream will curdle. There are several tutorials on how to make this type of frosting. I like this one from Sweetapolita.
While I love the flavor of coconut, I'm not crazy about the texture, so I only used the toasted coconut to decorate the sides. If you really like toasted coconut, you could put some on the top, or even in between the layers. This recipe makes a 2 layer 9 inch cake, but I sliced each layer in half once it was baked and cooled for a 4 layer cake.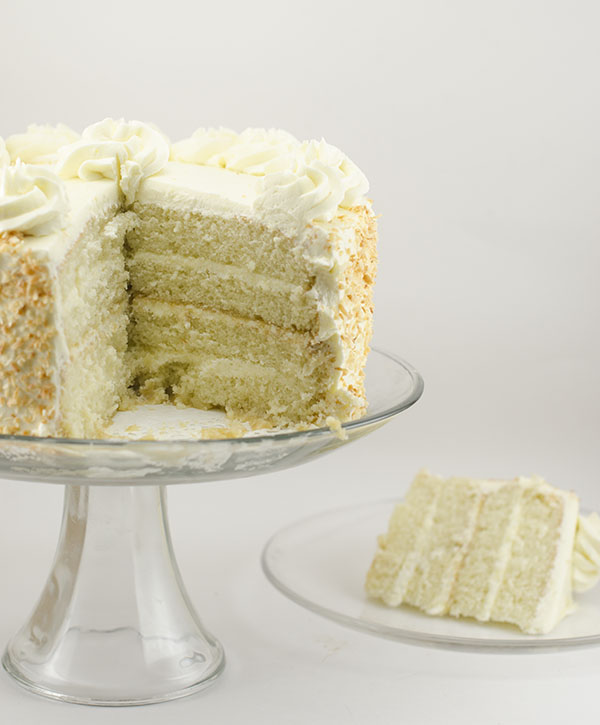 Coconut Layer Cake with Coconut Swiss Meringue Buttercream
adapted from Baking Illustrated
Ingredients
For the cake:
1 large egg
5 large egg whites
3/4 cup cream of coconut
1/4 cup water
1 teaspoon vanilla extract
1 teaspoon coconut extract
2 1/4 cups (9 oz) cake flour, sifted
1 cup granulated sugar
1 tablespoon baking powder
3/4 teaspoon salt
12 tablespoons unsalted butter (1 1/2 sticks, cut into 12 pieces, softened, but still cool])
2 cups sweetened flaked coconut (packed about 8 ounces)
For the buttercream:
4 large egg whites
1 cup granulated sugar
1/8 teaspoon salt (table)
1 lb unsalted butter (4 sticks, each stick cut into 6 pieces, softened, but still cool])
1/4 cup cream of coconut
1 teaspoon coconut extract
1 teaspoon vanilla extract
Directions:
For the cake:
1. Preheat the oven to 325 degrees fahrenheit. Grease and line two 9 inch cake pans with parchment paper.
2. In a liquid measuring cup, beat the egg and egg whites together with a fork to combine. Add the cream of coconut, water, and both extracts and beat to combine.
3. In the bowl of a stand mixer, combine the the flour, sugar, baking powder, and salt. Use the paddle attachment to combine on the lowest speed for 30 seconds. With the mixer on low, add the butter one piece at a time, and beat for about 2 1/2 minutes. The mixture should resemble coarse meal. The bits of butter should be no larger than a pea.
4. Add one cup of the egg mixture to the flour mixture, and beat on medium high for about 45 seconds. With the mixer still running, add the rest of the egg mixture in a steady stream, and beat until incorporated. You may need to scrape down the sides of the mixer to thoroughly combine all of the ingredients.
5. Divide the batter between the 2 pans (I used a scale to do this) and bake for 25-30 minutes, or until a toothpick inserted into the center comes out clean. The cake should be a golden brown color. Cool the cake in their pans on wire racks for 10 minutes, then invert them onto the wire racks and cool completely.
6. While the oven is still on, toast the coconut on a rimmed baking sheet for about 15 minutes, stirring every 5 minutes. Set aside to cool.
For the buttercream:
1. Make a bain marie: Combine the egg whites, sugar, and salt in a mixing bowl. Over a pot of simmering water, place the mixing bowl and whisk constantly (the water should not touch the bowl). I used an instant read thermometer to get the mixture to about 140 degrees fahrenheit. If you don't have a thermometer, you can the mixture is opaque and warm, and the sugar has completely dissolved.
2. In a stand mixer, beat the egg whites on high with the whisk attachment until they are glossy and sticky, and the bowl feels neutral to the touch (7-10 minutes). Switch over to the paddle attachment. On medium speed, beat in the butter, one piece at a time until the mixture becomes smooth. Add the cream of coconut, coconut extract, and vanilla extract. Continur to beat until combined (about 1 minute).
To Assemble the cake:
1. Place one layer of the cake on an 9 inch cake board. Place 1 cup of the frosting on top, and spread evenly with a palette knife.
2. Place the other cake layer on top (face down), and crumb coat the cake. Place a generous scoop of frosting on the top of the cake, and spread evenly across the top of the cake. Work your way around the sides until the entire cake is covered with a thin layer of frosting. I find that a turntable is helpful when frosting a layer cake. Let the crumb coat set in the fridge for about 30 minutes.
3. Once the crumb coat has set, spread a thicker layer of frosting on the top and sides of the crumb coat to create a smooth finish. Use the toasted coconut to cover the sides (and top) of the cake, and use the leftover frosting to pipe onto the cake.
Notes:
1. I used a serrated knife to divide each layer in half, making a 4 layer cake.
2. Cream of coconut should not be confused with coconut cream or coconut milk. It is usually found with drink mixes in the grocery store (I got mine at a liquor store). Popular brands are Coco Lopez and Goya.