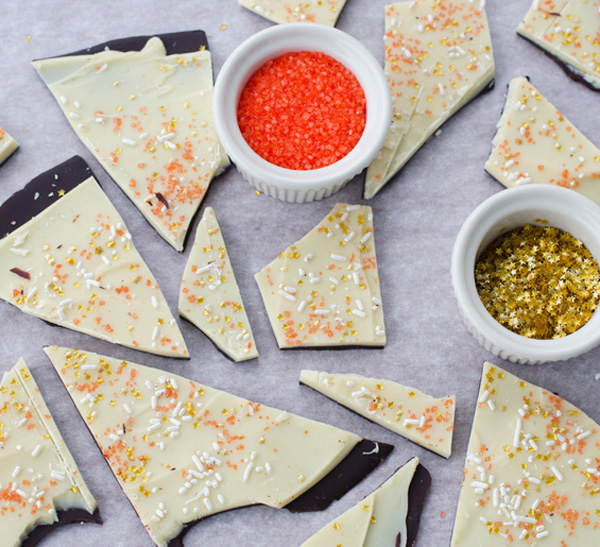 Happy New Years Eve! After a week in Indiana visiting my family, I'm back in Dallas and ready to blog again. That't not to say that I didn't bake last week. When I'm back home, my mom and I spend most of our time in the kitchen, and we cooked and baked up a storm! I've got tons of new cake and cookie recipes that I want to share with you, but today, I want to share a quick and easy no bake holiday treat.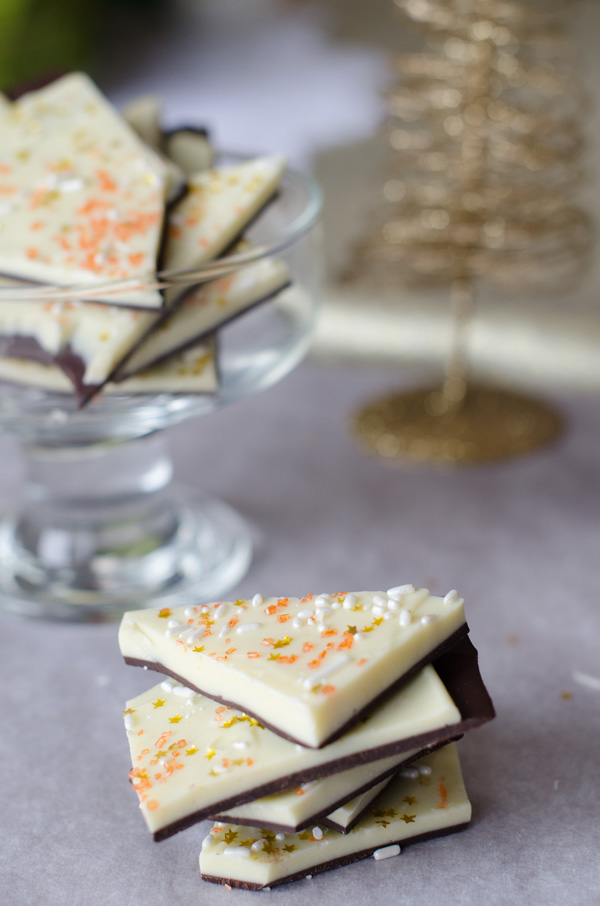 My original intention was to make a chocolate orange bark that was spiked with Grand Marnier. It is New Year's Eve, after all. While I love Grand Marnier in desserts and have added it to chocolate ganache several times, it did NOT work in this bark. Melted chocolate and moisture do not go well together. Trust me, if you try it, you will end up with a goopy mess. I had to find a way to incorporate orange into the chocolate without causing it to seize. I knew that orange oil would work, but I didn't have any on hand, nor did I feel like hunting any down at the last minute. Instead, I used orange zest.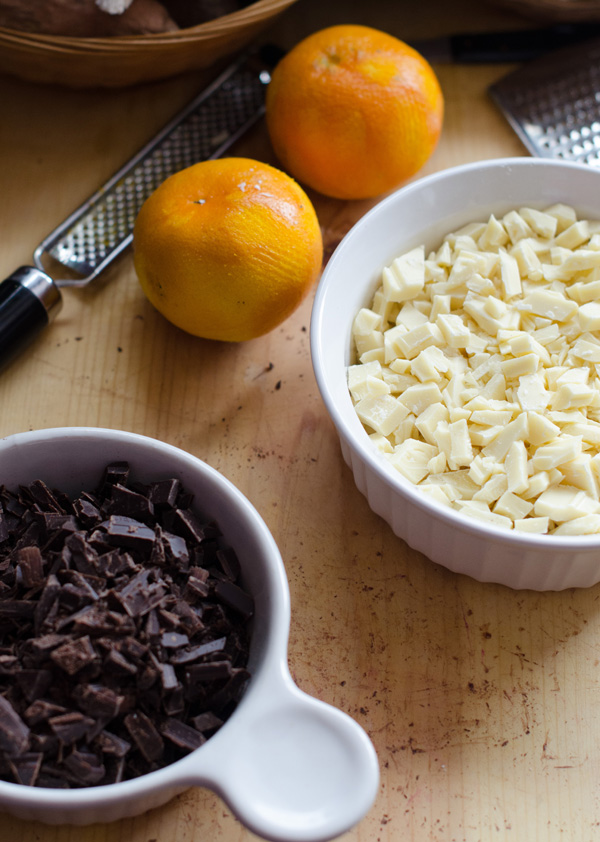 Although orange zest contains moisture, you can zap the grated zest in the microwave for a few minutes, crush it into a fine powder, and incorporate it into melted chocolate without any mess. While candy oil has its place, I think you will find the flavor of the zest to be more natural and subtle.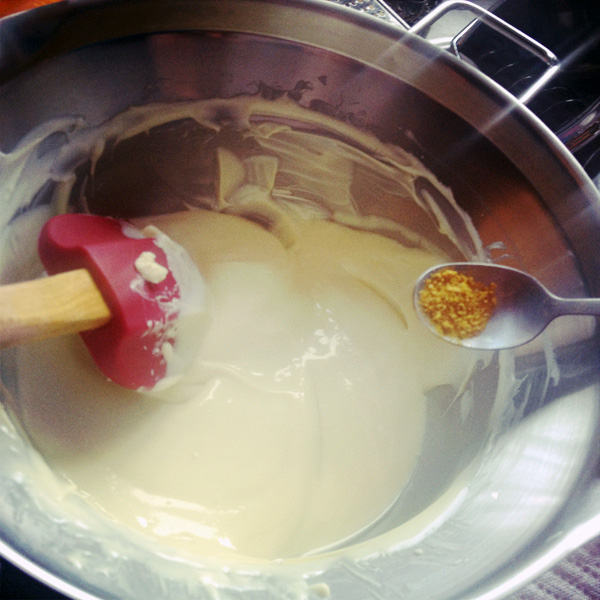 Top with some sprinkles for some added sparkle.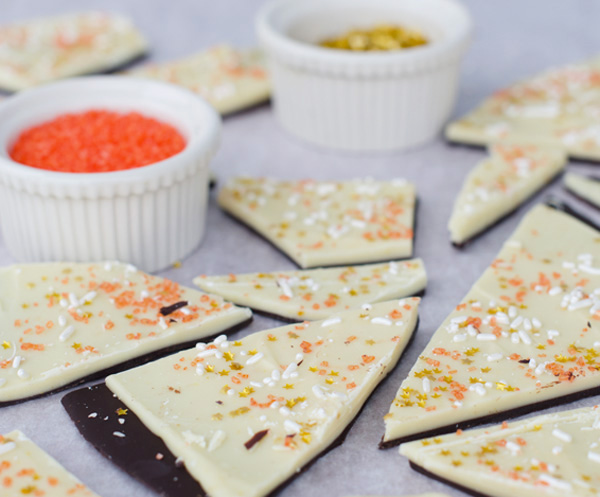 Ingredients
12 ounces good quality white chocolate, chopped
6 ounces good quality bittersweet chocolate, chopped (I used Ghirardelli 70%)
2 large oranges
Instructions
For the Zest:

Zest 2 large oranges. Spread the zest out on a microwave safe plate and microwave on high for about 1 minute. Test it to see if the zest has dried out completely. If not, continue microwaving at 30 second intervals until the zest is dry and crumbly.
Crush the zest into a fine powder. I used a mortar and pestle, but the back of a spoon will work fine. Set the orange powder aside.

For the bark:

Line a baking sheet with parchment or waxed paper.
In a double boiler, melt the bittersweet chocolate until smooth. Slowly pour the bittersweet chocolate onto the parchment paper, smooth it out with an offset spatula, and put it in the freezer for 20 minutes.
While the bittersweet chocolate is cooling, melt the white chocolate in a double boiler. When the chocolate has melted, stir in the orange powder. Let the mixture cool slightly, and then pour it over the bittersweet chocolate layer. Working quickly, spread the white chocolate out in an even layer. Top with sprinkles (I used a combination of pearlized white jimmies, orange sanding sugar, and edible gold stars).
Place it back in the freezer for 20 minutes, or until the bark has set. Break it into pieces and store in the refrigerator.
http://cakemerchant.com/2012/12/31/chocolate-orange-bark/
Notes:
Recipe adapted from How Sweet it Is and Coffeehouse Mystery
If you're feeling brave, you can melt the chocolate in the microwave. I'm always extra cautious when it comes to white chocolate, but is you use the microwave, do it in 30 second intervals and stir after each one.