Are you tired of miniature desserts in shot glasses? If so, you're probably not going to like this post, because I'm bringing you another one. These 2.5 oz shot glasses were the perfect sized container for a rich dessert. Just large enough to satisfy your sweet tooth, but not so large that it sends you into hyperglycemic shock. Plus, I just really love miniature desserts.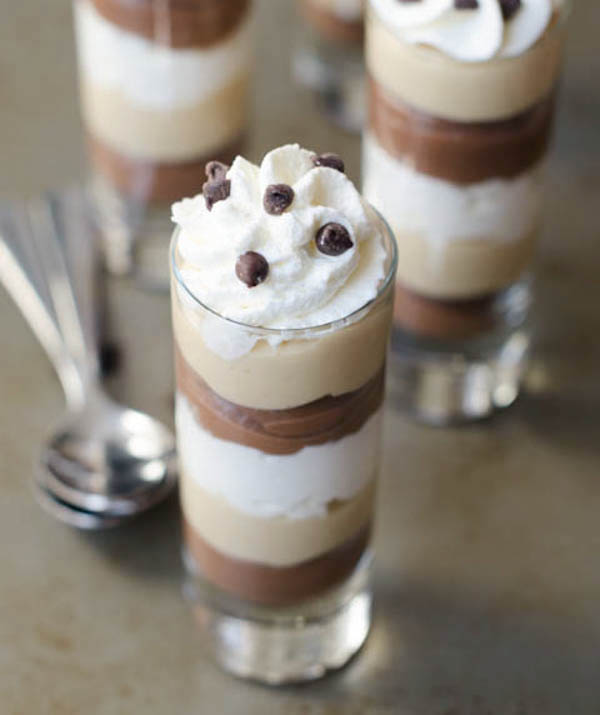 Sometimes, I really crave peanut butter. I'm guilty of spooning it into my mouth straight from the jar, and I had been dreaming about peanut butter pudding for weeks before I actually made this. If you've never made your own pudding, it really is a revelation, and totally worth the effort. It's a step up from the pre-packaged store bought stuff, but it's no less comforting.
I paired the peanut butter pudding with chocolate because, well, if it ain't broke, don't fix it. I had been wanting to try Deb Perlman's chocolate pudding recipe for a while. It's less rich than my go to recipe, since it doesn't contain egg yolks, and went really well with the peanut butter. But let's be honest, is there ever a time when chocolate and peanut butter don't go well together?
Since this recipe made about 16 mini trifles and I knew there would be some leftovers, I decided to stabilize the whipped cream before piping it on so that it would hold up longer. Most of the recipes I've found for stabilized whipped cream use gelatin. I prefer not to use gelatin in my desserts, so I used agar powder (not flakes), which I found in the ethnic foods section at the grocery store. Agar powder is seaweed based, and about 1/2 teaspoon in one cup of cream did the trick. I still have one trifle that's been sitting in my fridge for about 48 hours, and the cream looks freshly whipped!
I used 3 16-inch decorating bags to pipe the pudding into the shot glasses. I snipped the end off the chocolate and peanut butter pudding bags, and fitted the whipped cream bag with a Wilton 2D tip.
Chocolate Peanut Butter Pudding Trifles
makes about 16 trifles
For the chocolate pudding
Ingredients:
1/4 cup (30 grams) cornstarch
1/2 cup (100 grams) sugar
1/8 teaspoon salt
3 cups (705 ml) whole milk
6 ounces (170 grams) chopped chocolate or chocolate chips (I used Ghirardelli 60 %)
1 teaspoon (5 ml) pure vanilla extract
Directions:
In a saucepan, whisk together the cornstarch, sugar, and salt. (The original recipe called for a double boiler, but I didn't have the patience for that). Add the milk, and whisk to combine.
Cook the mixture over medium heat, until the mixture thickens and coats the back of a spoon.
Reduce the heat to low, and stir in the chocolate until smooth.
Remove from heat and stir in the vanilla.
Strain the pudding through a fine mesh strainer to remove any lumps, and transfer the pudding into a bowl and cover with plastic wrap to prevent a skin from forming. Chill for 2 hours.
Transfer the pudding into a 16-inch piping bag.
For the peanut butter pudding
Ingredients:
3/4 cups sugar
1/6 cup cornstarch
1 tablespoons all-purpose flour
1/4 teaspoon salt
3 cups 2% milk
3 egg yolks, beaten
1/2 cup creamy peanut butter
1 teaspoon vanilla extract
Directions:
In a saucepan, whick together the sugar, cornstarch, flour, and salt. Add the milk and whisk to combine.
Cook over medium heat, until the mixture has thickened slightly (about 10 minutes)
In a medium bowl, add about half of the hot milk mixture to the beaten egg yolks. You'll want to drizzle it in a little bit at a time, whisking constantly so that you don't get scrambled eggs.
Pout the egg mixture back into the saucepan, and continue stirring constantly over medium heat. The mixture will start to bubble, and should coat the back of a spoon.
Remove from heat and stir in the peanut butter and vanilla extract.
Pour the mixture into through a fine mesh strainer to remove any lumps or bits of egg into a bowl. Cover with plastic wrap and refrigerate for at least 2 hours.
Once the pudding has cooled completely, transfer it to a 16-inch decorating bag.
For the whipped cream
Ingredients
1 cup heavy cream, cold
2 teaspoons sugar
1 teaspoon pure vanilla extract
1/2 teaspoon agar powder
Directions
In a bowl of a stand mixer fitted with the whisk attachment, beat the cream just until stiff peaks are about to form.
Add the sugar, vanilla, and agar powder, and beat until stiff peaks have formed.
Transfer the whipped cream into a piping bag fitted with a star tip.
To assemble the trifles:
Pipe the chocolate pudding, peanut butter pudding, and whipped cream in alternating layers into each shot glass.
Peanut butter pudding recipe adapted from Taste of Home
Chocolate Pudding recipe adapted fromSmitten Kitchen