Happy St. Patrick's Day! St Patty's tends to be a holiday that I forget about. I'm always the girl who gets pinched because she doesn't wear green, but I couldn't let the day go by without posting something with at least a little bit of green in it.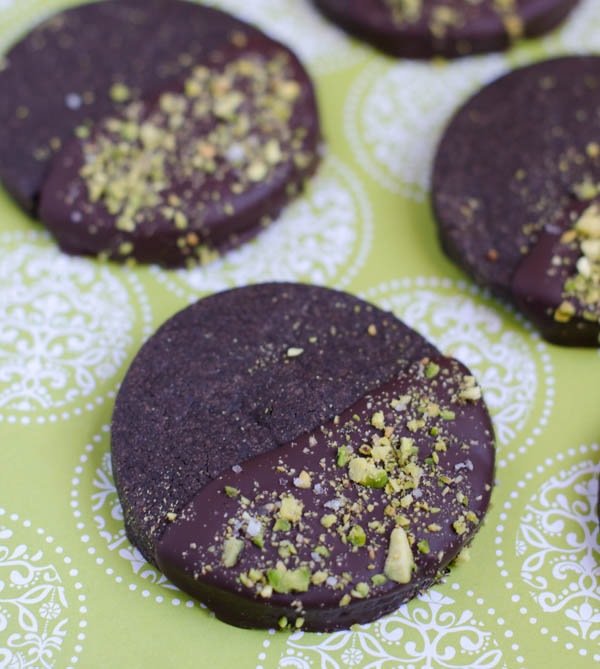 Holiday or not, I love shortbread. Remember these cookies? And these? Yes, my love of shortbread runs deep, and when I found a recipe for chocolate shortbread in my new beloved Bouchon Bakery 
cookbook, I new I had to give it a try. This shortbread recipe is so simple to make, and requires ingredients that you probabaly already have on hand- flour, butter, sugar, cocoa, and salt. Mix 'em up, roll 'em out, and you have the perfect tea time snack. These were delicious right out of the oven, but I took them a step further and dipped them in bittersweet chocolate. I also added some chopped pistachio and a few flakes of Fleur de Sel
, a French sea salt with a delicate flavor.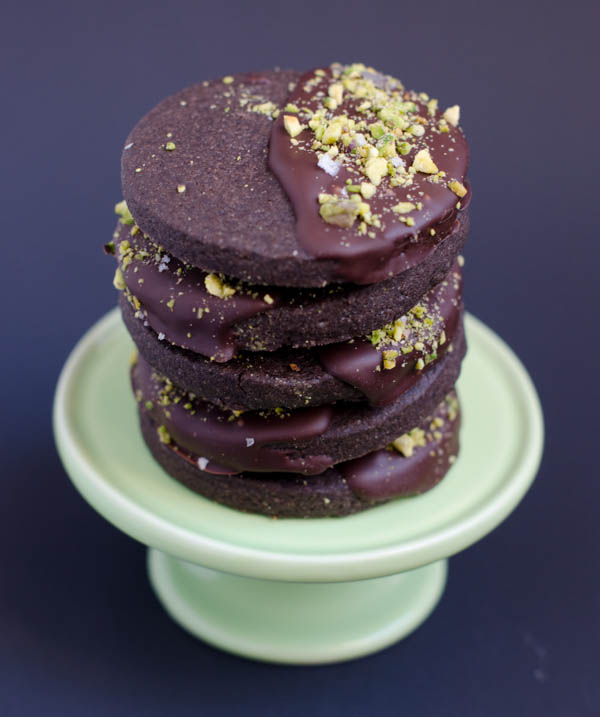 If you're vegan, this recipe is really easy to veganize. Sub vegan buttery sticks (like Earth Balance) for regular butter. A lot of bittersweet chocolate is already dairy free, but if you're concerned, you can get certified vegan chocolate or chocolate chips.
Update: For those of you who were having problems with the cookie being too runny, I've updated the flour measurements, which were off by 1 cup! If at all possible, I recommend doing this recipe by weight for the best possible results.
Dark Chocolate Shortbread Cookies with Pistachios and Sea Salt
cookie recipe adapted from Bouchon Bakery
For the cookies:
13 tablespoons (180 grams) unsalted butter
1/2 cup (90 grams) granulated sugar
3/4 teaspoon (2 grams) kosher salt
1 teaspoon (5 grams) vanilla extract
1 1/2 cups plus 3 (240 grams) tablespoons all-purpose flour
1/4 cup (30 grams) Dutch process cocoa powder
Directions:
1. In the bowl of a stand mixer, beat the butter until creamy and smooth.
2. Add the sugar and salt and beat on medium until combined, about 2 minutes.
3. Add the vanilla and beat until incorporated.
4. Add the flour and cocoa in 2 additions, beating on low after each addition. Beat on low until the flour and cocoa have just disappeared into the dough.
5. Form the dough into a block, and roll out in between 2 pieces of parchment paper. I rolled mine out about 1/4 inch thick. Refrigerate the dough for at least 2 hours.
6. After the dough has chilled, preheat the oven to 325 degrees fahrenheit and line 2 baking sheets with parchment paper.
7. Cut the cookies into squares or use a cookie cutter (I used a round cutter). Place the cookies one inch apart on the parchment paper and bake for 18-20 minutes, or until the cookies are firm to the touch.
8. Transfer the cookies to wire racks and cool completely.
For the chocolate/pistachio coating:
4 oz. (113 grams) bittersweet chocolate, chopped
1/2 cup chopped pistachio meats
A few flakes of Fleur de Sel or other good quality sea salt (such as Maldon)
Directions:
1. One the cookies have baked and cooled, line a baking sheet with parchment or waxed paper.
2. Microwave the chocolate in 30 second intervals until smooth, dip each cookie in chocolate, and place on waxed paper.
3. While the chocolate is still wet, top with pistachios and a few flakes of Fleur de Sel.