I watch way too much TV, and much of that TV time is spent watching some kind of food related show. Normally, this doesn't interfere too much with my daily life, since it's usually just on in the background while I'm doing other things, but occasionally, I see something that I must cook/bake/eat immediately, and everything else comes to a stand still. These cookies were one of those things.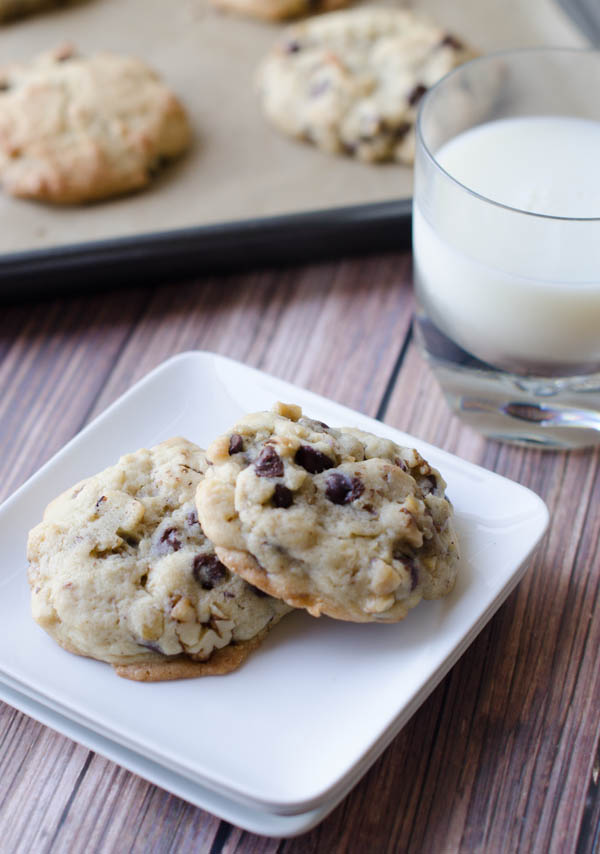 After watching an episode of "Throwdown" with Bobby Flay, I saw ginormous, puffy cookies from Levain Bakery in New York. They reminded so much of the chocolate chip cookies I loved as a kid. My friend's mom was a great baker, and made these wonderful puffy chocolate chip cookies from time to time, but I never got the recipe from her. These look like they resembled those cookies.
I've never actually been to Levain Bakery, so I have nothing to compare these too. After googling the recipe and finding several different versions, I tried a few recipes, and this is the one I liked best. Like most chocolate chip cookies, I found that these turned out a little better after the dough chilled in the fridge for about an hour.
Levain Bakery's Chocolate Chip Cookies
Ingredients
2 sticks unsalted butter, softened but still cool
3/4 cup granulated sugar
3/4 cup brown sugar, not packed too hard
2 eggs, at room temperature
3 1/4 all-purpose flour (If the dough is very sticky, add up to 1/4 cup more)
1 teaspoon Kosher salt
1 teaspoon baking powder ( I don't fill the tsp fully, hence the 3/4 tsp)
1/4 tsp baking soda
1 tablespoon cornstarch
2 cups good quality semisweet or bittersweet chocolate chips (I used a mix)
1 cup walnuts, coarsely chopped
Instructions
Preheat the oven to 350 degrees and line 2 baking sheets with parchment paper. (If you're going to shill the dough, wait to preheat the oven).
With an electric mixer, beat together the butter, granulated sugar, and brown sugar on medium speed until light and fluffy (about 2 minutes).
Add the eggs in one at a time, and beat together after each one.
Add the flour, salt, baking powder, baking soda, and cornstarch and beat until just combined (don't overmix).
Gently fold in the chocolate chips and walnuts with a wooden spoon or spatula.
With your hands, divide the dough into 12 equal portions and place 6 on each cookie sheet. They don't have to be perfectly formed- globs of dough will do.
(At this point I stuck the cookie sheets in the fridge for about an hour, but they'll still turn out good if you don't.)
Bake for 15-20 minutes and cool on wire racks.
http://cakemerchant.com/2013/08/19/levain-bakerys-chocolate-chip-cookies/
Recipe adapted from Parsley, Sage, and Sweet