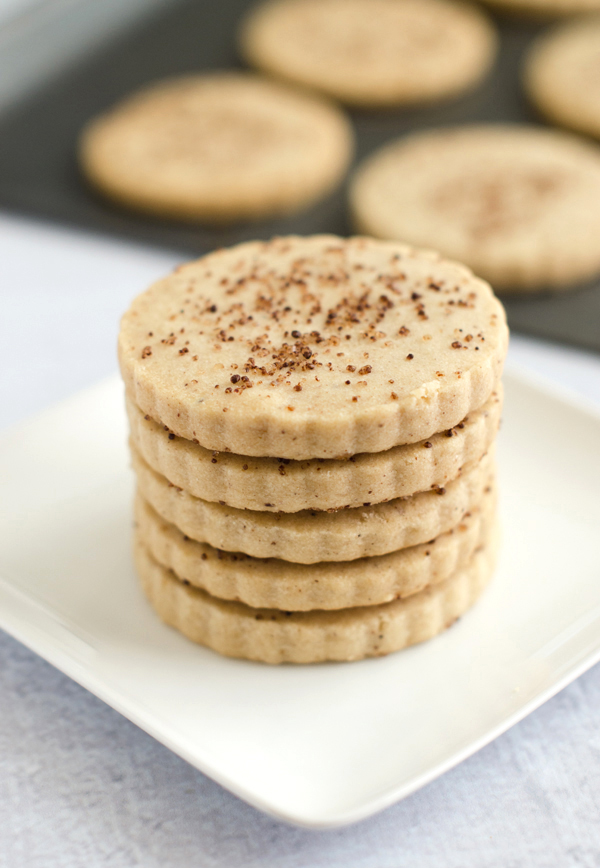 You know how sometimes I make something, and then I tell you about how it's my favorite recipe? Ok, I do that a lot, but this time, it's true! These brown sugar and cinnamon shortbread cookies have bumped these double chocolate cookies from the #1 spot, and are officially my favorite cookies on the blog (at least for this week).
There are several reasons why these are currently my favorite cookies.
1. I love shortbread. Examples: here, here, and here
2. They are super easy to make
3. They go really well with a cup of tea and Downton Abbey
4. It's fall!
Cinnamon really brings back memories of fall for me, and the smell of it in my kitchen can trick my senses into forgetting that it's 90 degrees out today and incredibly muggy. These cookies not only have cinnamon in the dough, but they're topped with crystals of cinnamon sugar that I found at a local spice store. If you can't find the cinnamon sugar crystals, you can make your own, which I've included in the recipe section.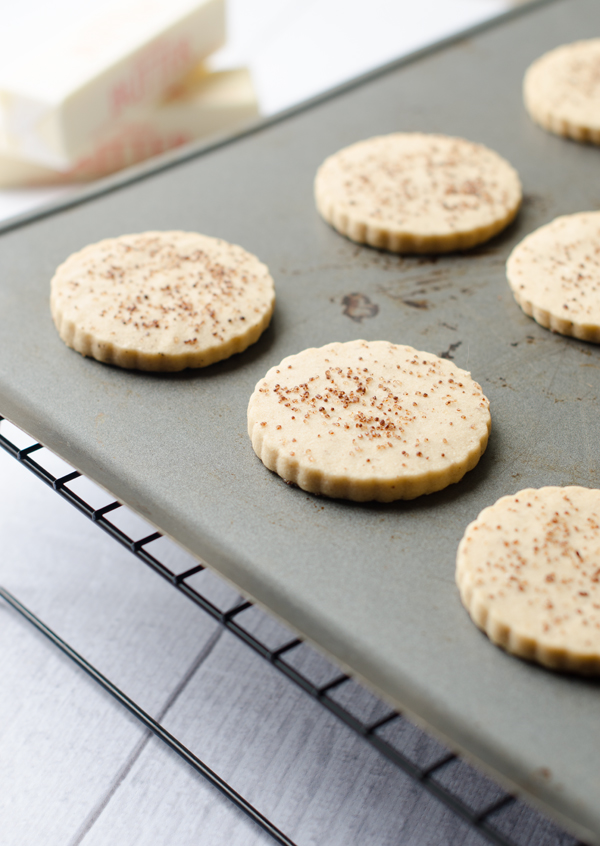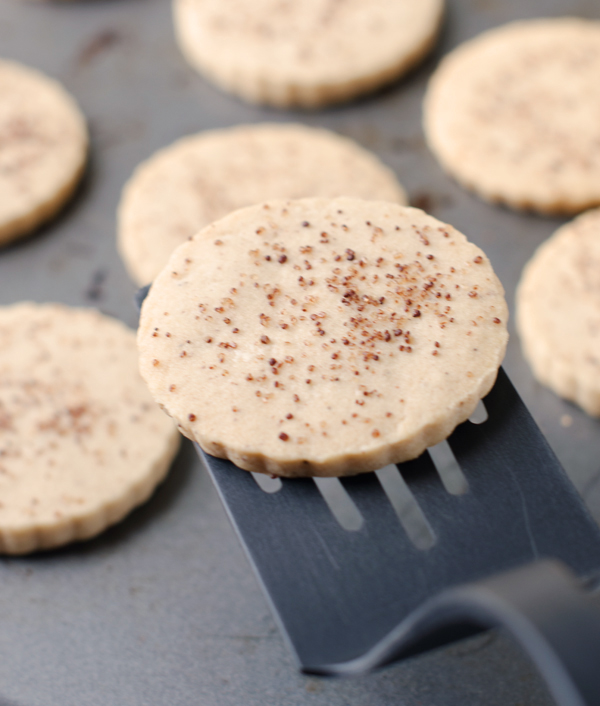 Some shortbread cookie recipes use cornstarch in addition to the flour in order to give a lighter texture, but I didn't feel like these needed any. If you're gentle during the mixing process and don't over bake these, the texture will be delicate.
If you like these, check out my Brown Butter Chocolate Chip Toffee Cookies!
Brown Sugar and Cinnamon Shortbread Cookies
Ingredients
For the cinnamon sugar

1/4 cup 50 grams) turbinado sugar
1 tablespoon cinnamon

For the cookies

1 cup (2 sticks, 226 grams) unsalted butter, at room temperature
1/2 cup (108 grams) golden brown sugar, packed
2 teaspoons cinnamon
2 1/4 cups (281 grams) all purpose flour
1/4 teaspoon salt
Instructions
For the cinnamon sugar

In a small bowl, mix together the the cinnamon and sugar until thoroughly combined.

For the cookies

With an electric mixer, beat the butter and sugar until light and fluffy (about 2-3 minutes).
Add the cinnamon and beat to combine.
Add the flour and salt, and mix on low speed until the dough just comes together, being careful not to overmix.
If the dough is crumbly, use your hand to gently knead it until it comes together.
Put the dough in a gallon sized freezer bag and put it on a flat surface.
Leaving the top open, use the bag as a guide to roll the dough into a 9 x 10 1/2 inch rectangle. It should be about 1/4 inch thick.
Seal the bag and refrigerate the dough for at least one hour.
Preheat the oven to 300 degrees fahrenheit and line 2 baking sheets with parchment paper.
Use a cookie cutter to cut out shapes from the dough, and place them on the lined baking sheets.
Sprinkle them with additional cinnamon sugar and bake for 18-20 minutes, until they are just lightly golden but not browned around the edges.
Cool completely on wire racks.
http://cakemerchant.com/2013/10/13/brown-sugar-and-cinnamon-shortbread-cookies/
Cookies can be kept in an airtight container for about a week, or can be frozen.
Shortbread recipe adapted from Taste of Home
Rolling technique from Use Real Butter
For tips on making better shortbread, check out this post