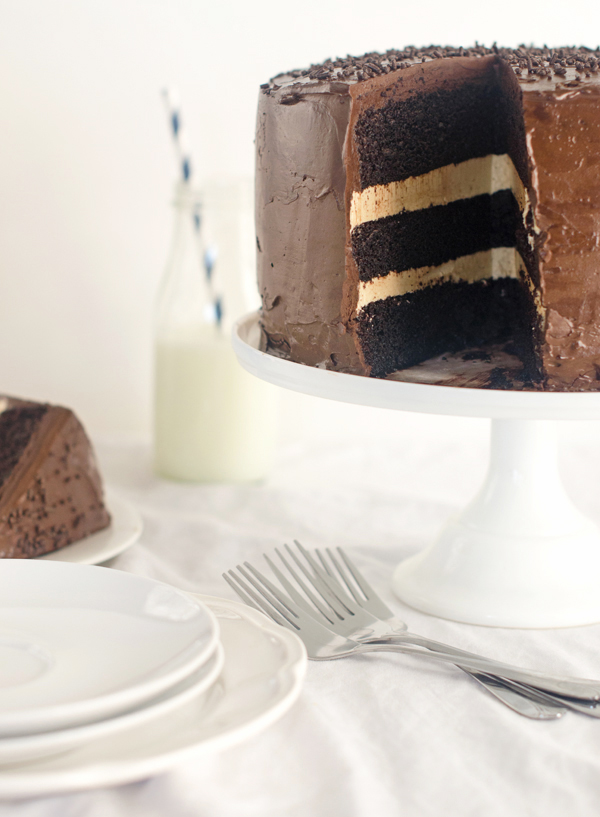 Speculoos cookie butter. Also known as Biscoff spread. Also known as the greatest creation on earth. I'm not sure why it took me so long to jump on the Biscoff bandwagon. Maybe because it's because I'm not a bandwagon jumper by nature, and I tend to resist fads. This fad, however, is totally not a fad. It's here to stay, and it's going to make me fat because I can stop eating it right out of the jar.
I first tried this stuff just a few months ago in the form of a candy. If you're a Trader Joe's fan, you may know what I'm talking about. They make these dark chocolate bars that are filled with cookie butter, and to make matters worse, they put them right by the checkout. This means that every time I go to Trader Joe's, I have to pass right by them, which is just too much for my willpower to handle. And if you don't think that cookie butter and dark chocolate go well together, I dare you to try this candy and not love it. It was this little bar that inspired me to make this cake.
I made several versions of this cake, but the one I'm sharing with you today actually did justice to the candy bar. I'm so excited about this recipe, that I want to tell you all about the process of making it, but if you don't care to know, just skip down to the recipe. Ok, let's start with the cake. I've shared a few recipes for dark chocolate cake on this blog, but I needed something really fudgy and truffle like. I ultimately chose a sour cream chocolate cake from one of my favorite cake books, Sky High
. Not only is it super moist (I know, I hate that word too), but it's an easy one bowl recipe that doesn't even require a mixer! It's also 3 layers, and I totally have a thing for 3 layer cakes. It's my favorite cake profile. And yes, in case you're wondering, I'm a cake nerd.
Next, the filling. My first cake attempt began with a quick and easy American buttercream, but the cookie butter itself is sweet, so by the time I added enough powdered sugar for it to hold up, it was sickeningly sweet. I ended up settling on a Swiss meringue buttercream. If you've never made SMB before, please don't be intimidated. It's a little bit more work than American buttercream, but totally worth it. I'm pretty lazy when it comes to frosting, so I tend to fall back on American buttercream, but whenever I make the Swiss variety, I'm glad I went the extra mile. I adapted a recipe that I found on BraveTart, and if this is your first time making SMB, I recommend reading her original post as well as this post.
The filling recipe makes enough for 2 thick layers in between each layer of cake. One of the reasons I love Swiss buttercream is that you can get away with having a thick layer of frosting without it being too sweet. If you don't want a thick layer, the leftovers can be frozen. Or, you can grab a spoon and eat the leftovers directly out of the mixing bowl (not that I did that, or anything).
For the frosting, I tried both a sour cream chocolate frosting and a chocolate ganache before settling on this one from Sweetapolita. It's intensely chocolaty, but not so rich that you can't eat a whole slice of cake. There's a pound of chocolate in this frosting, so use the best quality you can find (I used Callebaut). I live in a warm climate and the frosting was a bit too runny just after a I made it, so I put it in the fridge for about 10 minutes until it reached the right consistency (just don't let it sit for too long or you won't be able to spread it).
Dark Chocolate Speculoos Truffle Cake
Ingredients
For the Cake

2 cups (250 grams) all-purpose flour
2 1/2 cups (500 grams) granulated sugar
3/4 cups (90 grams) Dutch process cocoa (I used Valrohna)
2 teaspoons baking soda
1 teaspoon kosher salt
1 cup (240 ml) vegetable or canola oil
1 cup (226 grams) full fat sour cream
1 1/2 cups (360 ml) water
2 tablespoons distilled white vinegar
1 teaspoon vanilla extract
2 large eggs, at room temperature

For the Speculoos Swiss Meringue Buttercream Filling

4 oz (120 grams) egg whites
4 oz (113 grams) sugar
1/4 tsp kosher salt
3 sticks (12 ounces/339 grams)unsalted butter, cut into 2 inch chunks and at room temperature
1 teaspoon pure vanilla extract
1/2 cup (128 grams) Speculoos or Biscoff Cookie Spread

For the Dark Chocolate Frosting

1/4 cup (45 grams) + 2 tablespoons unsweetened Dutch-process cocoa powder (I used Valrohna)
1/4 cup (90 ml) + 2 tablespoons boiling water
1 1/2 cups (3 sticks/341 g) unsalted butter, room temperature
1/2 cup (60 g) powdered sugar
pinch of salt
1 pound (454 g) good-quality semi-sweet chocolate, melted and cooled
Chocolate sprinkles for garnish
Instructions
For the Cake

Preheat the oven to 350 degrees fahrenheit.
Grease and line 3 8-inch cake pans and line them with parchment paper.
In a large bowl, whisk together the flour, sugar, cocoa powder, baking soda, and salt until well combined.
Add the oil and sour cream and whisk until blended.
Add the water in 1/2 cup at a time and whisk until combined.
Whisk in vinegar and vanilla to blend.
Add the eggs and whisk until combined.
Scrape down the sides of the bowl with a spatula to make sure all of the ingredients are well combined.
Divide the batter equally among the 3 prepared pans (I used a kitchen scale to do this).
Bake for 30-35 minutes, until a toothpick inserted into the center of the cake comes out almost clean (it's ok if a few crumbs stick to it, but should not look shiny).
Let the pans cool on wire racks for about 20 minutes, then invert the cakes onto the racks to finish cooling completely.

For the Speculoos Swiss Meringue Buttercream:

Combine the egg whites, sugar, and salt in a bowl (I used the bowl of my stand mixer).
Place the bowl over a pan of simmering water. The bowl should not touch the water, nor should the water be at a rolling boil. It's the steam that's going to heat the egg whites, since we don't want scrambled eggs.
Heat the egg white mixture until it reaches 145-150 degrees fahrenheit, whisking frequently so as not to get scrambled eggs.
Remove the bowl from the heat, and whip the egg whites on medium high using the whisk attachment of your stand mixer.
Whip the egg whites until they become fluffy and double in volume. The bowl should be cool to the touch (this will usually take several minutes).
Turn the mixer down to medium low, and add the butter in one chunk at a time, until it has all been incorporated.
If the mixture looks curdled at this point, this is normal. Just keep whipping for a few more minutes until it comes together. If the mixture looks soupy, you can add a few cubes of chilled butter, or stick the whole bowl in the refrigerator for about 15 minutes and then continue beating.
Once the buttercream has become smooth, and the vanilla and cookie butter and beat until incorporated.

For the Dark Chocolate Frosting

Combine the cocoa and boiling water and stir until the cocoa has dissolved.
With an electric mixer, beat the butter on medium high until pale and creamy.
Add the powdered sugar and salt and beat on low until just combined.
Turn the mixer up to medium high and beat for an additional 2 minutes.
Add the melted chocolate and beat on low speed until combined, scraping down the sides of the bowl as necessary.
Beat in the cocoa mixture until thoroughly combined.

To Assemble the Cake:

Place one layer of the cake on an 8-inch cake board.
With an offset spatula, spread half of the speculoos filling on top of the first layer.
Repeat this process with the second layer, spreading the remainder of the filling on top.
Place the 3rd layer on top.
Place the cake on a turntable, and apply a thin layer of the chocolate frosting on the sides and the top of the cake to lock in the crumbs.
Let the frosting set up in the refrigerator for about 30 minutes.
Apply the remainder of the frosting to the sides and top of the cake and garnish with sprinkles.
Serve at room temperature.
http://cakemerchant.com/2013/10/25/dark-chocolate-speculoos-truffle-cake/
Notes:
-Chocolate cake recipe adapted from Sky High: Irresistible Triple-Layer Cakes

-Swiss meringue buttercream adapted from BraveTart
-Dark chocolate frosting adapted from Sweetapolita
Tips:
-Wipe down all of your kitchen tools with vinegar before making meringue. Any grease residue will cause it to flop.
-I've used liquid egg whites for the Swiss buttercream without any problems.
-This cake holds up well against refrigeration and will not dry out if kept in an airtight container (i.e a cake saver) for 2-3 days, but be sure to bring it back to room temperature before serving.
Helpful tools:
-A kitchen scale
 is an invaluable tool if you bake cakes regularly. Accuracy is important when measuring ingredients, and can mean the difference between a delicious or a dry cake.
-Cake strips help you cakes stay flat when baking, making for even layers. I like these
, since they have velcro and fit almost any size pan.
I use a turntable
and both a large
and small
offset spatula to help make the frosting smooth and even.