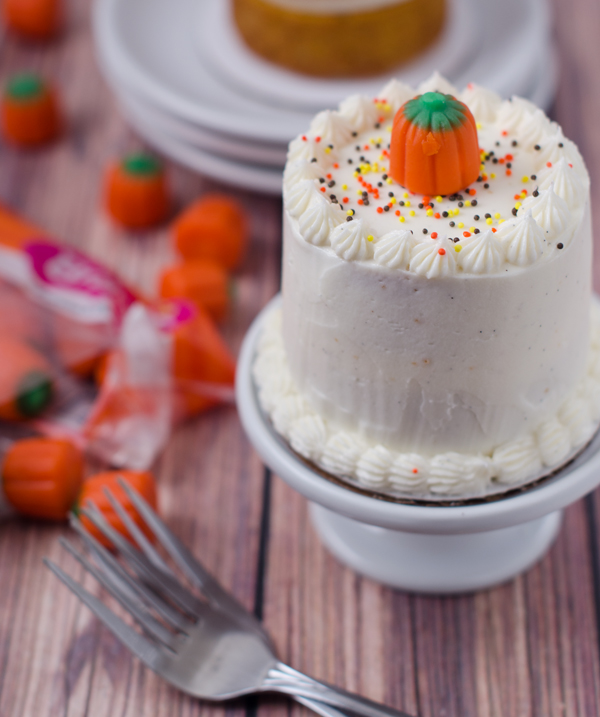 I can't believe I've been away from blogging for almost 2 weeks! This is my favorite time of year to bake, but commuting back and forth from Dallas to Amarillo for work has kept me away from my oven. Not that I'm complaining at all. As a musician, any work is always welcome, and I've had so much fun playing with the Amarillo Symphony this week. I just wish this hotel room had an oven, because I'm dying to make a cake right now.
I did, however, manage to sneak in some baking before I left for my trip. And yes, it's another pumpkin recipe. Another pumpkin cake recipe to boot. That's what happens when you're a procrastinator like me and you save all of your fall recipes until the last minute.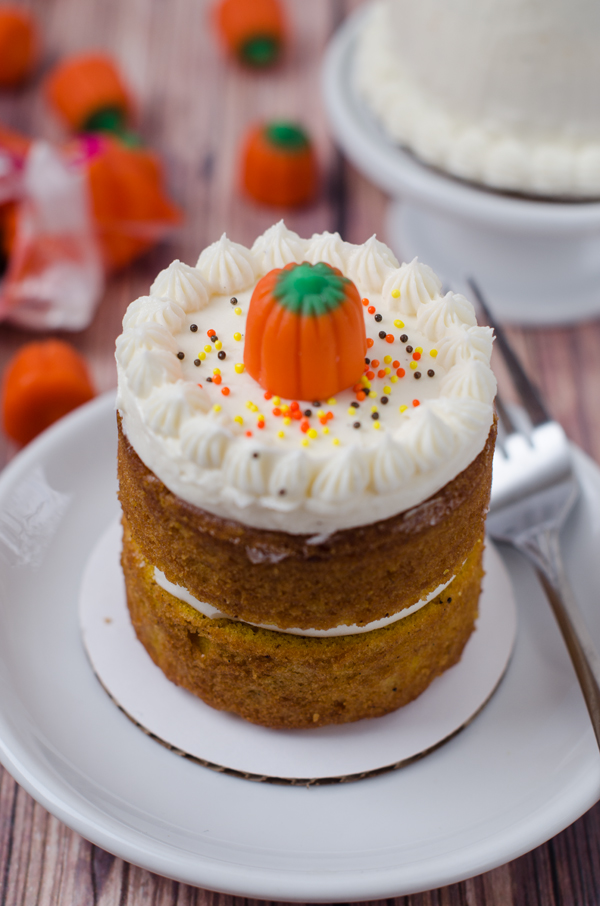 While I have been lucky enough to spend the last few Thanksgivings with my fiancé and his family, this recipe was inspired by the many Thanksgivings I have celebrated on a much smaller scale. Some of my favorite Thanksgivings have been those that were spent with a roommate or a close friend or two, and these mini pumpkin cakes fit just that kind of an occasion.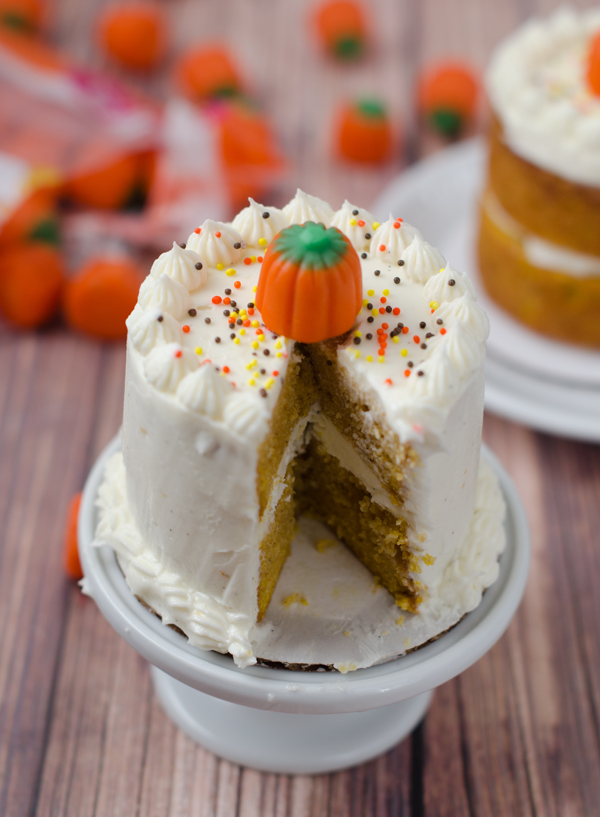 This recipe makes a small batch- just 2 tiny cakes! I suppose I could have just made cupcakes, but layer cakes just have a better cake to frosting ratio. Plus, they're cuter.
You may remember this recipe that I posted over at Best Friends for Frosting last year. These mini cakes are also baked in cans. I found some cans of organic pumpkin in BPA free liners, so I used those, but if you don't want to bake these in cans, you can use a 4-inch cake pan. You may need to adjust the baking time if you do that.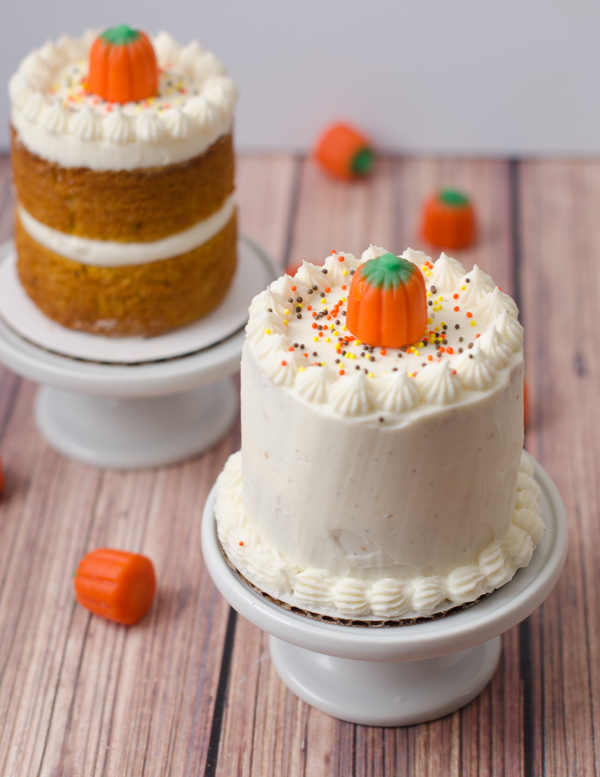 To be honest, frosting these tiny cakes proved to be a bit cumbersome, so I left one without frosting on the outside just to show that they can look cute either way. I used 3 1/2 inch cake boards underneath, but if you don't frost the outside, they really aren't necessary. The frosting recipe makes enough to crumb coat and frost each cake with some left over for piping, but if you don't plan to frost the outside, you can cut frosting the recipe in half.
Mini Pumpkin Layer Cakes for Two
Ingredients
For the Cake:

1/2 cup all-purpose flour
1/8 teaspoon baking powder
1/8 teaspoon baking soda
1/4 teaspoon salt
1/2 teaspoon ground cinnamon
1 large egg
1/4 plus 3 tablespoons granulated sugar
1/2 teaspoon vanilla extract
3 tablespoons vegetable oil
1/4 cup pumpkin puree

For the Vanilla Bean Frosting:

6 ounces (12 tablespoons) unsalted butter
1 cup powdered sugar
1 teaspoon vanilla ban paste (or vanilla extract)
pinch of salt
sprinkles and candy pumpkins for decoration (optional)
Instructions
Preheat the oven to 350 degrees fahreheit.
Grease 2 cans and line them with parchment paper and place them on a baking sheet.
In a medium bowl, whisk together the flour, baking powder, baking soda, salt, and cinnamon.
In a large bowl, whisk together the egg, granulated sugar, vanilla extract, and vegetable oil.
Add the pumpkin puree and whisk to combine.
Add the flour mixture to the wet ingredients and whisk until combined. Do not overmix.
Divide the batter evenly between the cans.
Bake for 30-35 minutes, until a toothpick inserted into the center comes out clean.
Let the cakes cool in the cans on wire racks for about 10 minutes.
Run a knife around the sides of the cakes and invert onto the racks until completely cool.

For the Frosting:

With an electric mixer on medium high, beat the butter until light and fluffy, about 2-3 minutes.
Add the powdered sugar, and beat on low until combined.
Turn up the mixer to medium high and beat for an additional 1-2 minutes.
Add the vanilla bean paste and salt and beat to combine.

To Assemble:

If you wish to frost the outside of the cakes, place them on a 3 1/2 inch cake board.
With a sharp knife, cut the cakes in half horizontally.
Spread a layer of frosting in between the layers.
At this point, you can either just put a layer of frosting on the top, or you can crumb coat the cake.
If you crumb coat the cake, let it sit in the fridge for 20-30 minutes until the first layer of frosting is set.
Remove the cake from the fridge and use an offset spatula to spread the frosting the top and the sides of the cake.
Use a piping tip to pipe the additional frosting on the sides and the top of the cake.
Top with sprinkles and a mellowcreme pumpkin.
http://cakemerchant.com/2013/11/23/mini-pumpkin-layer-cakes-two/
Cake recipe adapted from Small-Batch Baking
by Debbie Maugans Nakos