Whew, It's been a whirlwind few weeks! We've had quite the terrible weather here in Texas, make my commutes to Amarillo less than ideal. I know this is common in some parts of the country (including where I grew up in Indiana), but people here just aren't equipped to deal with it, which means the ice just sits on the ground until it temperatures get above freezing. On top of that, I've been without a functioning computer for a while, which has made blogging rather difficult, but I'm finally back up and running. Thank goodness for Apple Care!
Anyway, during my last trip, I was trying to come up with ideas for seasonal desserts, but I couldn't get chocolate out of my head. I was craving a super chocolaty cake with even more chocolaty frosting, and I just couldn't think of anything else. It may surprise you, but I rarely crave cake. I love making it, I love decorating it, but when it comes to eating it, I'm perfectly satisfied with a small slice. That all changed when I made this cake a few weeks ago. I used the same chocolate cake recipe (which has now become my go to chocolate cake), but I paired it down to make a 3 layer 6-inch cake. I love that it's a one bowl recipe that doesn't even require a mixer!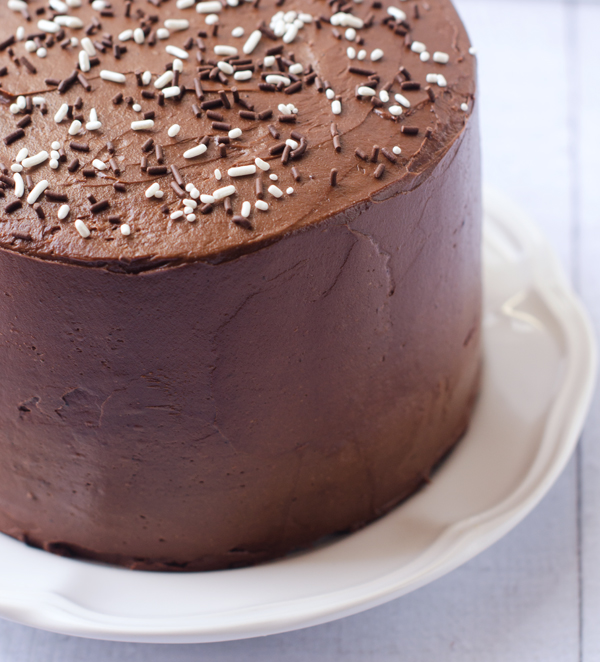 Up until recently, I had never experimented much with cocoa powders. I just used Hershey's since it was cheap and easy to find. Plus, I've read numerous reviews that it was just as good as some of the fancier European brands. I didn't really want to spend a lot of money on a bog box of fancy cocoa only to be disappointed. However, on my last trip to Central Market here in Dallas, I noticed some different types of cocoa powder in the bulk section, so I bought a few dollars worth of Valrhona
and decided to give it a try.
I wish I could tell you that it didn't make a difference, but it did. Let's just say that I was not satisfied with only one slice of this cake. It was like chocolate heaven. I'm not telling you this to push a product, but I thought the information might be useful, since it's something I've been curious about for a long time. If you're baking a chocolate cake for a special occasion, splurge on the good cocoa. Next on my list to try are Guittard and Cacao Berry. If you've had good experiences with other kinds of cocoa, I'd love to hear about it.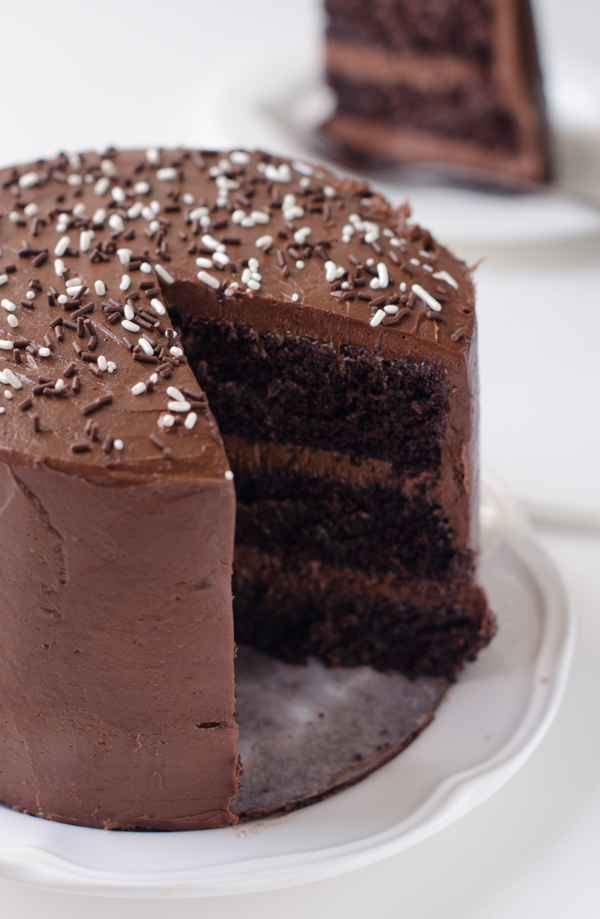 If you don't like malt flavor, don't worry. This frosting doesn't taste like malt. In fact, no one knew there was any malt powder in this, but it does give the frosting an unusual sweetness and depth of flavor. I know I claim that a lot of things are my favorite, but this frosting is my favorite so far. Even my fiancé, who is rarely excited by cake, loved this and begged me not to share too much of it. So what are you waiting for? If you like chocolate (or even if you don't), go make this cake!
Dark Chocolate Cake with Malted Chocolate Frosting
Ingredients
For the Cake

1 1/3 cups (167 grams) all-purpose flour
1 2/3 cups (333 grams) sugar
1/2 cup (60 grams) Dutch process unsweetened cocoa powder (I used Valrhona)
1 1/2 teaspoons baking soda
3/4 teaspoon salt
2/3 cup (160 ml) vegetable oil
2/3 cup (150 grams) sour cream
1 cup (240 grams) water
1 tablespoon distilled white vinegar
1 teaspoon vanilla extract
1 extra large egg

For the Frosting

3 tablespoons (22 grams) unsweetened cocoa powder (I used Valrhona)
1 cup (125 grams) malted milk powder
Pinch of salt
1/4 cup boiling water
1 cup (2 sticks/226 grams) unsalted butter, at room temperature
1 cup (125 grams) powdered sugar
6 ounces (170 grams) semi-sweet chocolate, melted and cooled (I used Callebaut)
1-2 tablespoons (15-30 ml) heavy cream
Instructions
For the Cake:

Preheat the oven to 350 degrees fahrenheit.
Grease and line 3 6-inch cake pans and line them with parchment paper.
In a large bowl, whisk together the flour, sugar, cocoa powder, baking soda, and salt until well combined.
Add the oil and sour cream and whisk until blended.
Add the water in 1/2 cup at a time and whisk until combined.
Whisk in vinegar and vanilla to blend.
Add the egg and whisk until combined.
Scrape down the sides of the bowl with a spatula to make sure all of the ingredients are well combined.
Divide the batter equally among the 3 prepared pans (I used a kitchen scale to do this).
Bake for 27-33 minutes, until a toothpick inserted into the center of the cake comes out almost clean (it's ok if a few crumbs stick to it, but should not look shiny).
Let the pans cool on wire racks for about 20 minutes, then invert the cakes onto the racks to finish cooling completely.

For the Frosting:

In a medium bowl, whisk together the cocoa, malted milk powder, and salt.
Add the boiling water and whisk together until smooth.
Set aside to cool.
With an electric mixer, beat the butter on medium high speed until light and fluffy (1-2 minutes).
Add the powdered sugar and beat on low speed to combine.
Turn the mixer up to medium high and high for an additional 2 minutes.
Add the cocoa mixture and beat until combined.
Add the melted chocolate and beat on medium for an additional 2 minutes until smooth, scraping the sides of the bowl down with a spatula when necessary.
Add the cream and beat to combine.

To Assemble the Cake:

Place one layer of the cake on an 6-inch cake board.
With an offset spatula, spread about 1/2 cup of the frosting on top of the first layer.
Repeat this process with the second layer, spreading another 1/2 cup of the frosting on top.
Place the 3rd layer of cake on top.
Place the cake on a turntable, and apply a thin layer of the frosting on the sides and the top of the cake to lock in the crumbs.
Let the frosting set up in the refrigerator for about 30 minutes.
Apply the remainder of the frosting to the sides and top of the cake and garnish with sprinkles.
Serve at room temperature.
http://cakemerchant.com/2013/12/09/dark-chocolate-cake-malted-chocolate-frosting/
Cake recipe adapted from Sky High: Irresistible Triple-Layer Cakes

Frosting recipe adapted from Martha Stewart