Do you love Downton Abbey as much as I do? If you don't, we can't possibly be friends.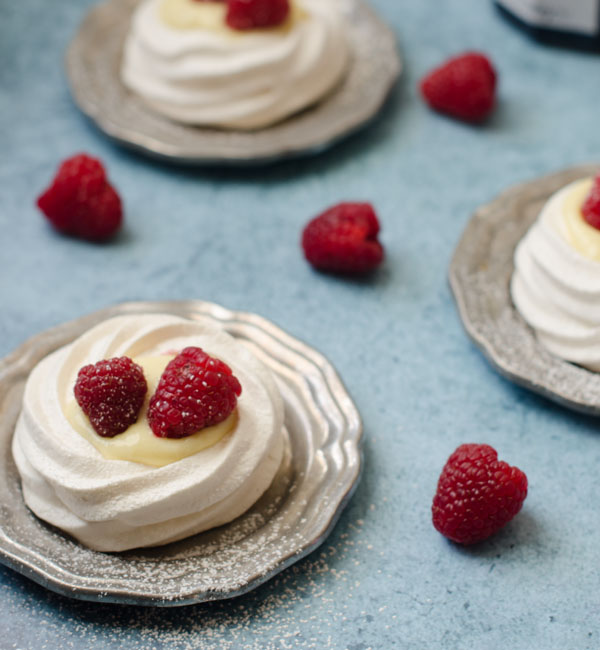 Just kidding! Well….kind of. Anyway, I'm super excited that the new season has finally started back up again, and to celebrate, I'm sharing a Downton themed dessert. Normally, I would be happy to sit and watch Downton Abbey with some scones and a cup of tea, but I wanted something more exciting for the season 4 premiere. (BTW, I totally meant to post this before the premiere, but procrastination got the best of me). For this recipe, I took my inspiration from an episode in season one, when Mrs. Patmore, the cook, made a raspberry meringue for dessert. Her eyesight had been failing, and when she went to sprinkle some sugar over the top, she accidentally reached for the salt instead, rendering the dessert inedible.
Mrs. Patmore's raspberry meringue consisted of a large pudding (similar to a bread pudding) that was served with fresh raspberries and meringue cookies. My version is a twist on the original, consisting of individual meringue nests filled with raspberry jam and pastry cream, topped with fresh raspberries and powdered sugar (not salt). While Mrs. Patmore didn't use pastry cream, I figured it would be an easy filling since I had leftover egg yolks. Plus, I doubt they would have wasted any part of the egg in those days.
I thought it was funny that the electric mixer was introduced in last Sunday night's episode, and Mrs. Patmore was totally afraid of it. It makes me wonder how she whipped up the meringues. That lady must have had one heck of an arm. I suppose if you wanted to be really authentic, you could try whipping this up by hand.
You can fill the meringue nests with anything you like- whipped cream, Swiss or Italian Buttercream, or just fruit. I've even made these with my favorite sturdy whipped cream frosting, which is a combination of cream cheese and whipped cream that is not too sweet and doesn't fall apart like regular whipped cream.
This was my attempt and a sugar sprinkling action shot.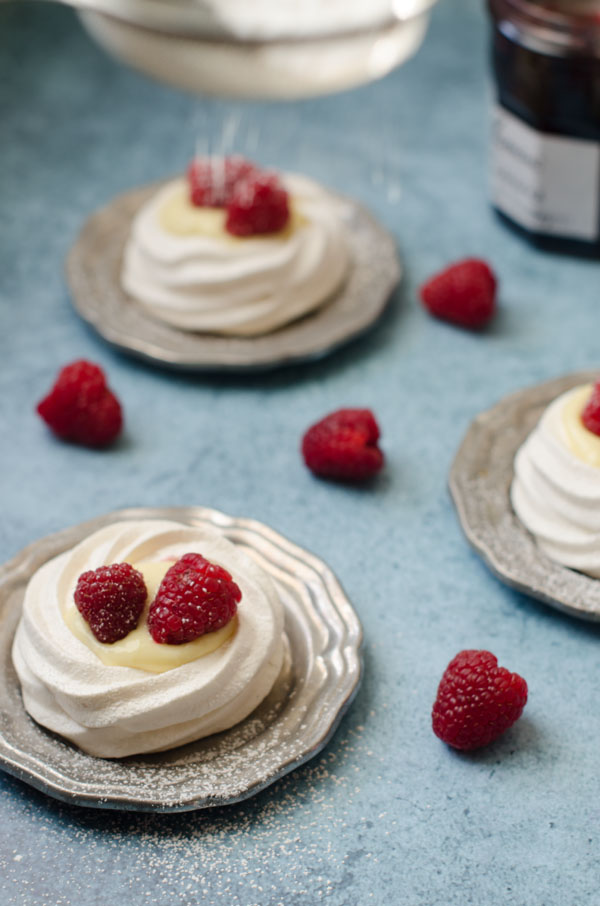 I went a little sugar happy with the one on the right…oops. At least I didn't use salt.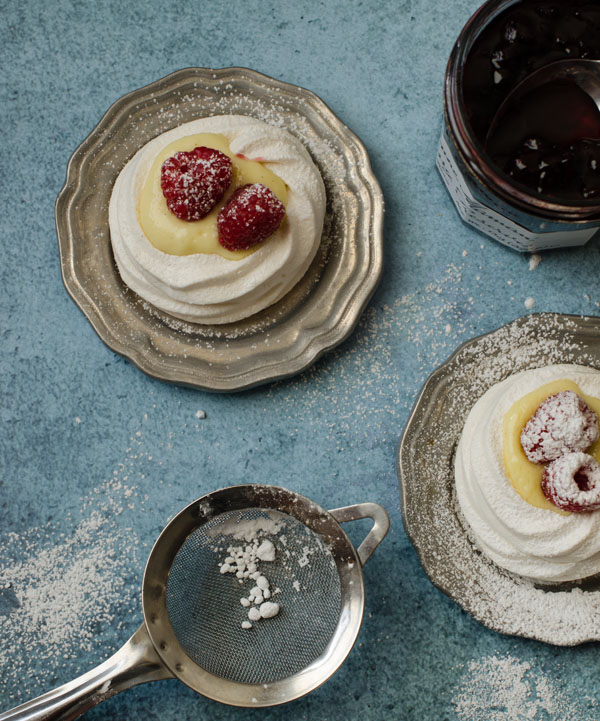 As the Dowager would say,"It seems a pity to miss such a good pudding." I hope you enjoy these as much as I did.
Mrs. Patmore's Raspberry Meringue
Ingredients
For the Meringue Nests:

3 large (90 grams) egg whites
1/4 teaspoon cream of tartar
3/4 cup (150 grams) superfine sugar (you can put granulated sugar through the food processor)
1/2 teaspoon pure vanilla extract

For the Filling:

Raspberry jam or preserves
Vanilla Bean Pastry Cream (recipe to follow)
Fresh Raspberries
Powdered sugar (optional)

For the Vanilla Bean Pastry Cream:

3 large egg yolks
1/4 cup (50 grams) granulated white sugar
2 tablespoons (20 grams) all-purpose flour
2 tablespoons (20 grams) cornstarch (corn flour)
1 1/4 cups (300 ml) whole milk
1 teaspoon pure vanilla extract or vanilla bean paste
Instructions
For the Meringue Nests:

Preheat the oven to 200 degrees fahrenheit. Line 2 baking sheets with parchment paper.
Wipe down your bowl and beater with vinegar. This will remove any residue that causes the meringue to weep.
With an electric mixer (use the whisk attachment on a stand mixer), beat the egg whites on medium until they are foamy.
Add the cream of tartar, turn the mixer up to medium high, and beat until soft peaks form.
Add the sugar a little bit at a time, and continue to beat until stiff peaks form.
Add the vanilla extract and beat to combine.
Transfer the meringue into an 18-inch pastry bag that has been fitted with a star tip.
Pipe the meringue into concentric rounds until you get a 3 inch circle, starting from the inside and working your way out. Pipe an additional 2 circles on top to form the nest.
Bake the meringues for 90 minutes. Turn off the oven and leave the meringues inside until the oven has cooled. The meringues should be crisp and come off the parchment paper easily.

For the Vanilla Bean Pastry Cream:

In a heat proof bowl, which together the egg yolks and sugar.
Add the flour and cornstarch and mix until smooth.
In a saucepan, heat the milk until it is just boiling.
Remove the milk from the heat, and pour it into the egg mixture in a slow stream, whisking constantly. (Make sure not to add the eggs too fast, or you'll get scrambled eggs).
One the milk has been incorporated into the egg mixture, add it back into the saucepan and heat over medium heat until it reaches a boil, making sure to whisk the mixture continuously.
Once the mixture has boiled, whisk for an additional 30 seconds and pour through a strainer into a bowl.
Cover the surface of the pastry cream with plastic wrap to keep a skin from forming, and let cool to room temperature before filling the meringues.
Refrigerate the mixture for up to 3 days if you are not using it immediately.

To Assemble:

Place a spoonful of raspberry jam in the bottom of the meringue nests.
Fill the rest of the meringue nest with pastry cream, and top with raspberries and powdered sugar.
http://cakemerchant.com/2014/01/08/mrs-patmores-raspberry-meringue/
Meringue and Pastry Cream recipe adapted from Joy of Baking
Notes: I've made meringues with granulated sugar, powdered sugar, and superfine (caster/castor) sugar, and have found that superfine sugar gives the best texture.
Meringues can be kept at room temperature in an airtight container for several days, possibly longer if you don't live in a humid environment.