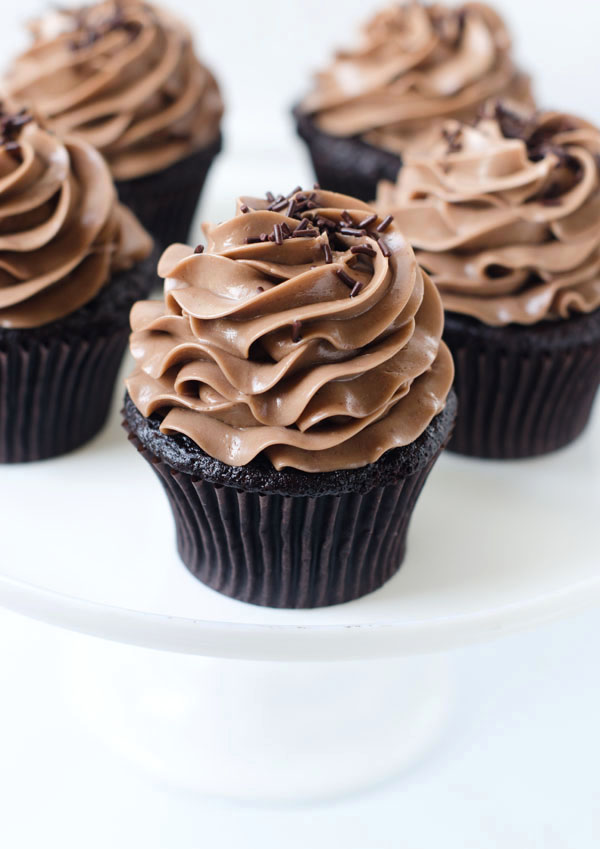 The original title of this post was One Bowl Cupcakes with Nutella Swiss Meringue Buttercream Frosting, but per my fiancé's request, I went with a more interesting title. Actually, his exact words were, "These are my favorite cupcakes you've ever made. Can you please not name them something boring?" Other reactions included, "Holy @#%! these are good," and "It's like a Nutella bomb went off in my mouth!" Hence, Nutella Bomb Cupcakes were born.
You may be thinking that there is entirely too much frosting on these cupcakes. That's where you're wrong. Swiss Meringue Buttercream is a magical concoction of which there can never be too much. Unlike American Buttercream, it's not super sweet, and there's no powdered sugar involved. Personally, I think a one to one ratio of frosting to cake is perfect.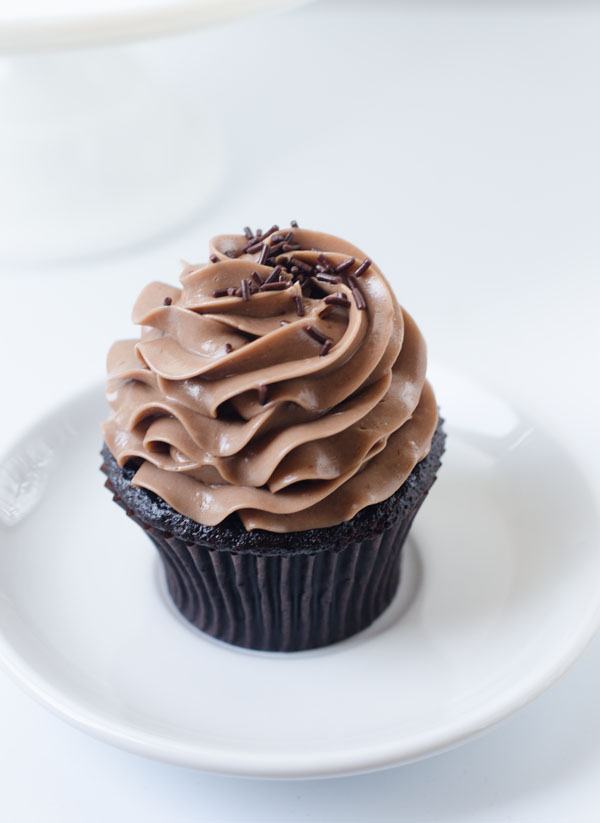 Why did I choose Swiss Buttercream for these cupcakes? If you remember my Dark Chocolate Speculoos Truffle Cake post, Nutella, like cookie butter, is rather sweet. If you make buttercream by whipping butter with loads of powdered sugar, there's only so much Nutella you can add before it becomes sickeningly sweet. Making a Swiss buttercream allowed me to add the better part of a jar of Nutella to the frosting- I have no shame.
This cupcake recipe is adapted from one of my favorite layer cake recipes that I used here and here. It makes a baker's dozen- about 13 cupcakes. That's enough for you to sneak one and still act innocent.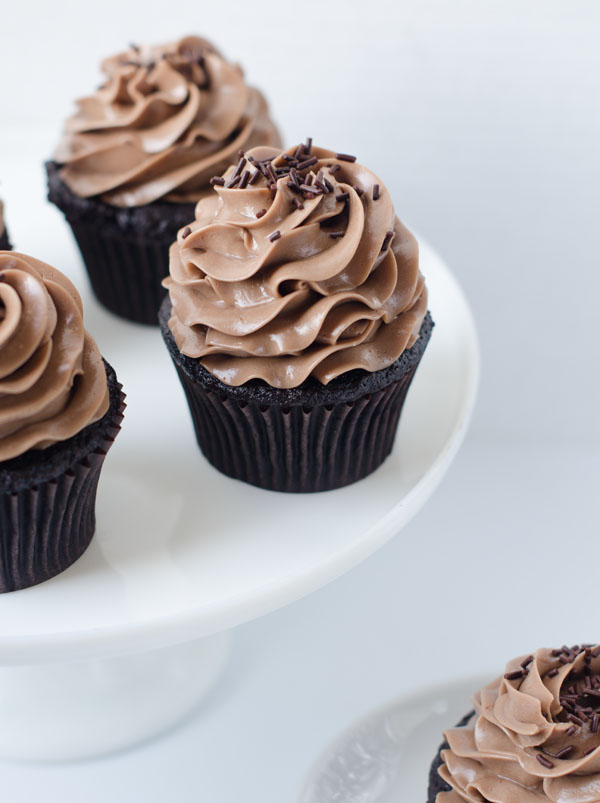 The frosting recipe makes quite a lot- enough to pile it high on each cupcake. If you'd rather go easy on the frosting (but why would you?) you'll have some left over. I don't really understand how leftover frosting is ever a problem, but if you're one of those practical folks, Swiss Meringue Buttercream freezes really well.
One Bowl Chocolate Cupcakes with Nutella Swiss Buttercream Frosting
Ingredients
For the Cake:

1 cup (125 grams) all purpose flour
1 1/4 cups (250 grams) granulated sugar
1/4 cup plus 2 tablespoons (45 grams) Dutch process cocoa powder (I used Valrhona)
1 teaspoon baking soda
1/2 teaspoon salt
1/2 cup (120 ml) vegetable oil
1/2 cup (113 grams) sour cream
3/4 cups (175 ml) room temperature water
1 tablespoon white vinegar
1 teaspoon pure vanilla extract
1 large egg, at room temperature

For the Frosting:

4 large egg whites (4 ounces, 113 grams)
4 ounces (113 grams) granulated sugar
pinch of salt
1 1/2 cups (3 sticks, 339 grams) unsalted butter, at room temperature and cut into 2 inch chunks
1/2 cup (130 grams) Nutella
Instructions
For the Cake:

Preheat the oven to 350 degrees fahrenheit.
Line 2 muffin pans with 13 paper liners.
In a large bowl, whisk together the flour, sugar, cocoa powder, baking soda, and salt until well combined.
Add the oil and sour cream and whisk until blended.
Add the water in 1/4 cup at a time and whisk until combined.
Whisk in vinegar and vanilla to blend.
Add the egg and whisk until combined.
Scrape down the sides of the bowl with a spatula to make sure all of the ingredients are well combined.
Divide the batter equally among the cupcake liners.
Bake for 18-20 minutes, until a toothpick inserted into the center of the cupcakes comes out almost clean (it's ok if a few crumbs stick to it, but should not look shiny).
Cool completely on wire racks.

For the Frosting:

Combine the egg whites, sugar, and salt in a bowl (I used the bowl of my stand mixer).
Place the bowl over a pan of simmering water. The bowl should not touch the water, nor should the water be at a rolling boil. It's the steam that's going to heat the egg whites, since we don't want scrambled eggs.
Heat the egg white mixture until it reaches 145-150 degrees fahrenheit, whisking frequently so as not to get scrambled eggs.
Remove the bowl from the heat, and whip the egg whites on medium high using the whisk attachment of your stand mixer.
Whip the egg whites until they become fluffy and double in volume. The bowl should be cool to the touch (this will usually take several minutes).
Turn the mixer down to medium low, and add the butter in one chunk at a time, until it has all been incorporated.
If the mixture looks curdled at this point, this is normal. Just keep whipping for a few more minutes until it comes together. If the mixture looks soupy, you can add a few cubes of chilled butter, or stick the whole bowl in the refrigerator for about 15 minutes and then continue beating.
Once the buttercream has become smooth, and the Nutella and beat until incorporated.
Transfer the buttercream into an 18 inch piping bag and pipe onto the cooled cupcakes.
http://cakemerchant.com/2014/02/12/one-bowl-chocolate-cupcakes-nutella-swiss-buttercream-frosting/
Cake recipe adapted from Sky High: Irresistible Triple-Layer Cakes