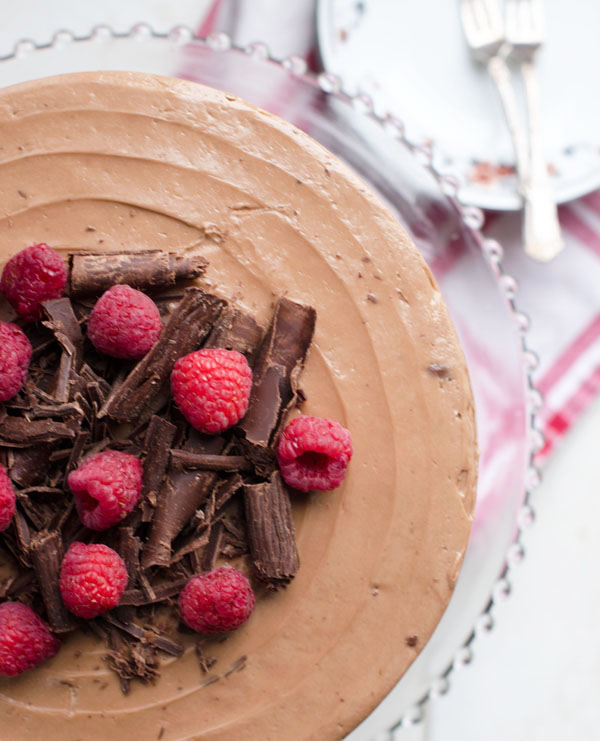 Last week, I had the pleasure of celebrating my mom's 60th birthday with her. My brother and I decided to throw her a little party, so obviously, there was cake. My mom is a true chocoholic, so for her, it's not really dessert unless chocolate is involved. Originally, she had requested these Nutella Bomb Cupcakes, but a birthday just isn't a birthday without a layer cake, so I ended up reworking the cupcakes into cake form.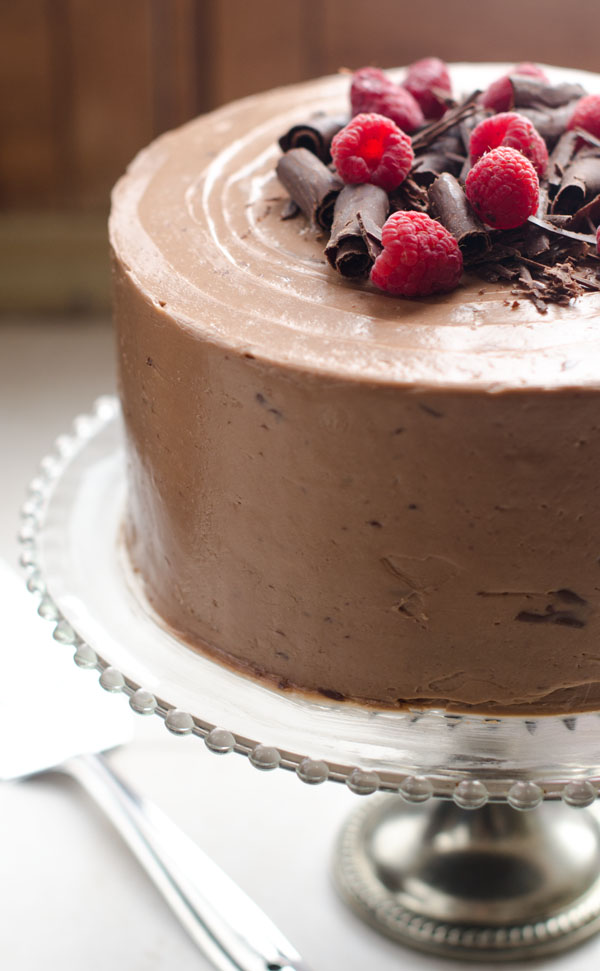 My mom lives in Indiana. She also happens to be Indian. It's very confusing. Like when I tell people I'm from Indiana, and they say, "Oh, you're from India?" And then I say, "No, but my mom is." And then they say to my mom, "Oh, you're from India?" And she says, "Yes, but I live in Indiana." It kind of makes me wish I were from Ohio just to make things easier, which is kind of a sad wish. Anyway, here are some things I learned on my last trip about Indiana and Indians.
1. Indiana has even weirder weather than Texas.
2. I still don't like snow.
3. I still don't like chai. 4. Chai means tea. Please don't say chai tea. 5. Indian ladies can drink Aaron under the table.
6. I can eat way more cake than Indian ladies.
Numbers 5 and 6 meant that our cake was accompanied by lots of margaritas, Aaron had a hangover the next day, and we had lots of leftover cake. Apparently a cake meant for 15 can also serve 37 Indian women.
Since I was going to be making this cake away from home in an unfamiliar oven and without my oven thermometer, I knew I was going to need a foolproof recipe. After burning two batches of chocolate chip cookies, I realized that the only setting on my mom's oven was scorch, so I went with the same chocolate cake recipe that I used in my Dark Chocolate Speculoos Truffle Cake. It's a one bowl sour cream chocolate cake that is super moist and really hard to mess up.
Being away from home in a somewhat small town also meant limited access to different varieties of cocoa powder. If you read my Dark Chocolate Malt Cake post, you know that I've recently started trying new kinds of cocoa powders to see what I like best, and have fallen in love with Valrhona
. I'm able to get it at a reasonable price in the bulk section of my local grocery store. Since I've been using it, I've become too much of a snob for Hershey's, but the only other Dutch process cocoa powder I could find near my parents' house was Droste. I was reluctant to shell out 10 dollars for about 9 ounces of it, but my Instagram friends assured me it was good stuff, and they were right. I would put it a notch below Valrhona, but I liked it more than Guittard and Ghirardelli. Next on my list to try are Cacao Barry and Pernigotti, but any other suggestions are welcome.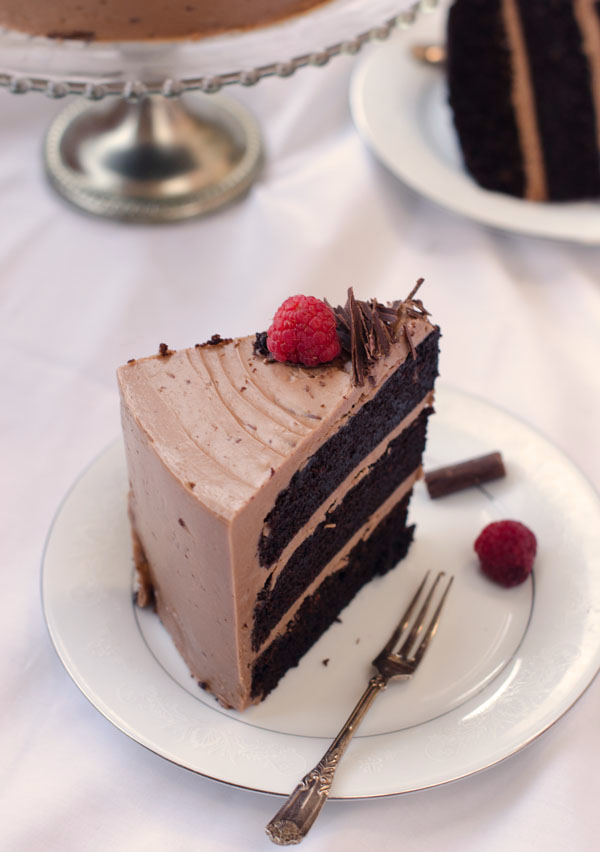 For the cake recipe, click here.
Ingredients
For the Nutella Swiss Meringue Buttercream Frosting:

8 large egg whites (8 ounces, 226 grams)
8 ounces (226 grams) granulated sugar
pinch of salt
3 cups (680 grams) unsalted butter, at room temperature and cut into 2 inch chunks
1 cup (260 grams) Nutella
Instructions
For the Nutella Swiss Meringue Buttercream Frosting:

Combine the egg whites, sugar, and salt in a bowl (I used the bowl of my stand mixer).
Place the bowl over a pan of simmering water. The bowl should not touch the water, nor should the water be at a rolling boil. It's the steam that's going to heat the egg whites, since we don't want scrambled eggs.
Heat the egg white mixture until it reaches 145-150 degrees fahrenheit, whisking frequently so as not to get scrambled eggs.
Remove the bowl from the heat, and whip the egg whites on medium high using the whisk attachment of your stand mixer.
Whip the egg whites until they become fluffy and double in volume. The bowl should be cool to the touch (this will usually take several minutes).
Turn the mixer down to medium low, and add the butter in one chunk at a time, until it has all been incorporated.
If the mixture looks curdled at this point, this is normal. Just keep whipping for a few more minutes until it comes together. If the mixture looks soupy, you can add a few cubes of chilled butter, or stick the whole bowl in the refrigerator for about 15 minutes and then continue beating.
Once the buttercream has become smooth, and the Nutella and beat until incorporated.

To Assemble the Cake:

Place one layer of the cake on an 8-inch cake board.
Place a large dollop of frosting on top, and use an offset spatula to spread evenly over the first layer.
Place the second layer on top of the first and do the same with the frosting.
Place the third layer on top, and put a large dollop of frosting on the top of the cake.
Using an offset spatula, work your way around the sides until the entire cake is covered with a thin layer of frosting. I find that a turntable is helpful during this process. Let the crumb coat set in the fridge for about 30 minutes.
Once the crumb coat has set, spread a thicker layer of frosting on the top and sides of the crumb coat to create a smooth finish. Top with chocolate curls and raspberries if you wish.
http://cakemerchant.com/2014/03/15/nutella-birthday-cake/
Cake recipe adapted from Sky High: Irresistible Triple-Layer Cakes
Note:
The frosting recipe for this cake is a larger batch of the Nutella Swiss buttercream from my Nutella Bomb Cupcakes. It makes enough to fill, crumb coat, and frost this 8-inch 3 layer cake. If you want additional frosting for piping, I would recommend using 10 egg whites, 10 oz. of sugar, 8 sticks (2 lbs. of butter, and 1 1/4 cups of Nutella).