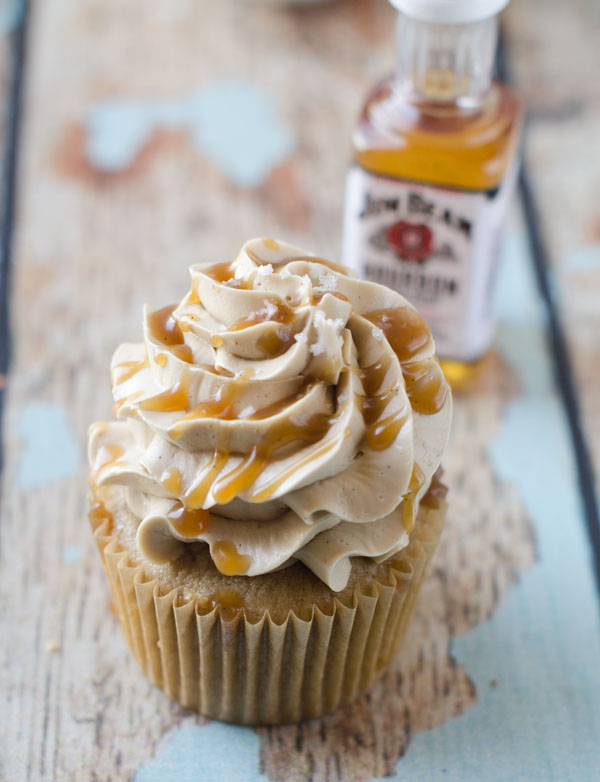 Coming up with a butterscotch cupcake that tasted butterscotchy enough proved to be a challenge, but I believe I've finally done it! These cupcakes are a butterscotch triple threat- a butterscotch cupcake filled with butterscotch sauce, topped with a brown sugar and butterscotch swiss meringue buttercream, and topped with more butterscotch sauce. I finished off both the butterscotch sauce and the frosting with fleur de sel, because if you think salted caramel is good, salted butterscotch will rock your world.
Making butterscotch is similar to making caramel, but the process is way easier, and there's no candy thermometer required. It's kind of like caramel for slackers. I used this recipe from Smitten Kitchen, but since the Kentucky Derby is just around the corner, I added a couple of tablespoons of bourbon at the end.
Kentuckians take their bourbon seriously. If you don't believe me, ask my friend Ruth Ann. Sweet, flute playing Ruth Ann, who can barely get through a glass of wine, will drink straight bourbon. While you won't find me sipping Jim Beam anytime soon, I have come to appreciate bourbon (in small amounts) in desserts. Because I'm not from Kentucky, 2 tablespoons in the sauce was plenty for me, but when Ruth Ann taste tested a cupcake for bourboniness, she just looked at me and said, "Obviously you've never had a bourbon ball." Point taken. If 2 tablespoons doesn't do it for you, feel free to add more. While I wouldn't recommend adding too much bourbon to the butterscotch sauce itself (more than a few tablespoons will affect the texture), you could always brush the tops of the cupcakes with some bourbon, or add a few tablespoons directly to the swiss meringue buttercream when you add the butterscotch sauce.
While we're on the subject of slacking, let's talk about swiss meringue buttercream. There are a lot of helpful posts about SMB out there, so I don't feel like I have too much to add. However, if I were to write a post about it, I would call it "SMB For The Lazy Bum". I've been SMBing everything lately, so I wanted to tell you about shortcuts that I think are worth taking to make your life easier, and also some places where you should not take shortcuts (even if you are a lazy bum like me).
I use liquid egg whites in SMB 99 percent of the time, unless I know I have to make a giant batch of pudding or pastry cream the next day, which is pretty much never. Some folks swear that liquid egg whites don't whip up as fluffy, but I've never had an issue. Since liquid egg whites are already pasteurized, you don't need to bring the egg whites up to 160 degrees. In fact, you don't need a candy thermometer at all. You can just use the finger method, which is done by rubbing the sugar and egg white mixture between your fingers. If it's gritty, keep whisking and heating the mixture. If it's smooth, it's done. Since you're not bringing the egg whites up to such a high temperature, they don't need to whip as long to come back down to room temperature before adding the butter.
When bringing the butter to room temperature, I don't bother leaving it out for a long period of time. I live in Texas, so most of the time, it's pretty darn hot here. Before I start making the SMB, I take the butter out of the fridge and cut it into chunks. By the time I'm ready to add it to the whipped egg whites, it's softened, but not mushy. The butter should still hold it's shape. It depends on the climate in which you live, but I find that any more than 90 minutes outside of the fridge and the butter starts to get greasy, which will prevent the buttercream from thickening up properly.
Last but not least, I use the whisk attachment the entire time I whip the frosting (even after adding the butter). I know that some people switch over to the paddle attachment, but I haven't felt the need. Plus, it's one less tool to wipe down with vinegar. <–That's one place where I don't skimp. If you don't have a set of baking tools dedicated only to making meringue, wipe down all of your tool and your bowl with vinegar. It's like SMB insurance, since any traces of grease will cause the meringue to weep.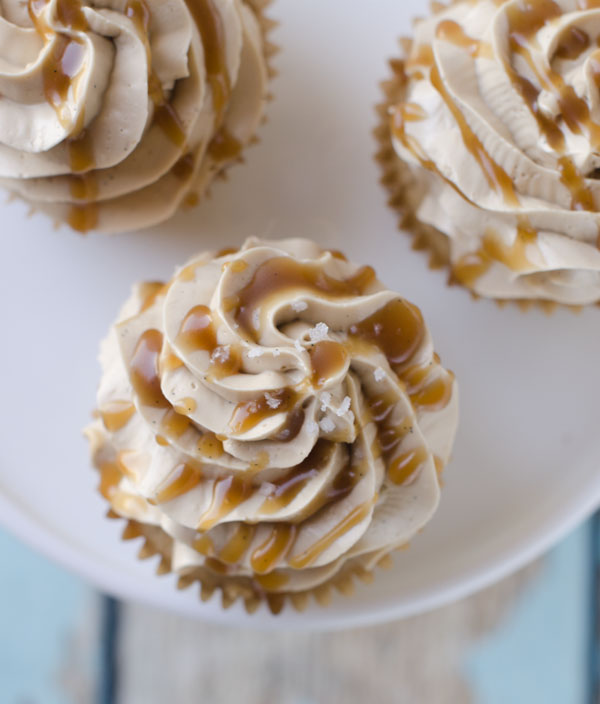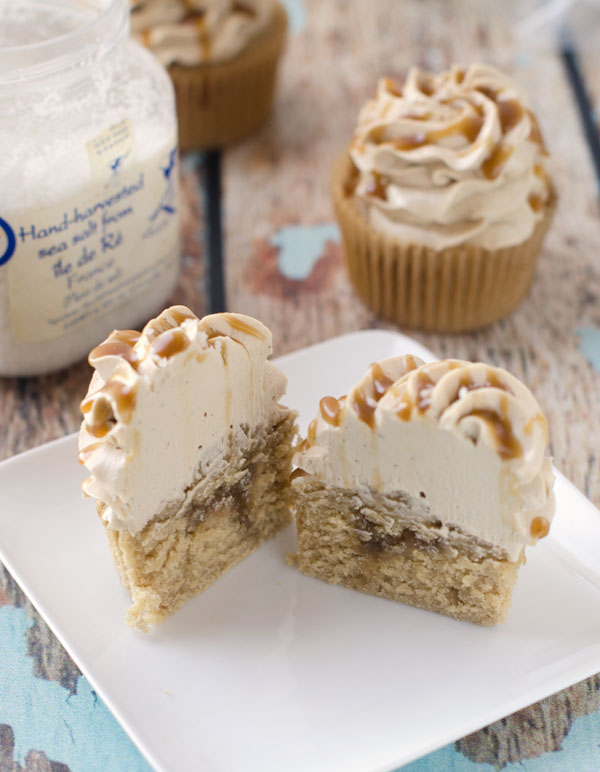 While most of the swiss meringue buttercream recipes you'll find use a 1:2 ratio of egg whites to sugar (or in this case, brown sugar), I recently started using this recipe from Bravetart. It uses a 1:1 ratio which I prefer, especially when adding something sweet to the SMB, such as butterscotch, caramel, chocolate, biscoff, etc.
I used this recipe for butterscotch sauce. If you want to add bourbon, you can add 2 tablespoons after you add the vanilla extract. Not a fan of bourbon? Rum tastes great, too.
Salted Bourbon Butterscotch Cupcakes
Ingredients
For the Brown Sugar Bourbon Butterscotch Cupcakes:

1/2 cup (120 ml) whole milk, at room temperature
1 large egg plus 1 large egg white, at room temperature
1 tsp. vanilla extract
2 tablespoons bourbon
1/4 teaspoon extra strong butterscotch flavoring, such as LorAnn butterscotch flavoring oil (optional)
1 1/4 (160 grams) cups all-purpose flour
2 tablespoons cornstarch
1 1/2 teaspoons baking powder
1/2 teaspoon salt
2/3 cup (125 grams) dark brown sugar
6 tablespoons (3/4 stick, 85 grams) unsalted butter, at room temperature and cut into 6 pieces

For the Butterscotch Swiss Meringue Buttercream:

4 large egg whites (4 ounces or 113 grams)
1/2 cup (110 grams) dark brown sugar
1/2 teaspoon kosher salt or flaky sea salt
3 sticks (339 grams) unsalted butter, at room temperature and cut into chunks
1/2 cup (120 ml) Salted Bourbon Butterscotch Sauce
Fleur de del for sprinkling
Instructions
For the Brown Sugar Bourbon Butterscotch Cupcakes:

Preheat the oven to 350 degrees fahrenheit and line a muffin tin with 12 paper liners.
In a measuring cup, whisk together the milk, egg, egg white, vanilla, bourbon, and butterscotch flavor.
In a large bowl or the bowl of a stand mixer, whisk together the flour, cornstarch, baking powder, salt, and dark brown sugar.
With the mixer on low, add the butter one piece at a time until the mixture looks like moist crumbs.
Add all but 1/3 of the milk mixture and beat on medium speed for about 60 seconds.
Add the remainder of the milk mixture and beat on medium for an additional 30 seconds.
Scrape down the sides of the bowl with a spatula and beat for 20 more seconds.
Divide the cupcakes between the 12 paper liners and bake for 15-18 minutes, until a toothpick inserted into the center comes out clean.
Let cool completely on wire racks.

For the Butterscotch Swiss Meringue Buttercream:

Combine the egg whites, brown sugar, and salt in a bowl (I used the bowl of my stand mixer).
Place the bowl over a pan of simmering water. The bowl should not touch the water, nor should the water be at a rolling boil. It's the steam that's going to heat the egg whites, since we don't want scrambled eggs.
Heat the egg white mixture until it reaches 160 degrees fahrenheit if using fresh eggs (use the finger method if using liquid egg whites), whisking frequently so as not to get scrambled eggs.
Remove the bowl from the heat, and whip the egg whites on medium high using the whisk attachment of your stand mixer.
Whip the egg whites until they become fluffy and double in volume. The bowl should be neutral to the touch (this will usually take several minutes).
Turn the mixer down to medium low, and add the butter in one chunk at a time, until it has all been incorporated.
If the mixture looks curdled at this point, this is normal. Just keep whipping for a few more minutes until it comes together. If the mixture looks soupy, you can add a few cubes of chilled butter, or stick the whole bowl in the refrigerator for about 15 minutes and then continue beating.
Once the buttercream has become smooth, and the butterscotch sauce and beat until incorporated.

To Assemble the Cupcakes:

Use an apple corer to make a hole on the center of the cupcakes and scoop out the middle (leave enough on the bottom so the sauce will not spill out).
Fill each hole with butterscotch sauce and place the scooped out portion back on top.
Using a piping tip, pipe the frosting on the cupcakes.
Drizzle with the remainder of the butterscotch sauce and top with a few flakes of fleur de sel.
http://cakemerchant.com/2014/04/29/salted-bourbon-butterscotch-cupcakes/
-Swiss Meringue Buttercream recipe adapted from Bravetart
-I found LorAnn Butterscotch Flavor at Hobby Lobby, but you can get it online
as well. You can also leave it out completely. It will just taste more brown sugary and less butterscotch.
The frosting recipe makes enough to pile a large amount on each cupcake (like you see in the pictures).