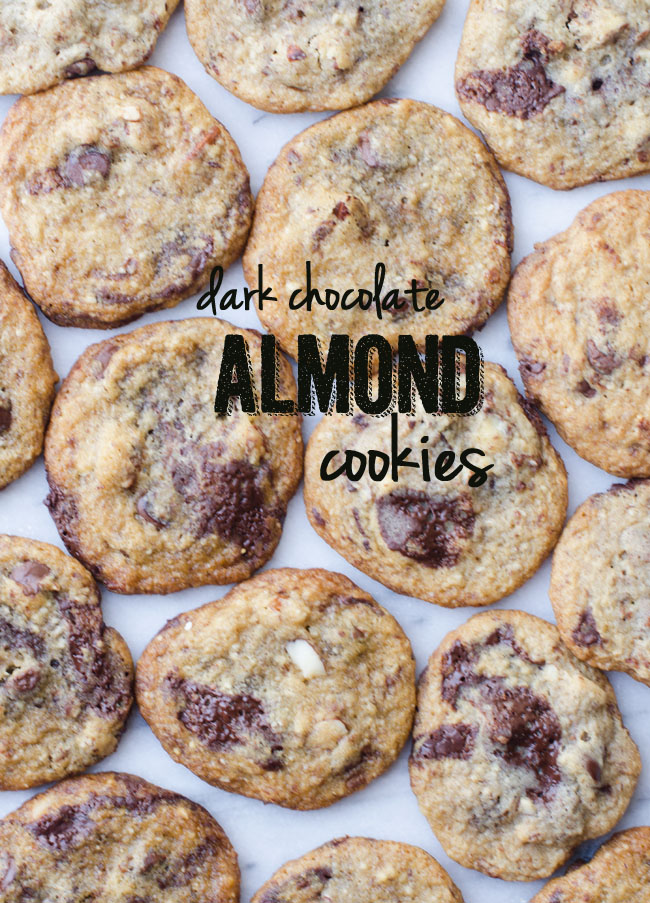 I'll admit that when I want a cookie, I don't stray very often from the traditional chocolate chip variety. I have my go to recipe from Demolition Desserts
that's slightly crisp on the outside with perfectly chewy innards, and the only time I'll mess with it when I'm feeling a little nutty in which case I'll brown the butter. On occasion, I will try another recipe if it's really intriguing, but the only time I'll share it with you is if it's exceptionally delicious. These cookies are exceptionally delicious.
These started out as Milk Chocolate Hazelnut Cookies from the Flour Bakery Cookbook
, and after several transformations, became Dark Chocolate Almond Cookies. There's almond meal in the batter, yo! Also, I couldn't decide between chopped bittersweet chocolate that gets all melty and gooey in the cookies or chocolate chips that hold their shape, so I threw in a combination of both.
Some cookie dough needs minimal chill time in the fridge (or none at all) and some need a good overnight rest. I can tell you that these fall into the latter category. Since I'm somewhat impatient when it comes to desserts, I "tested" a few cookies early and the texture just wasn't as good as those that got some shut eye. I would also recommend not making these cookies too large. I used a large cookie scoop for the first batch and ended up with burnt edges and an underdone center, so I ended up going with the small cookie scoop
for the second batch and was pleased with the results.
Dark Chocolate Almond Cookies
Ingredients
3/4 cup (1 1/2 sticks, 170 grams) unsalted butter, at room temperature
2/3 cup (140 grams) granulated sugar
2/3 cup (150 grams) dark brown sugar, packed
1 teaspoon pure vanilla extract
2 eggs, at room temperature
1 1/4 cups (175 grams) toasted almonds
1 1/2 (210 grams) cups unbleached all purpose flour
1 teaspoon baking soda
1 teaspoon kosher salt
6 ounces chopped bittersweet chocolate
6 ounces semisweet or bittersweet chocolate chips
Instructions
Preheat the oven to 350 degrees fahrenheit and line 2 cookie sheets with parchment paper.
With an electric mixer, beat the butter, granulated sugar, and brown sugar for 1-2 minutes until smooth.
Add the vanilla and eggs and beat for an additional minute until combined.
In a food processor, pulse 1/2 cup of the toasted almonds until you reach a fine powder (if you pulse it too long it will become oily).
Coarsely chop the remaining 3/4 cup of almonds.
Combine the ground almonds, chopped almonds, flour, baking soda, salt, chopped chocolate, and chocolate chips in a bowl.
Stir the flour mixture into the butter mixture until just combined (do not over mix).
Use a small cookie scoop to scoop the dough onto the cookie sheets about 1 1/2 inches apart.
Bake for 9-10 minutes until the edges are golden brown.
Cool completely on wire racks.
http://cakemerchant.com/2014/09/11/dark-chocolate-almond-cookies/
Recipe adapted The Flour Bakery Cookbook