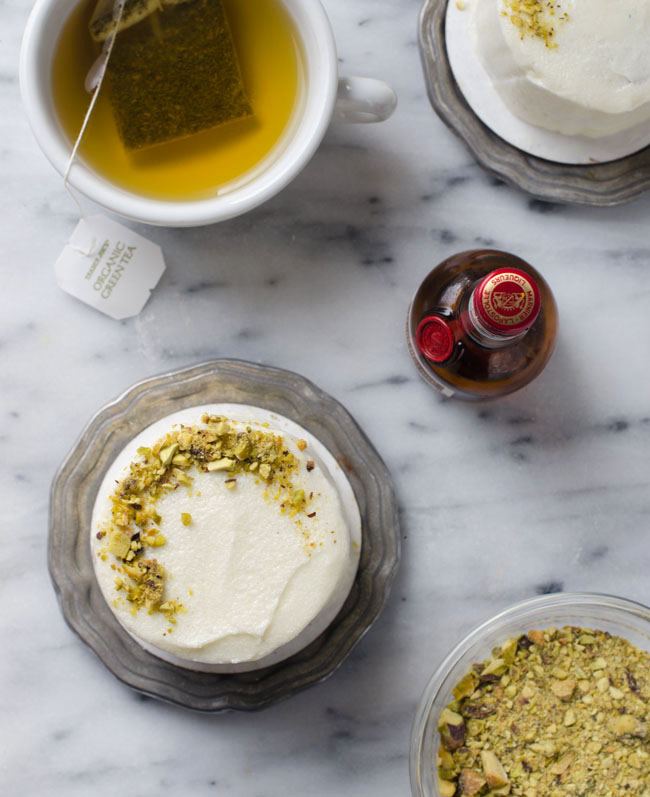 It's no secret that I love mini cakes, or all things miniature for that matter. If you don't share in these sentiments, you may want to cover your eyes because it's about to get obnoxiously mini up in here.
In college, my friends use to tease me about all of my mini kitchen things when they would come over. I would hear things like, "Why are your spoons so tiny?" or "When we go to Natasha's house, we have to use miniature bowls." In my head I'm thinking, duh, you have to use small spoons to eat out of small bowls, but I guess not everyone thinks like me.
Fast forward about 10 years or so to a few days after my wedding. I'm out shopping with my family who is visiting from India and we're smack in the middle of tea time with no homemade chai in sight, so my aunt asks me to run into the coffee shop nearby and get her a cup of coffee. "I only want this much," she says, showing me with her thumb and forefinger what would be a cup about this size. A few other family member chimed in saying they wanted the same. Perhaps they didn't realize that they had traveled to supersized land, and the smallest cup at Starbucks was the size of their head. In the end, three people shared a tall latte still and couldn't finish it. This leads me to believe that my affinity for miniatureness must be a cultural thing. Or a family thing. And now that I think about it, all of my small bowls and silverware were hand me downs from my mom anyway, so it must be my genes. See, I just can't help but make mini cakes.
These mini cakes go perfectly with a cup of afternoon tea. I've gotten out of the habit of observing tea time, but having my family visit recently made me want to start doing it again, even when it's just me and Aaron in Dallas. I loved the fact that no matter what kind of chaos was going on during the hustle and bustle of the wedding, once a day, everything stopped for a little while so we could sit down and have tea. Mini cakes were not usually served (that would be my own personal touch), but since I've been missing my family a lot lately, I observed tea time with these mini cakes eaten off of mini plates with my mini cup of tea just for them. And also for my belly 🙂
Like most of the mini cake recipes on this site, this makes a small batch of two cakes that were baked in tin cans. Tin cans make the best little cake pans (I used 15 oz. cans). Just make sure they are BPA free and that you clean them thoroughly before you use them. This version of mini cakes are made with ground pitachios in the batter. I had originally planned to make lemon pistachio cakes, but made a last minute change and added some orange zest instead (mostly because I was out of lemons). I ended up really liking the orange/pistachio combo, and also added a tablespoon of Grand Marnier to the frosting because I just so happened to have a mini bottle (I didn't even plan it) on hand.
Just in case I haven't convinced you that mini cakes are the best yet, here are a few more reasons:
1. They have a better frosting to cake ratio than cupcakes
2. No wastage (cake wastage is the worst)
3. You can have a whole cake to yourself. Seriously, when's the last time you can say you ate a whole cake?
4. Less calories (than a large cake). Obviously this does not have less calories than kale.
5. You can pretend like you're a giant and eat an entire slice in one bite.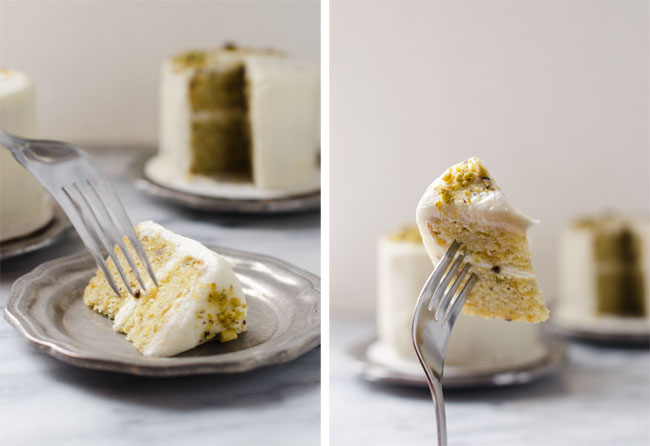 I didn't add a lot of sugar to the cream cheese frosting since I wanted the cake to be less sweet, but it did make the frosting a little runny. You can add more sugar if you like, or stick the frosting in the fridge for about 15 minutes like I did.
Tea for Two: Pistachio Orange Mini Cakes with Grand Marnier Cream Cheese Frosting
Ingredients
For the Pistachio Orange Cakes:

1/4 cup (40 grams) unsalted shelled pistachios (not dyed red)
1/3 (42 grams) cup all-purpose flour
3/4 teaspoon baking powder
1/8 teaspoon salt
3 tablespoons (42 grams) unsalted butter, at room temperature
1/3 cup (67 grams) sugar
1 large egg
2 1/2 tablespoons whole milk
1/4 teaspoon pure vanilla extract
1 teaspoon finely grated orange zest

For the Grand Marnier Cream Cheese Frosting:

3 ounces (85 grams) cream cheese, at room temperature
5 tablespoons (70 grams) unsalted butter, at room temperature
1 cup (115 grams) confectioner's sugar
1/2 teaspoon pure vanilla extract
1 tablespoon Grand Marnier
Finely chopped pistachios for topping
Instructions
For the Pistachio Orange Cakes:

Preheat the oven to 350 degrees fahrenheit.
Grease and line 2 15 oz. tin cans with parchment paper (or use baking spray) and place the cans on a baking sheet.
In a food processor, pulse the shelled pistachios until you reach a powdered consistency. Don't pulse for too long, or you will end up with paste.
Add the flour, baking powder, and salt to the food processor and pulse for a few times to combine.
With an electric mixer, beat the butter and sugar together on medium speed for about 3 minutes until light and creamy.
Add the egg and beat to combine, scraping down the sides of the bowl when necessary.
Add the milk, vanilla extract, and orange zest and beat to combine.
Add the flour/pistachio mixture and stir or beat on low until just combined.
Divide the batter between the 2 cans and place the entire baking sheet with the cans in the oven (this will make it easier to get in and out of the oven).
Bake for 20-25 minutes (mine took right around 23) until a toothpick inserted into the center of the cakes comes out clean.
Let the cakes cool on wire racks for about 15 minutes.
Run a knife around the edge of the cakes and invert on to the wire racks to cool completely.

For the Grand Marnier Cream Cheese Frosting:

With an electric mixer, beat the cream cheese and butter on medium speed for 1-2 minutes until thoroughly combined.
Add the confectioner's sugar and beat on low until just combined.
Turn the mixer up to medium and beat for an additional 2-3 minutes.
Add the vanilla extract and Grand Marnier and beat to combine.
If the frosting is running, put it in the fridge for 10-15 minutes. If you like it sweeter, you can also add more powdered sugar to thicken it.

To Assemble the Cake:

Slice the layer cakes in half horizontally and place them on a 3 1/2 inch cake board (or directly on a plate if you don't have a small cake board).
Spread a layer of frosting in between each layer.
Place a dollop of frosting on the top of the cake, and spread evenly across the top of the cake. Work your way around the sides until the entire cake is covered with a thin layer of frosting. Let the crumb coat set in the fridge for about 30 minutes.
Once the crumb coat has set, spread a thicker layer of frosting on the top and sides of the crumb coat to create a smooth finish.
Sprinkle the tops of the cakes with chopped pistachios.
http://cakemerchant.com/2014/09/21/pistachio-orange-tea-cakes-grand-marnier-cream-cheese-frosting/
Cake recipe adapted from Epicurious