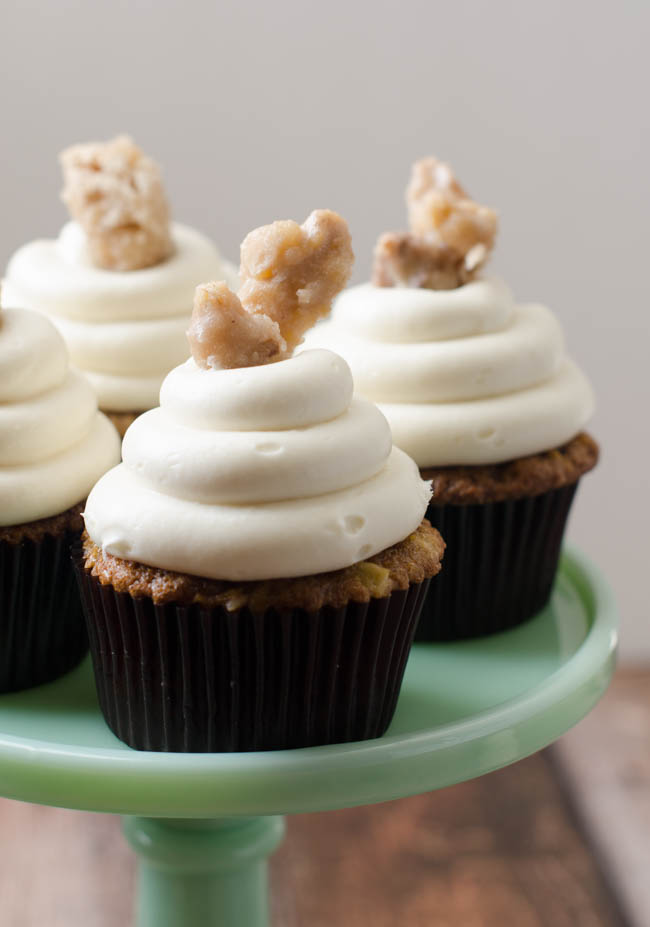 These cupcakes were inspired by pizza. I know that sounds weird, but we like to make our own pizza at home, and Aaron and I both love a pizza that is topped with thinly sliced granny smith apples, toasted walnuts, and big globs of goat cheese. Sounds strange, but it works.
The cupcake epiphany happened as I was drizzling honey on leftover goat cheese and spooning it into my mouth and thinking how good the combo would be as frosting. I wish I could explain to you how much I love this honey goat cheese frosting. Maybe someday in the future, food blogs will offer a tasting feature, but for now, you'll just have to make it. I think I'm going to start adding goat cheese to all of my cream cheese frostings from now on, because it really adds something special. It would be pretty great on pumpkin, carrot, or even red velvet cupcakes, but I liked the fact that these apple cupcakes were slightly different from the standard cupcake fare.
Since these cupcakes have cream cheese and goat cheese in the frosting, you shouldn't leave them at room temperature for more than a few hours. However, the frosting doesn't get too firm in the fridge and the cupcakes don't dry out too easily, so you don't need to bring them to room temp before eating them. Instant gratification = 🙂 Most cupcakes are best when they're fresh, but I actually liked these better on day 2 and even 3. I can't tell you how long they keep after that, because they disappeared pretty quickly.
As for the sugared walnuts, make sure you separate them while they are cooling on the parchment. Otherwise, you'll end up with walnut clusters that look kind of antlers. But hey, they're festive, right?
Spiced Apple, Walnut, and Goat Cheese Cupcakes
Ingredients
For the Spiced Apple Cupcakes:

1 cup (125 grams) all purpose flour
3/4 cup (150 grams) granulated sugar
1 teaspoon baking soda
1/2 teaspoon baking powder
1 teaspoon cinnamon
1/4 teaspoon ground nutmeg
1/8 teaspoon freshly ground black pepper
1/4 teaspoon salt
1/2 cup (120 ml) vegetable oil
2 large eggs, at room temperature
1 teaspoon pure vanilla extract
1 1/2 cups packed (about 2 small) peeled and coarsely grated tart apples, such as Granny Smith (I pulsed mine in the food processor a few times).
1/2 cup coarsely chopped walnuts

For the Honey Goat Cheese Frosting:

8 ounces (226 grams) cream cheese, at room temperature
4 ounces (113 grams) soft goat cheese, at room temperature
4 tablespoons (57 grams) unsalted butter, softened but still cool
1 cup (115 grams) confectioner's sugar
1/4 cup (60 ml) honey
2 teaspoons pure vanilla extract

For the Sugared Walnuts:

1/2 cup toasted walnut halves
3 tablespoons granulated sugar
2 tablespoons maple syrup
1/4 teaspoon cinnamon
pinch of salt
Instructions
For the Spiced Apple Cupcakes:

Preheat the oven to 350 degrees fahrenheit and line a cupcake pan with 12 paper lines.
In a large bowl,whisk together the flour, sugar, baking soda, baking powder, cinnamon, nutmeg, pepper, and salt.
Add the oil, eggs, and vanilla extract and stir until combined.
Stir in the grated apples and walnuts.
Divide the batter between the 12 paper liners and bake 17-20 minutes, until a toothpick inserted into the center of the cupcakes comes out clean.
Cool completely on wire racks before frosting.

For the Honey Goat Cheese Frosting:

With an electric mixer, beat the cream cheese, goat cheese, and butter on medium speed until fluffy.
Add the confectioner's sugar and beat on low to combine.
Turn up the mixer to medium and beat for an additional 2-3 minutes.
Add the honey and vanilla extract and beat until combined.
Put the frosting into a piping bag fitted with a round tip and pipe the frosting onto each cupcake.
Top each cupcake with a sugared walnut (recipe below).

For the Sugared Walnuts:

In a small skillet, combine the sugar, maple syrup, cinnamon, and salt.
Heat on medium and stir with a wooden spoon until the mixture resembles thick caramel.
Remove from heat and stir in the walnuts.
Spread the mixture onto parchment paper to cool.
http://cakemerchant.com/2014/11/06/spiced-apple-walnut-goat-cheese-cupcakes/
Cupcake recipe adapted from myrecipes.com
Sugared walnut recipe adapted from Vegan Cupcakes Take Over the World