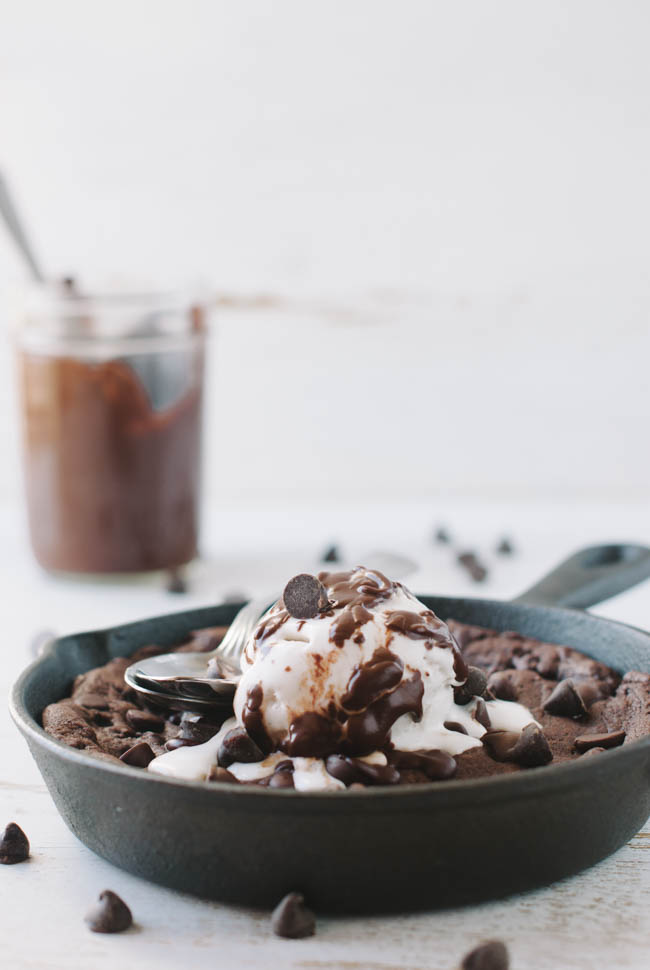 One of my unofficial goals for January was to post recipes more regularly. I was going to blabber more frequently about being vegan and just stay on top of all things blog related. But then life happened, I tested out several cookie recipes and accidentally left some out on the counter, and my dog got a hold of them. A few sleepless nights, several trips to the vet, and a few gallons of carpet cleaner later, I'm happy to report that my dog is okay. Even though I'm failing on the posting regularly goal, at least I'm still vegan (which is the longest I've followed any diet ever!) and I came up with a pretty darn good cookie. Word of caution: keep far far away from dogs.
Since Valentine's Day is just around the corner, I made you a skillet cookie just for two, because nothing says I love you like a gooey chocolate cookie. The texture is actually a cross between a brownie and a cookie that's and filled with more melty chocolate chips. Essentially, it's chocolate heaven. If you're single, no worries. I could easily polish this off in one sitting by myself, and I won't judge you if you do too.
This recipe is really simple to make – one bowl, dump and stir, and no mixer required! I tested the cookies with both tapioca flour and cornstarch, and liked the texture that the tapioca flour produced. However, I know it's not as readily available, so you can sub cornstarch. Just know that it will have a slightly crispier exterior as it sets, but these are best served warm out of the oven anyway. Top with Triple Vanilla Ice Cream, grab two spoons, and dig in with your loved one.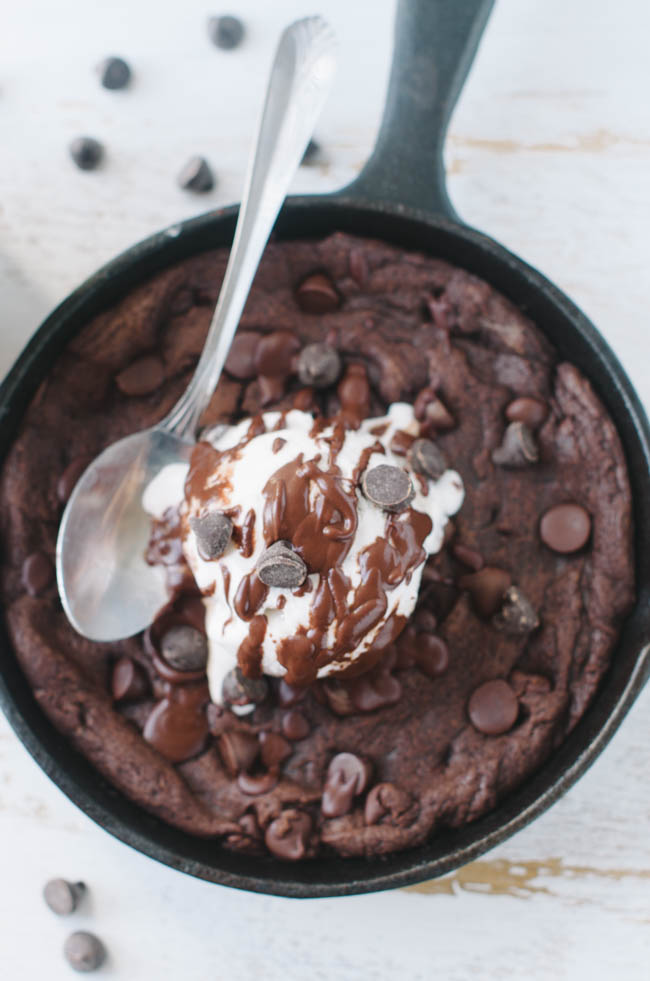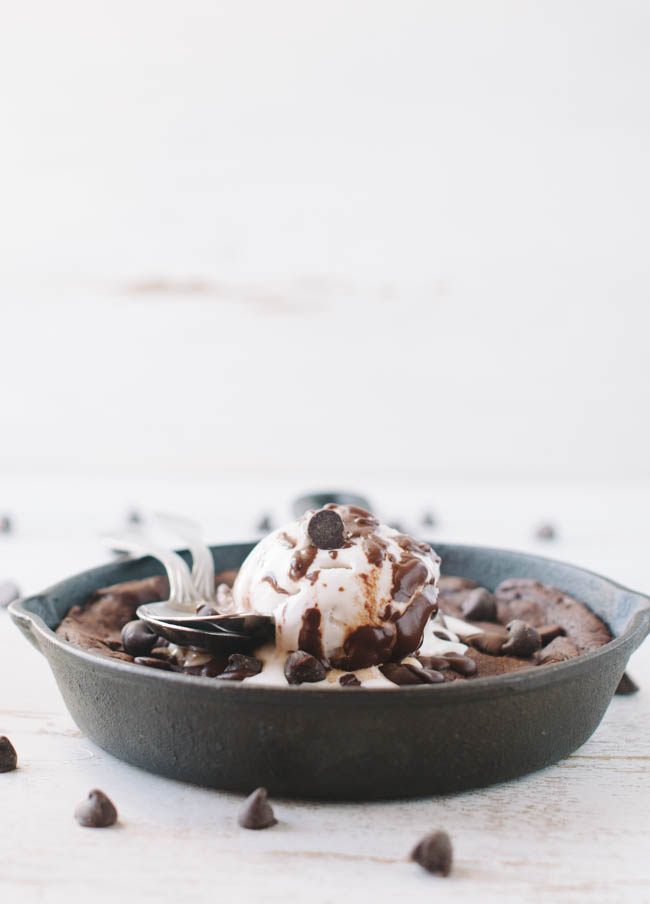 Double Chocolate Chip Skillet Cookie for Two
Ingredients
3 tablespoons vegetable oil, grape seed oil, or olive oil
2 tablespoons unsweetened non-dairy milk
3 tablespoons brown sugar, packed
2 tablespoons granulated sugar
2 teaspoons tapioca flour
1/2 teaspoon vanilla extract
2/3 (85 grams) cup all purpose flour
1/4 teaspoon baking soda
1/4 teaspoon baking powder
1/4 teaspoon salt
2 tablespoons Dutch process cocoa powder
1/3 cup (55 grams) bittersweet chocolate chips.
Instructions
Preheat the oven to 350 degrees fahrenheit and spray a 5-inch cast iron skillet with cooking spray.
In a large bowl, whisk together the oil, non-dairy milk, both sugars, tapioca flour, and vanilla extract with a fork.
Continue beating the mixture with a for for 1-2 minutes until it thickens and resembles a smooth caramel.
Add 1/3 cup of the flour, baking soda, baking powder and salt and gently stir until combined.
Add the remaining 1/3 cup of flour and cocoa powder and stir until just combined.
Gently fold in the chocolate chips, being careful not to over mix.
Spread the dough into the cast iron skillet and bake for 9-11 minutes.
Serve warm and top with ice cream.
http://cakemerchant.com/2015/01/31/double-chocolate-chip-skillet-cookie/