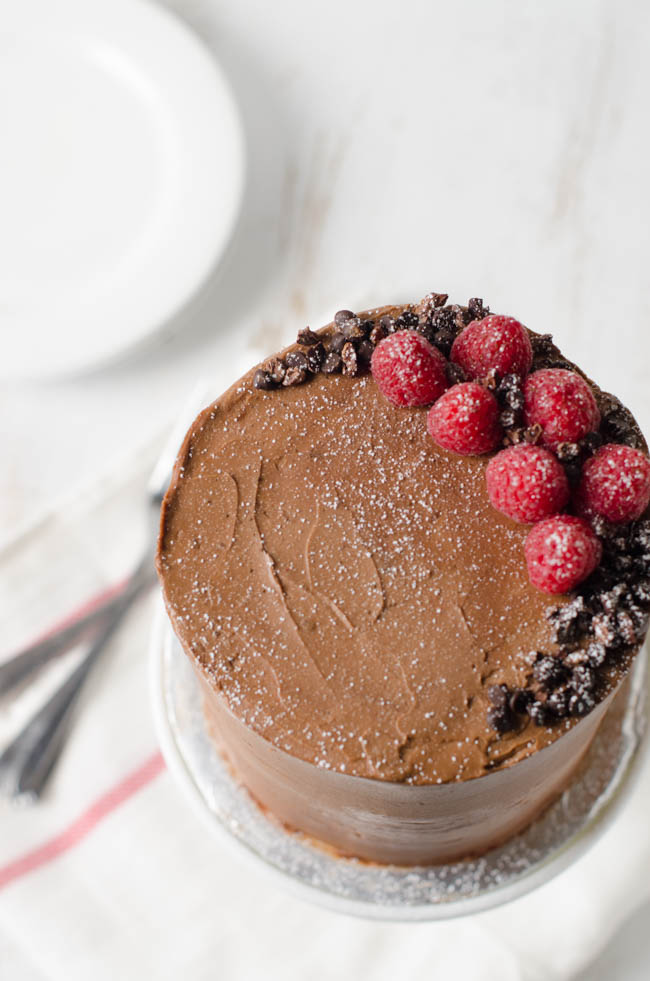 Behold, I made a cake! It's been a while folks, and I've missed it. I took a break. A much needed break from all things blog and internet and social media. I stopped checking my instagram likes every five minutes. I did waaay less dishes. I cooked more savory food. I baked stuff that I actually wanted to eat! And most importantly, I stopped comparing myself to other bloggers and their beautiful photos and perfect lives. Comparing yourself is never a good thing in any aspect of your your life. It can make you feel really discouraged and kill your motivation, which is exactly what happened. But, I missed baking and I missed blogging and I'm going to try really hard to keep doing it without it taking over my life and my mental health.
So let's talk about cake. This tiny tall cake that re-inspired me to blog after a long hiatus, and was based entirely on my own cravings. It's chocolaty and crunchy and full of raspberries, and it's made in 5-inch cake pans. I know what you're thinking, who has 5-inch cake pans and why don't you just post recipes for normal sized cakes? Here's my logic- there are a gazillion recipes on the internet for normal sized cakes. There must be some weirdos out there who love their 5-inch cake pans as much as I do, and are looking for ways to use them. But just in case I'm the lone weirdo, I've listed some options for alternate pan sizes below.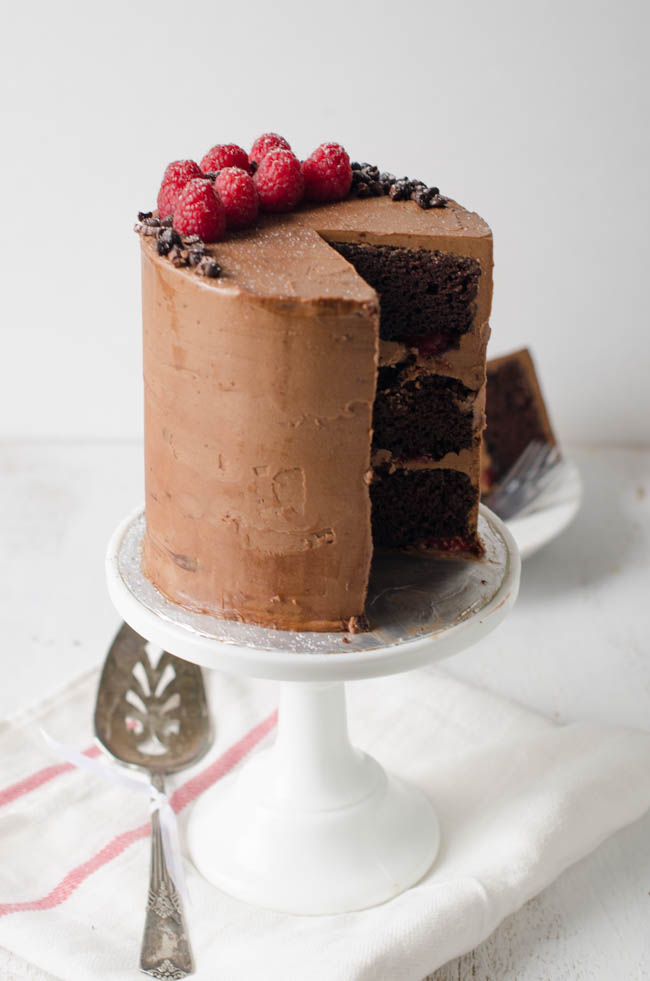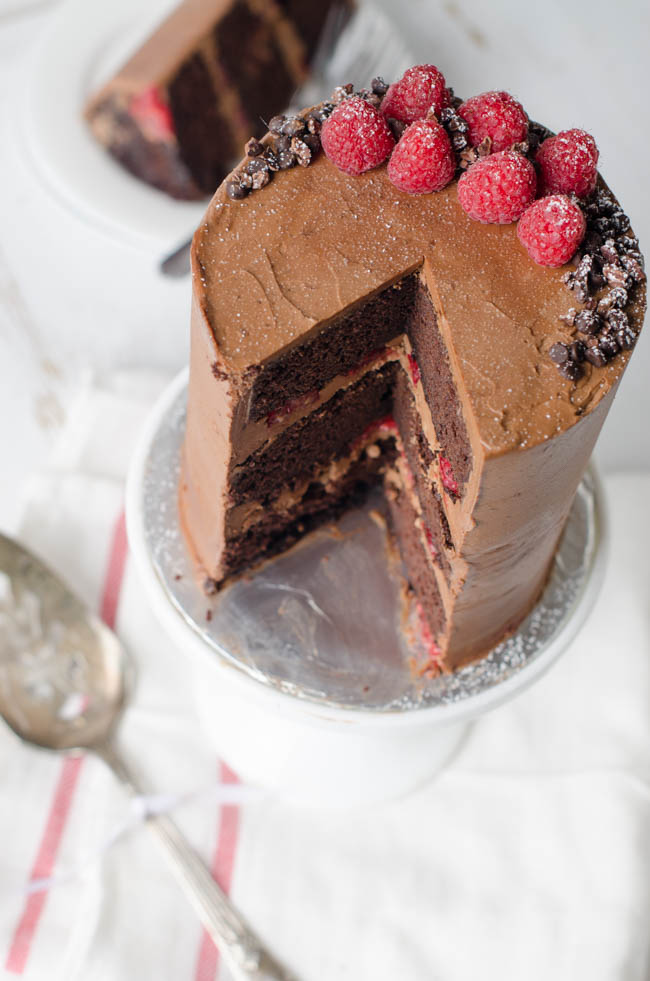 This cake is a recipe that I've been dying to try from the Baked Elements
cookbook. It's made with mayo rather than butter or oil, and I can't say that I've ever had a bad experience with chocolate mayo cake. The frosting is made with milk chocolate, because I've recently discovered that I really love the stuff. I think milk chocolate gets a bad rap because a lot of people associate it with some of the lower quality stuff that you find in the impulse section of the grocery store, but high end milk chocolate is not something to turn your nose up at. My favorite brand of milk chocolate is Scharffen Berger, but it's on the pricy side and somewhat hard to find. For frostings, I usually use Guittard milk chocolate chips. It's still a big step up from most and melts really well.
You can bake this cake in two 6-inch cake pans, and it also makes 12 cupcakes. The baking times for these will vary.
Chocolate Raspberry Crunch Cake
Ingredients
For the Cake:

1 ounce (28 grams) bittersweet chocolate, chopped
1/3 cup (40 grams) unsweetened cocoa powder (preferably Dutch process)
3/4 cup plus 1 tablespoon (195 ml) boiling water
1 1/3 cup (167 grams) all purpose flour
1/2 teaspoon baking soda
1/4 teaspoon baking powder
1/4 teaspoon salt
1/2 cup (100 grams) granulated sugar
1/2 cup (115 grams) dark brown sugar, packed
2/3 cup mayonnaise
1 large egg
1 teaspoon pure vanilla extract

For the Frosting:

8 ounces (226 grams) unsalted butter, softened but still cool
1 cup (115 grams) powdered sugar
pinch of salt
4 ounces (112 grams) milk chocolate, melted and cooled
2 ounces (56 grams) bittersweet chocolate, melted and cooled

Toppings and fillings:

About 6 ounces fresh raspberries
1/2 cup mini chocolate chips
1/4 cup cacao nibs
Instructions
For the Cake:

Preheat the oven to 325 degrees fahrenheit and grease and line 3 5-inch cake pans with parchment paper.
In a heatproof bowl, combine the chopped chocolate, cocoa powder, and boiling water and whisk until smooth.
In another bowl, whisk together the flour, baking soda, baking powder, and salt.
With an electric mixer, beat together the sugar, brown sugar, and mayonnaise on medium speed for 2-3 minutes until blended.
Add the egg and vanilla extract and beat until combined.
With the mixer on low, add the flour in 3 additions, alternating with the chocolate mixture in 2 additions and beat until just combined.
Divide the batter between the cake pans and bake for 23-25 minutes, until a toothpick inserted into the center comes out clean.
Cool the cake in the pans on wire racks for 15 minutes, and turn the cakes out onto the racks to cool completely.

For the Frosting:

With an electric mixer, beat the butter on medium speed until pale and creamy.
Add the powdered sugar and salt and beat on low to combine.
Turn up the mixer to medium high and beat for an additional 2-3 minutes.
Scrape down the sides of the bowl, add both of the melted chocolates, and beat on medium low until combined.
If the frosting is too loose, you can put it in the refrigerator for about 15 minutes. You can also add more powdered sugar, but it will make the frosting sweeter.

To Assemble the Cake:

Place one layer of the cake on a cake board that is 5 inches or larger.
With an offset spatula, spread 1/4 cup of the frosting on top of the first layer.
Top with raspberries, chocolate chips, and cacao nibs.
Repeat this process with the second layer, spreading another 1/4 cup of the frosting on top and topping with more raspberries, chocolate chips, and cacao nibs.
Place the 3rd layer on top.
Place the cake on a turntable, and apply a thin layer of the frosting on the sides and the top of the cake to lock in the crumbs.
Let the frosting set up in the refrigerator for about 30 minutes.
Apply the remainder of the frosting to the sides and top of the cake.
Top with additional raspberries, chocolate chips, cacao nibs, and powdered sugar.
Keep the cake refrigerated.
Serve at room temperature.
http://cakemerchant.com/2015/07/27/chocolate-raspberry-crunch-cake/
Cake recipe adapted from Baked Elements: The Importance of Being Baked in 10 Favorite Ingredients