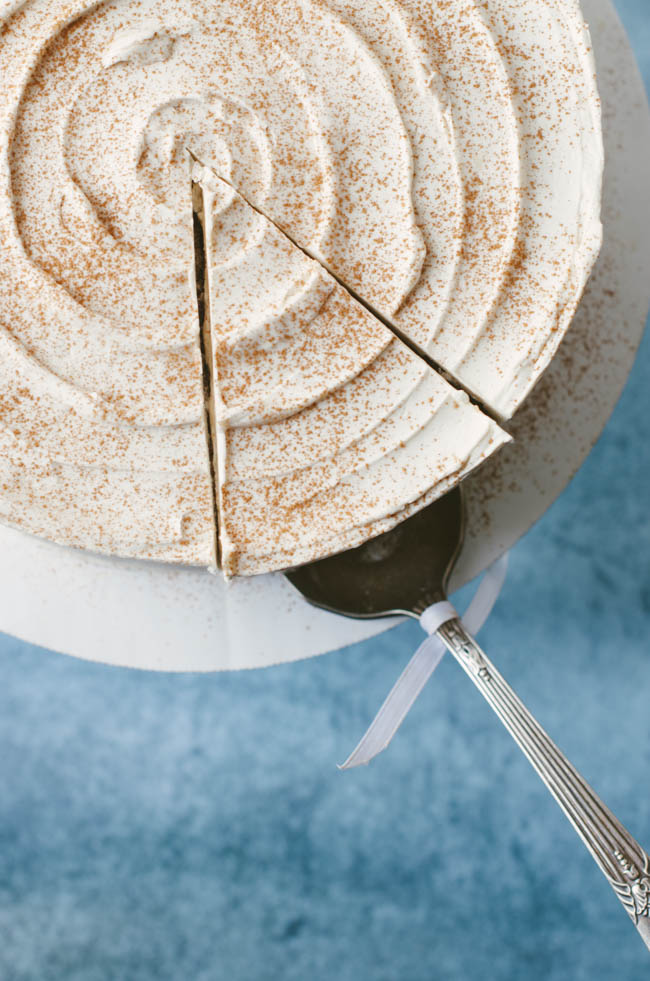 Last week, I found myself wandering around the grocery store and lamenting the price of berries. There were so many berry desserts on my list that didn't get made over the summer, but when I saw the array of apples in the corner, I got distracted from my sadness. I remembered these apple cupcakes that I made last year, which made my list of favorites for 2014, and I had been wanting to make a layer cake version of it ever since.
This time, I replaced the goat cheese frosting (but isn't that the best part?) with a brown sugar and maple cream cheese swiss meringue buttercream. As much as I adore goat cheese frosting, cream cheese SMB has a special place in my heart. Especially when it's made with brown sugar, and even more so when you add maple syrup. In fact, after making this version of cream cheese frosting, it's really hard for me to go back to the overly sweet powdered sugar variety that is so often paired with red velvet or carrot cake. The apples make the cake pretty sweet in itself, so I thought this frosting made for a better balance.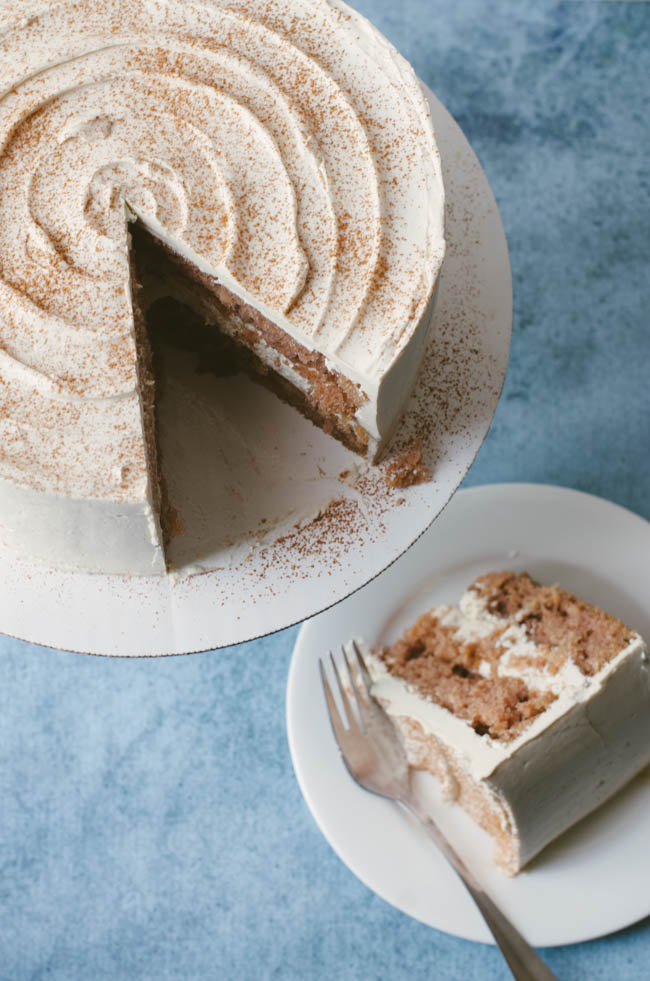 Cream cheese SMB is more time consuming to make than your traditional cream cheese frosting, but so worth it. In the past when I've made cream cheese swiss buttercream, I subbed cream cheese for half of the butter and ended up with a soupy, gloopy curdled mess that would not come together no matter how much I whipped it. After reading this post, I figured out why. Here are a few tips and tricks to get smooth and luxurious cream cheese SMB.
1. Finish your SMB like you normally would with only the butter added.
2. Whip the cream cheese separately until it is smooth.
3. Add the finished SMB to the cream cheese (not the other way around) a little bit at a time until it comes together.
Follow these steps and you'll have a light, fluffy, and not to sweet cream cheese frosting. And because it's softer than traditional SMB, it tastes great straight out of the fridge. Yay for instant gratification!
Spiced Apple Cake with Maple Cream Cheese Frosting
Ingredients
For the Spiced Apple Cake:

1 1/2 cups (187 grams) all-purpose flour
1 cup plus 2 (215 grams) tablespoons granulated sugar
1 1/2 teaspoons baking soda
3/4 teaspoon baking powder
1 1/2 teaspoons ground cinnamon
1/4 teaspoon ground nutmeg
1/8 teaspoon freshly ground black pepper
1/4 teaspoon salt
3/4 cup (180 ml) vegetable oil
3 large eggs, at room temperature
1 teaspoon pure vanilla extract
2 cups peeled and coarsely grated apples (about 2 large apples)
1/2 cup chopped walnuts (optional)

For the Maple Cream Cheese Swiss Buttercream:

5 ounces (140 grams) egg whites (from whole eggs or a carton)
5 ounces (140 grams) light brown sugar
8 ounces (226 grams) unsalted butter, softened but still cool and cut into chunks
2 teaspoons pure vanilla extract
1/3 cup (80 ml) maple syrup
8 ounces (226 grams) cream cheese, softened
cinnamon for dusting
Instructions
For the Spiced Apple Cake:

Preheat the oven to 350 degrees fahrenheit and grease and line 2 8-inch pans with parchment paper.
In a large bowl,whisk together the flour, sugar, baking soda, baking powder, cinnamon, nutmeg, pepper, and salt.
Add the oil, eggs, and vanilla extract and stir until combined.
Stir in the grated apples and walnuts.
Divide the batter between the 2 pans and bake for 18-20 minutes, until a toothpick inserted into the center of the cupcakes comes out clean.
Cool the pans on a wire rack for 15 minutes.
Turn the cakes out onto the wire rack and cool completely.

For the Maple Cream Cheese Swiss Buttercream:

Wipe down all of your tools with vinegar or lemon juice to remove any traces of grease.
In a large bowl (I used the bowl of my stand mixer), combine the egg whites and brown sugar.
Place the bowl over a pot of simmering water and whisk often. The water should not touch the bowl, since it's the steam that will be heating the egg whites. If they heat up too fast, you'll end up with scrambled eggs.
Using a candy thermometer, heat the mixture to 160 degrees fahrenheit while continuing to whisk the mixture. 160 degrees is for food safety issues. If I use pasteurized egg whites (which I do often), i generally stop heating around 140 degrees until the sugar has dissolved.
Remove the egg white from the heat and use a whisk attachment to beat the egg whites on medium high until stiff peaks form and the meringue has doubled in volume (about 8-10 minutes). At this point, the meringue should look stiff and glossy, and the bowl should be neutral (not warm) to the touch. If your meringue is still warm, you'll run into problems later.
Turn the mixer down to low and mix in the cubes of softened butter, one at a time until they become incorporated into the mixture. If it looks curdled, keep mixing until it comes together. If it still looks curdled after 5 minutes, place the entire bowl in the fridge for 15 minutes and mix it again until it becomes fluffy.
Add the vanilla extract and maple syrup and beat to combine.
Once the frosting has become light and fluffy, transfer it to a separate bowl.
Add the cream cheese to the mixer and beat it until it is smooth.
Add the finished frosting to the cream cheese a little bit at a time until it has all become incorporated and the frosting is smooth.

To Assemble the Cake:

Place one layer of the cake on an 8-inch cake board.
With an offset spatula, spread some of the frosting on top. I like a thick layer of frosting, so I used about 2 cups.
Place the other layer on top.
Put the cake on a turntable, and apply a thin layer of the frosting on the sides and the top of the cake to lock in the crumbs.
Let the frosting set up in the refrigerator for about 30 minutes.
Apply the remainder of the frosting to the sides and top of the cake, using an offset spatula and a bench scraper to smooth out the sides.
Dust the top of the cake with cinnamon.
http://cakemerchant.com/2015/10/07/spiced-apple-cake-with-maple-cream-cheese-frosting/
Cake recipe adapted from myrecipes.com
Frosting recipe adapted from BraveTart