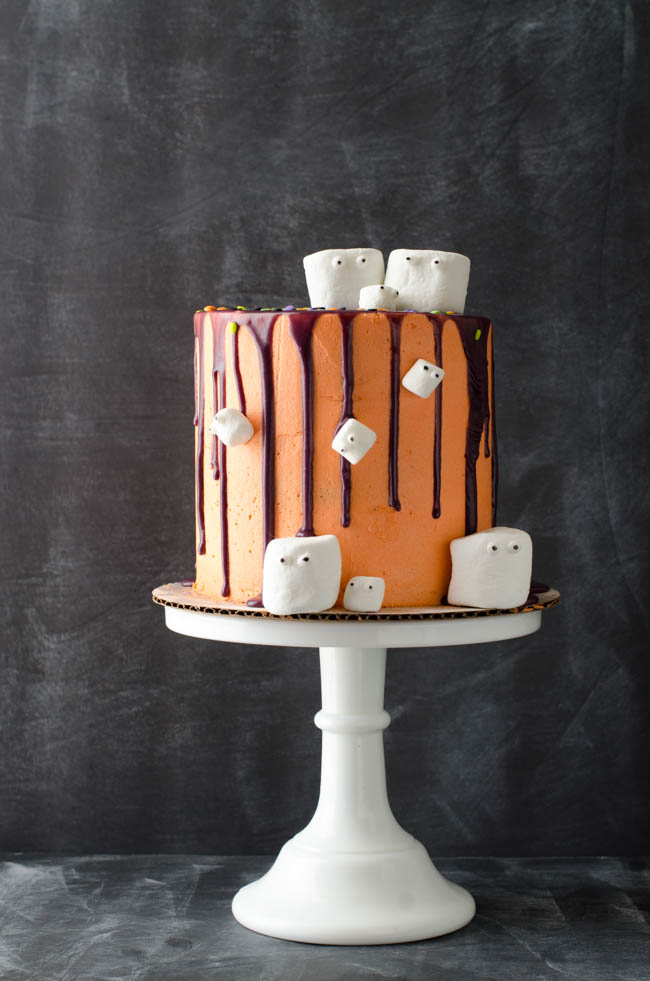 I've always had mixed feelings about Halloween. Sure, there's candy (I can be bribed with candy most of the time) and fun costumes, but there's also the blood and guts and gore aspect of it that I hate. I will never ever understand why people like to go to haunted houses or watch movies that will make you sleep with the lights on for weeks. One thing I do understand though, is cake, and like every other holiday, I just turn it into an excuse to make another one. Plus, making googly eyes out of royal icing is way more fun than doing dishes.
My goal was to make a cake that was light and fun but still in the spirit of Halloween. The fact that the ganache looks like dried blood was totally an accident, since I intended for it to be a bright purple drip. Cakes never quite turn out the way I picture them in my head, but I thought this one turned out pretty darn cute anyway.
The cake itself is a 3 layer 5-inch deep dark chocolate cake made with black onyx cocoa powder. Black onyx cocoa is a super alkalized cocoa powder that is very dark (the kind that they use to make Oreo cookies). Used by itself, it can really dry out baked goods (I learned that the hard way). I took a tip from SugarHero and used it to replace half of the regular Dutch process cocoa. The result was a cake that was naturally black in color and kept it's moisture. I get my black cocoa online, but if you don't want to bother, you can use regular Dutch process or even add some black food coloring to your cake.
For the drippy glaze, I used candy melts since I already had some purple ones on hand. If you use them, go easy on the cream at first. I tried to use the same ratio of cream to chocolate as I would with a ganache, but candy melts melt more easily than regular chocolate (hence the term candy melts), so start my mixing in a little bit at a time. I just dumped it all in, which is why my drip turned out runnier than I expected.
I couldn't find candy eyeballs that were small enough to fit on the mini marshmallows, so I made royal icing, put it into a piping bag, and piped it directly onto the marshmallows. You could also used pre packaged cookie icing. Once it dried, I used an edible pen to draw in the eyeballs.
If you want to make a shorter cake, you can use the same recipe to make a 3 layer 6-inch cake. You'll need reduce the baking time by about 5 minutes.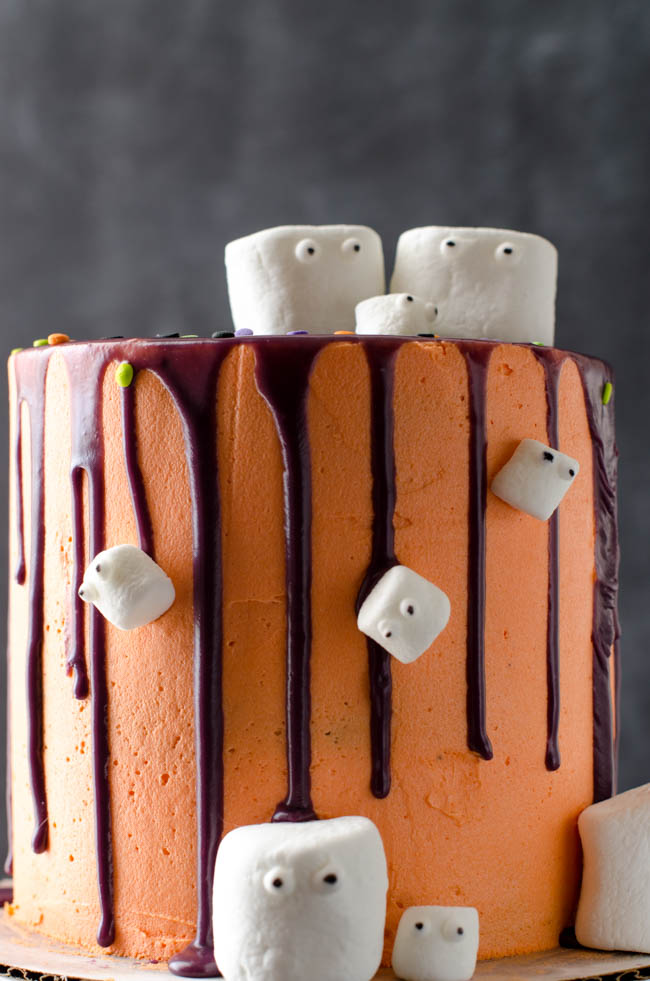 Ingredients
For the Chocolate Cake:

1 1/2 cups (360 ml) milk (non-dairy milk will work too)
1 teaspoon white or apple cider vinegar
1 cup plus 2 tablespoons (225 grams) granulated sugar
1/2 cup (120 ml) vegetable oil
1 teaspoon pure vanilla extract
1 1/2 cups (190 grams) all purpose flour
1/4 cup (30 grams) dutch process cocoa powder
1/4 cup (30 grams) black onyx cocoa powder
1 teaspoon baking soda
3/4 teaspoon baking powder
1/4 teaspoon salt

For the Marshmallow Frosting

1/2 cup (113 grams) unsalted butter, at room temperature
1 7 oz. jar (198 grams) marshmallow creme
1 cup (115 grams) powdered sugar
pinch of salt
1 teaspoon vanilla extract
a couple of drops of orange food coloring

For the Glaze and Toppings:

14 candy melts (I used 10 purple and 4 black to get the color pictured)
1/4 cup (60 ml) heavy cream
Regular and mini marshmallows
Black edible marker
Halloween Sprinkles
Instructions
For the Chocolate Cake"

Preheat the oven to 350 degrees fahrenheit and grease and line 3 5-inch pans with parchment paper.
In a bowl, whisk together the milk and vinegar and set aside for a couple of minutes.
Add the oil, sugar, and vanilla extract and whisk together until foamy.
Add the flour, both cocoa powders, baking soda, baking powder, and salt and whisk until just combined. Careful not to over mix or the cake will become dense.
Divide the batter between the cake pans and bake for about 30 minutes or until a toothpick inserted into the center comes out clean.
Cool on a wire rack for 15 minutes.
Turn the cake out of the pan and cool completely before frosting.

For the Marshmallow Frosting:

With an electric mixer, beat the butter and marshmallow creme until light and fluffy, about 2-3 minutes.
With the mixer on low, add the powdered sugar and salt and beat until just incorporated.
Turn the mixer on medium high and beat for an additional 1-2 minutes.
Add the vanilla extract and food coloring and beat until combined.

To Assemble the Cake:

Place one layer of the cake on a 5 or 6-inch cake board.
With an offset spatula, spread about 1/3 cup of the frosting on top of the first layer.
Repeat this process with the second layer, spreading another 1/3 cup of the frosting on top.
Place the 3rd layer of cake on top.
Place the cake on a turntable, and apply a thin layer of the frosting on the sides and the top of the cake to lock in the crumbs.
Let the frosting set up in the refrigerator for about 30 minutes.
Apply the remainder of the frosting to the sides and top of the cake.
Put the cake back in the refrigerator to chill while you make the glaze.

For the glaze and marshmallows:

Pipe the royal icing onto the marshmallows and set aside to let them dry.
Put the candy melts in a microwave safe bowl and heat of 50 percent power for 30 second intervals, stirring between each one until they are melted.
Heat the heavy cream until it begins to steam, just before it boils.
Add the heavy cream to the candy melts about 1/2 tablespoon at a time, until you reach the consistency that you want.
Let the mixture slightly and pour it over the chilled cake slowly until it begins to drip down the sides.
Top with marshmallows (they will stick to the warm glaze) and draw in the eyeballs with the edible marker.
http://cakemerchant.com/2015/10/22/marshmallow-madness-cake/
Cake recipe adapted fromVegan Cupcakes Take Over the World