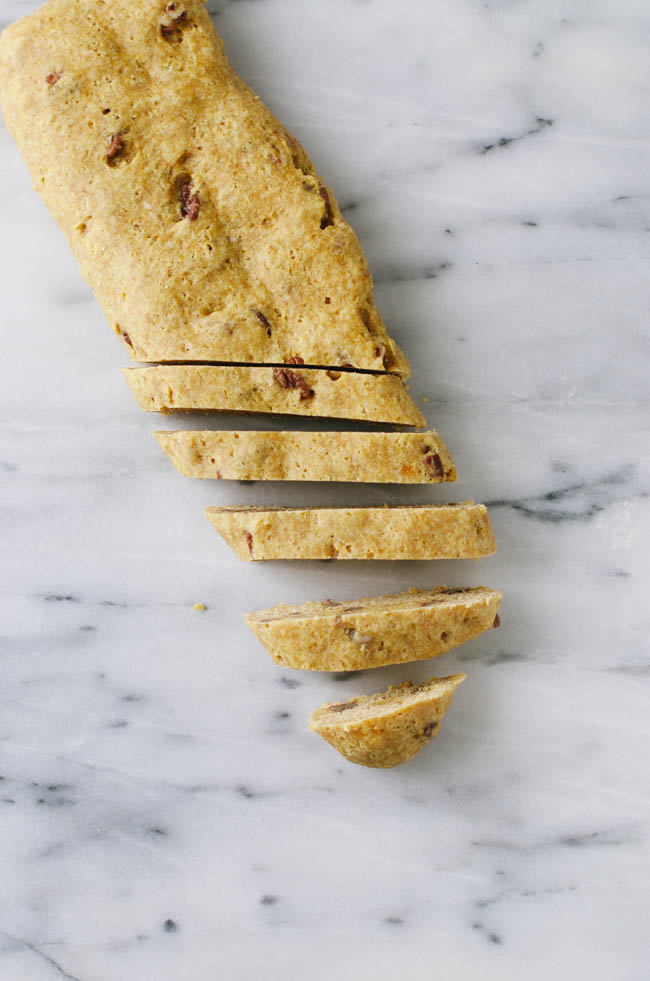 If you are what you eat, then I am a giant walking talking pumpkin biscotti. I've made (and eaten) so many of these in the last couple of weeks that I'm afraid I'm going to start turning orange. I guess eating mass amounts of biscotti is just part of the job, but it's ok, I'm always happy to take one for the team.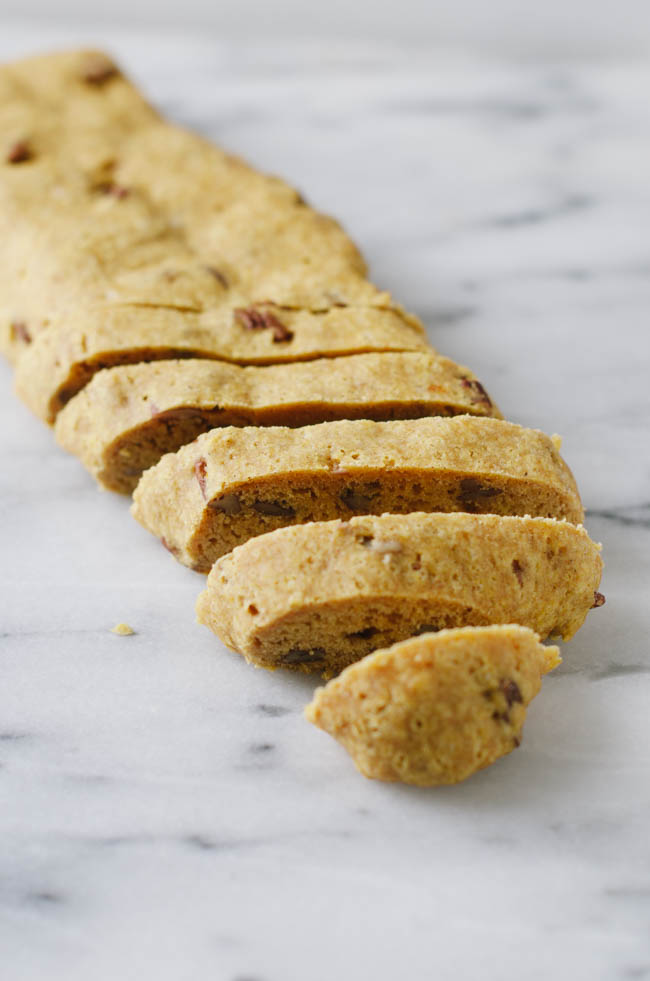 My favorite traditional biscotti recipe uses eggs in the batter, but no oil or butter. It's perfectly crunchy and you don't have to chip a tooth to enjoy it. However, since my grandmother was in town and doesn't eat eggs, I wanted to make an eggless version that I could share with her. Pumpkin makes a great egg substitute, but adds a lot of moisture, so my first couple of batches of biscotti ended up soggy. For the next batch, I tried baking them a little longer. They probably would have been ok after soaking them in coffee but on their own, they were too hard. For the last batch, I added some oil, which I'm normally not a fan of in traditional biscotti. They kept these biscotti from drying out and boosted the flavor, and my teeth were still in tact after biting into them.
Note the low baking temperature here. I found that after several of my biscotti logs split during the first bake, lowering the temperature from 350 to 300 was the best remedy for this. This recipe can easily be made vegan by omitting the white chocolate drizzle or replacing it with a bittersweet chocolate drizzle.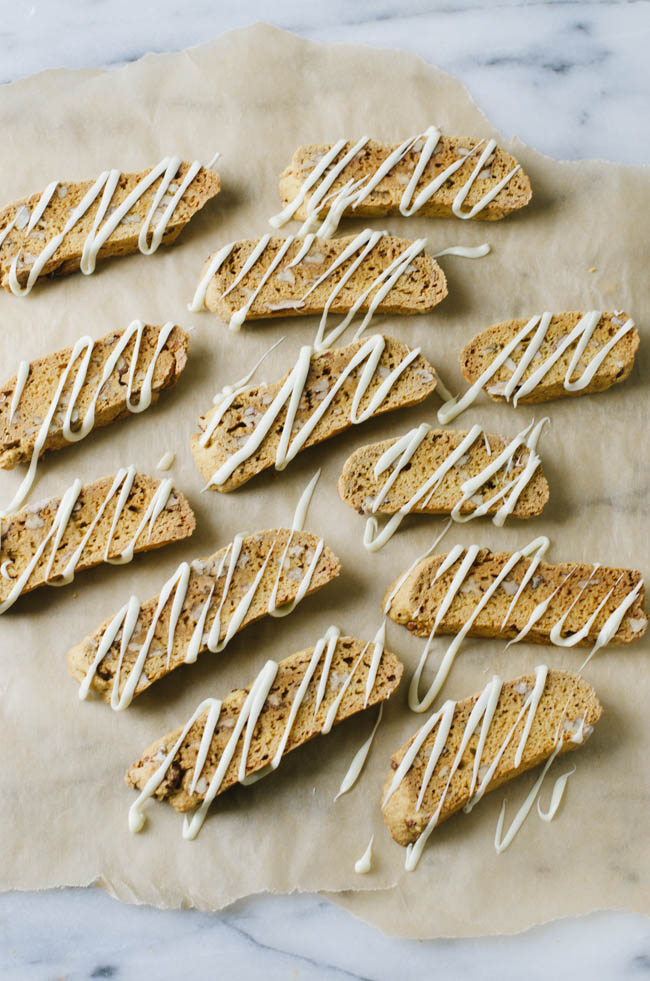 Ingredients
1 cup (125 grams) all-purpose flour plus more for kneading
1 teaspoon baking powder
1/2 teaspoon ground cinnamon
1/8 teaspoon ground nutmeg
1/4 teaspoon salt
1/4 cup (55 grams) pumpkin puree
2 tablespoons olive oil
1/2 cup (100 grams) granulated sugar
1/2 teaspoon pure vanilla extract
1/3 cup chopped pecans (optional)
1/4 cup finely chopped white chocolate (optional)
Instructions
Preheat the oven to 300 degrees fahrenheit and line one cookie sheet with parchment paper.
In a bowl, whisk together the flour, baking powder, cinnamon, nutmeg, and salt.
In a separate bowl or measuring cup, mix together the sugar, pumpkin puree, oil, and vanilla extract with a wooden spoon or spatula until smooth.
Pour the wet ingredients into the dry ingredients and gently stir them together.
When the ingredients are almost combined, add the pecans and knead the mixture together with your hands until the ingredients are combined.
Turn the dough out onto a lightly floured surface.
If the couch is sticky, knead a little bit of flour into it until it no longer sticks to your hands.
Place the dough onto the parchment lined baking pan and shape it into a log, about 2 1/2 inches wide and 3/4 inch thick.
Bake for 30 minutes.
Remove the oven and let cool on a wire rack for at least 25 minutes (you can let the biscotti cool for several hours or even overnight before slicing if necessary).
Use a serrated knife to cut the biscotti into 1/2 inch pieces.
Return the pieces onto the cookie sheet and bake for additional 10-12 minutes on each side, depending on your desired crispness.
Cool completely.
If you want to drizzle the biscotti with chocolate or white chocolate, put it in a heat proof bowl and microwave on medium in 30 seconds intervals, stirring in between each until the chocolate is melted. If it gets too hot, add a few more pieces of chopped chocolate into the melted chocolate to cool it down.
Put the melted chocolate in a plastic bag, snip a small amount off one corner, and drizzle over the biscotti.
http://cakemerchant.com/2015/11/07/pumpkin-biscotti/
Recipe adapted from food.com