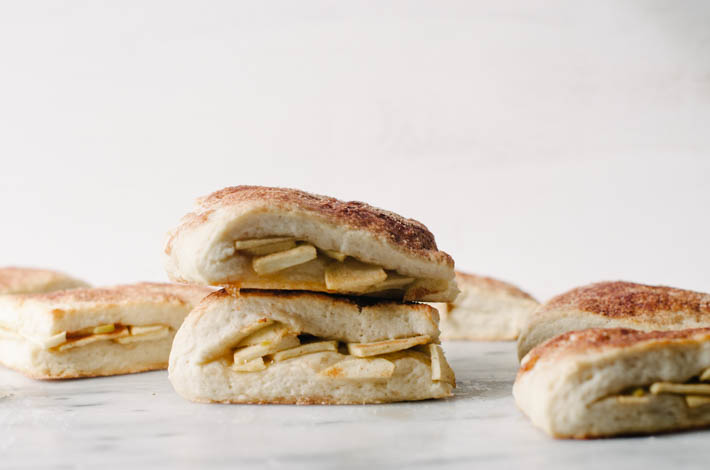 I've always been cold-natured, but now that I've lived in Texas for almost 8 years, any time that it drops below 70 degrees is a reason to put on my fuzzy socks and make a big pot of tea. I've been having major scone cravings to go along with the gallons of tea that I've been drinking lately, but I didn't have a good go to recipe.
After some scone research, I decided to go with a British style recipe. It's less sweet than it's American counterpart and more cakey than biscuity. You don't have to have cold ingredients, and you don't have to fret about overworking the dough. There's nothing I hate worse than tip-toeing around finicky scone dough and still having the end result come out tough. British scone dough starts out by coating the flour in fat so that it's harder to overwork the gluten. You can knead it and roll it out without being afraid of impending hockey pucks.
Because I planned to stuff these scones with apples and cinnamon sugar, I wanted a scone recipe that would be a not to sweet vehicle to let the apples shine while still being light and fluffy. Oh, and I also wanted them to be vegan. I don't ask for much, do I? I found that watching this video from America's test kitchen put me on the right track. Even though I replaced the butter with coconut oil, the milk with coconut milk, and omitted the eggs all together, I used the same basic mixing method. And then I stuffed it with apple pie filing. I'm not sure if the Brits would approve, but I liked the end result.
I don't normally do step by step instructions, but I thought it would be helpful this time. Scroll past the recipe for the steps.
Ingredients
For the scone dough:

2 cups (250 grams) all-purpose flour
1 tablespoon baking powder
3 tablespoons sugar
1/2 teaspoon salt
5 tablespoons refined coconut oil in a solid state but not chilled (you can also use vegan butter at room temperature)
3/4-1 cup coconut milk plus extra for brushing
For the filling:
1 granny smith apple, peeled and thinly sliced
1 tablespoon lemon juice
1 tablespoon brown sugar
1/2 teaspoon cinnamon
1/4 teaspoon allspice (optional)

For the topping:

2 tablespoons granulated sugar
1/2 tablespoon cinnamon
Instructions
In a food processor, pulse the flour, baking powder, sugar, and salt 5 times.
Add the coconut oil and pulse until it has completely disappeared. You shouldn't see any crumbs.
Transfer the mixture to a bowl and and stir in 3/4 cup of the coconut milk. If the dough still looks dry, add a little more at a time until the dough comes together.
Turn the dough out onto a floured surface and knead gently until it comes together into a smooth ball.
Wrap the dough in plastic wrap and put it in the refrigerator for about 15 minutes while you make the filling.
Preheat the oven to 425 degrees fahrenheit and line a baking sheet with parchment paper.

For the filling:

In a bowl, combine the sliced apples, lemon juice, brown sugar, cinnamon, and allspice.
Set aside while you make the topping.

For the topping:

In a small bowl or ramekin, mix together the sugar and cinnamon

To assemble:

Take the scone dough out of the refrigerator.
On a lightly floured surface, roll the dough out about 1/4 inch thick.
Place the apples on half of the dough.
Flip the empty side of the dough on top of the side with the apple slices and seal.
Cut the dough into 10 pieces and place them on the baking sheet.
Brush the tops with coconut milk and sprinkle them with cinnamon sugar.
Bake for 15-18 minutes until golden brown.
These are best served the day they are made.
http://cakemerchant.com/2015/12/07/vegan-apple-pie-scones/
Recipe adapted from Baking Illustrated and Joy the Baker
Roll the dough out into a rectangle(ish) that is 1/4 inch thick onto a lightly floured surface.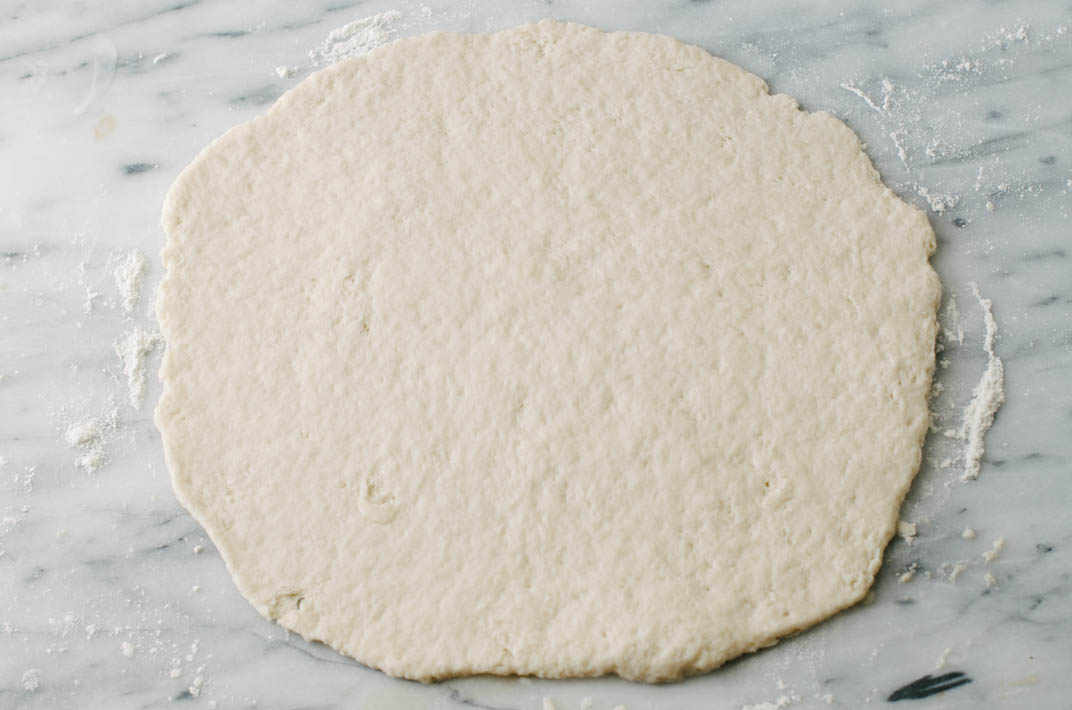 Layer the apples over half of the dough.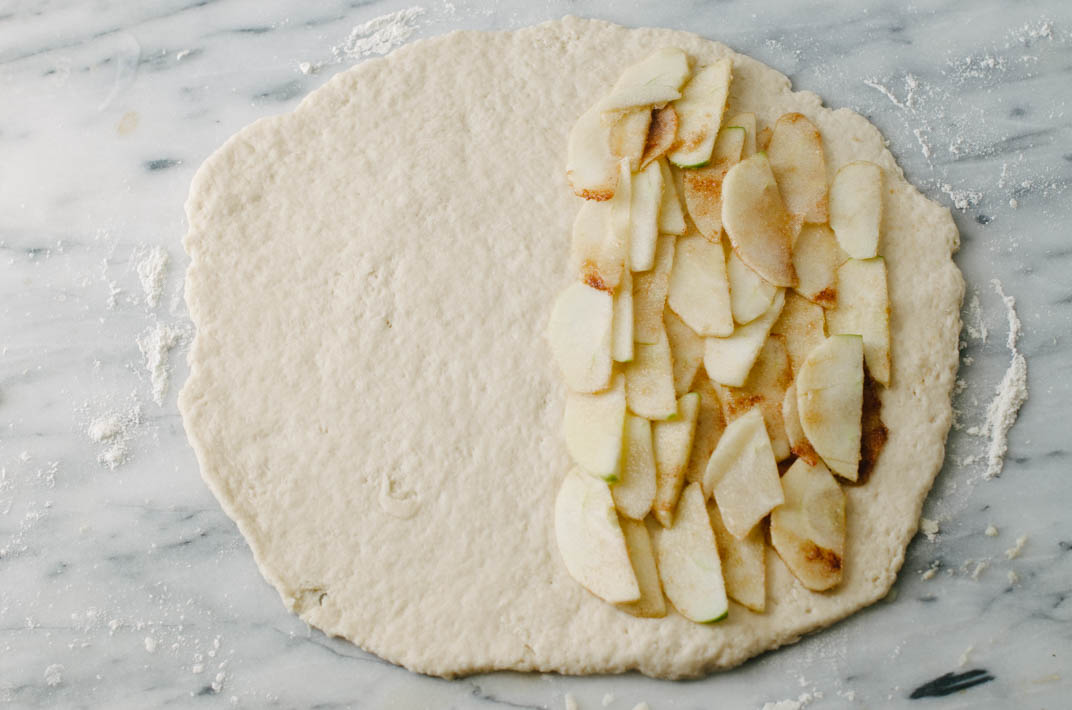 Flip…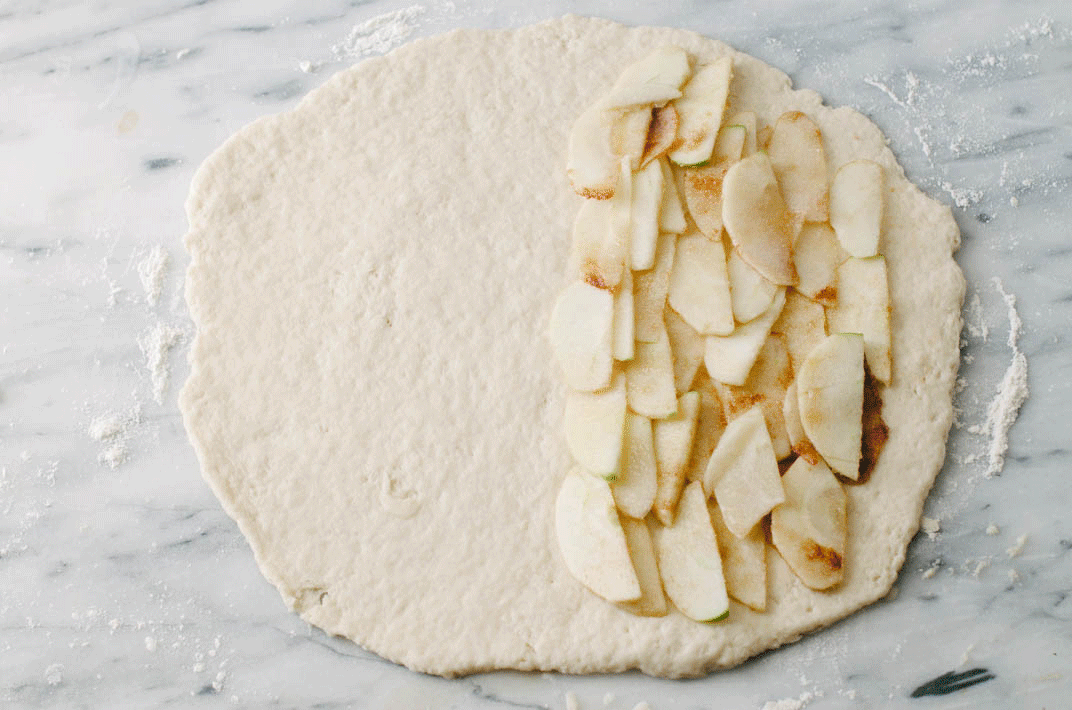 …and seal the edges.
Cut.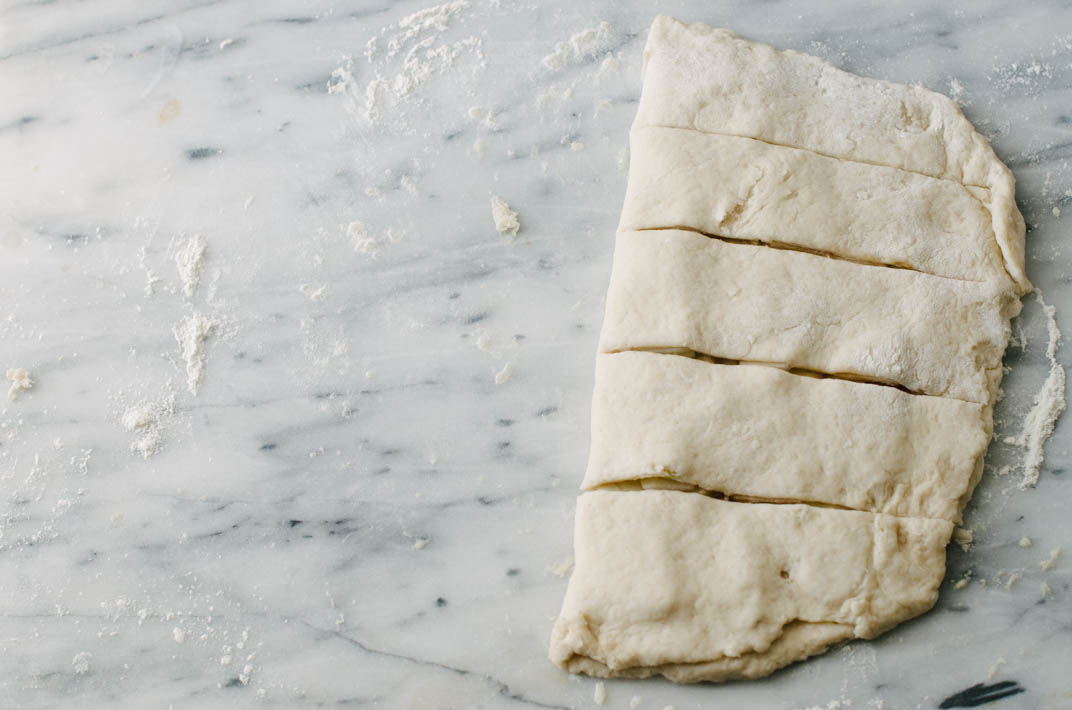 Then cut across.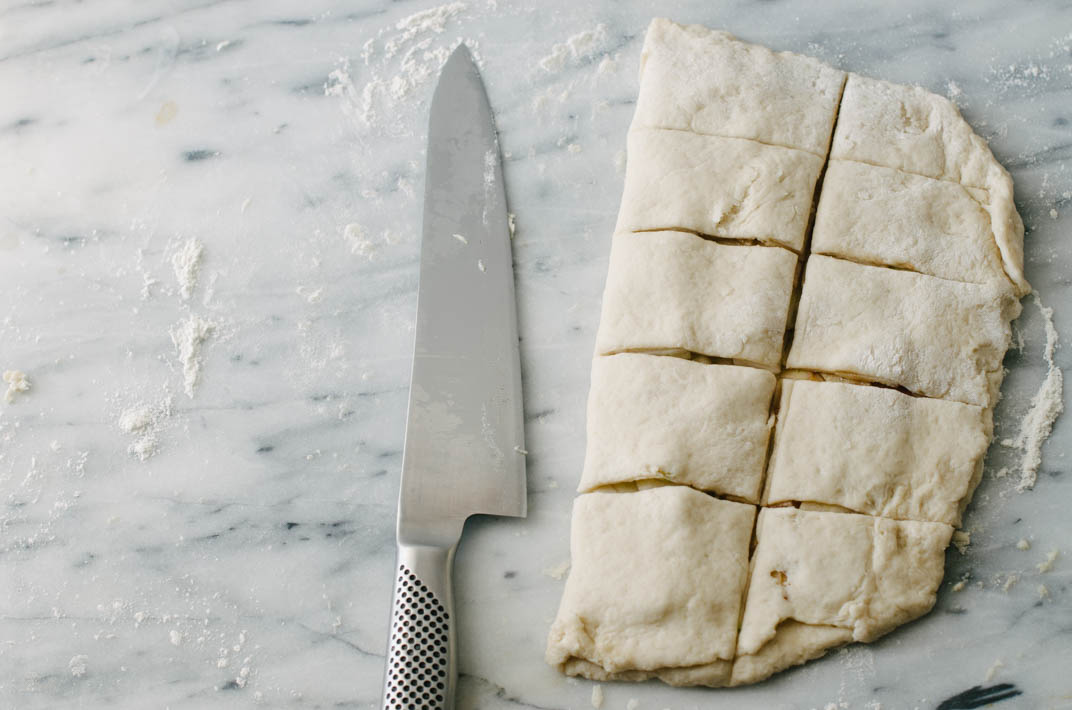 Brush with coconut milk.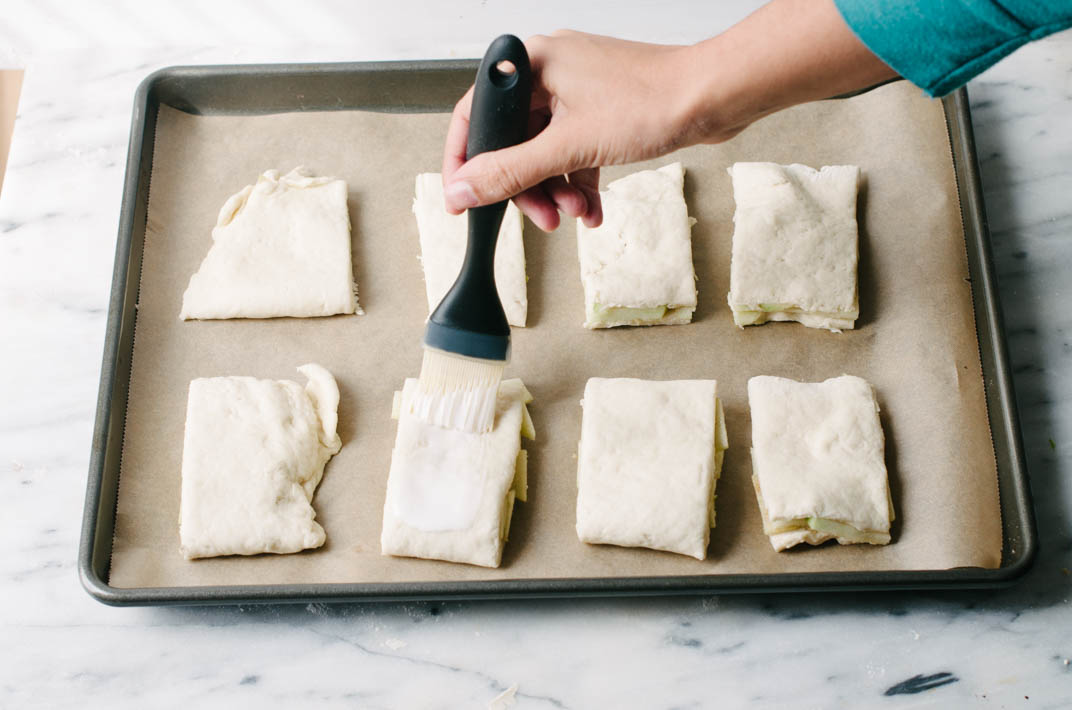 Sprinkle with cinnamon sugar, and bake.