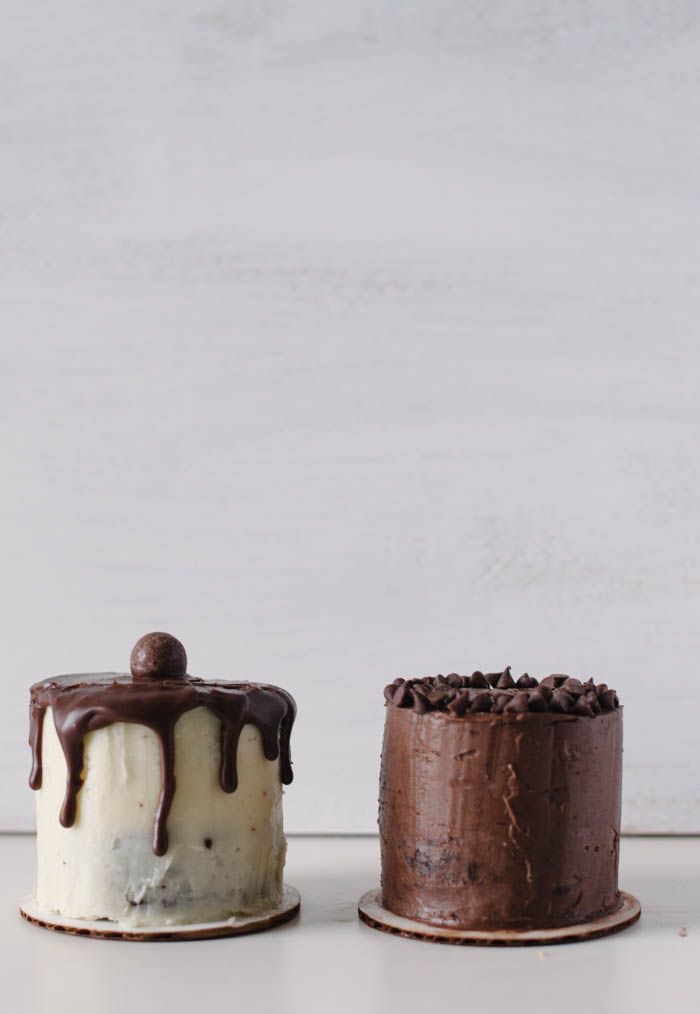 Welcome back to a new edition of In the Oven! With Valentine's Day and my birthday being this month, there was no shortage of baked goods that came out of my kitchen. The picture you see above is of the his and hers mini cakes that I made for Valentine's Day. The cakes are a version of these Chocolate Covered Strawberry Mini Cakes I made a few years ago, which have become a yearly tradition for us.
His- chocolate cake with mocha frosting and mini chocolate chips
Hers- chocolate cake with peanut butter filling, malted vanilla frosting, chocolate ganache and a chocolate malt ball.
Mine was a take on chocolate covered peanut butter malt balls that I recently discovered in the bulk section at Whole Foods.
I always make 2 cakes for my birthday, which is more a result of indecisiveness than gluttony. The first one was this Funfetti Cake, and the second was a smaller version of Sweetapolita's Campfire Delight Cake. I divided the recipe by a third and got a 3 later 5-inch cake. Even though it was one of the best testing cakes I've ever made (toasted marshmallow frosting is everything!), I made it in kind of a rush and it looked like the Leaning Tower of Pisa. Needless to say, no photos of this cake.
In other news, I recently took a part time job at a bakery. By part time, I mean not even a full day every week (since I already have a job). This bakery specializes in macarons, and I thought it would be a great learning experience since I've been obsessed with perfecting them for the last year and a half since I went to Bouchon Bakery. I'm hoping to share everything I learn in a macaron themed post in the future.
Last but not least, here's a link to a cool project that I got to be a part of back in December. It's not food related, but I thought it was worth a share anyway. PBS News Hour did a feature on it.
Thanks so much to those of you who sent me red velvet cake recipe suggestions. I can't wait to try them!
Happy Baking,
Natasha