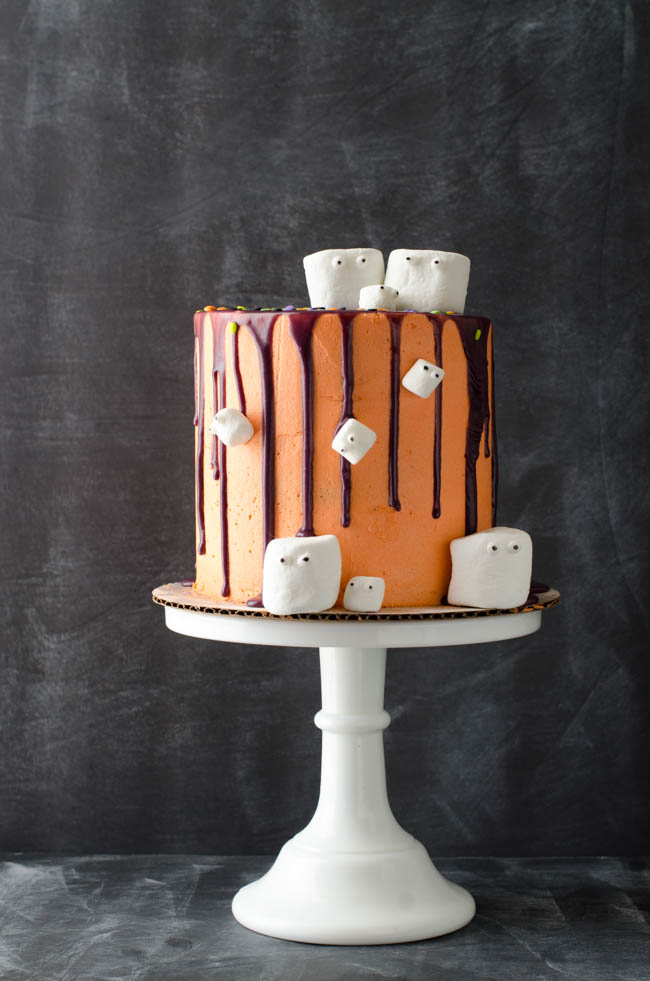 I've always had mixed feelings about Halloween. Sure, there's candy (I can be bribed with candy most of the time) and fun costumes, but there's also the blood and guts and gore aspect of it that I hate. I will never ever understand why people like to go to haunted houses or watch movies that will make you sleep with the lights on for weeks. One thing I do understand though, is cake, and like every other holiday, I just turn it into an excuse to make another one. Plus, making googly eyes out of royal icing is way more fun than doing dishes.
My goal was to make a cake that was light and fun but still in the spirit of Halloween. The fact that the ganache looks like dried blood was totally an accident, since I intended for it to be a bright purple drip. Cakes never quite turn out the way I picture them in my head, but I thought this one turned out pretty darn cute anyway.
The cake itself is a 3 layer 5-inch deep dark chocolate cake made with black onyx cocoa powder. Black onyx cocoa is a super alkalized cocoa powder that is very dark (the kind that they use to make Oreo cookies). Used by itself, it can really dry out baked goods (I learned that the hard way). I took a tip from SugarHero and used it to replace half of the regular Dutch process cocoa. The result was a cake that was naturally black in color and kept it's moisture. I get my black cocoa online, but if you don't want to bother, you can use regular Dutch process or even add some black food coloring to your cake.
For the drippy glaze, I used candy melts since I already had some purple ones on hand. If you use them, go easy on the cream at first. I tried to use the same ratio of cream to chocolate as I would with a ganache, but candy melts melt more easily than regular chocolate (hence the term candy melts), so start my mixing in a little bit at a time. I just dumped it all in, which is why my drip turned out runnier than I expected.
I couldn't find candy eyeballs that were small enough to fit on the mini marshmallows, so I made royal icing, put it into a piping bag, and piped it directly onto the marshmallows. You could also used pre packaged cookie icing. Once it dried, I used an edible pen to draw in the eyeballs.
If you want to make a shorter cake, you can use the same recipe to make a 3 layer 6-inch cake. You'll need reduce the baking time by about 5 minutes.