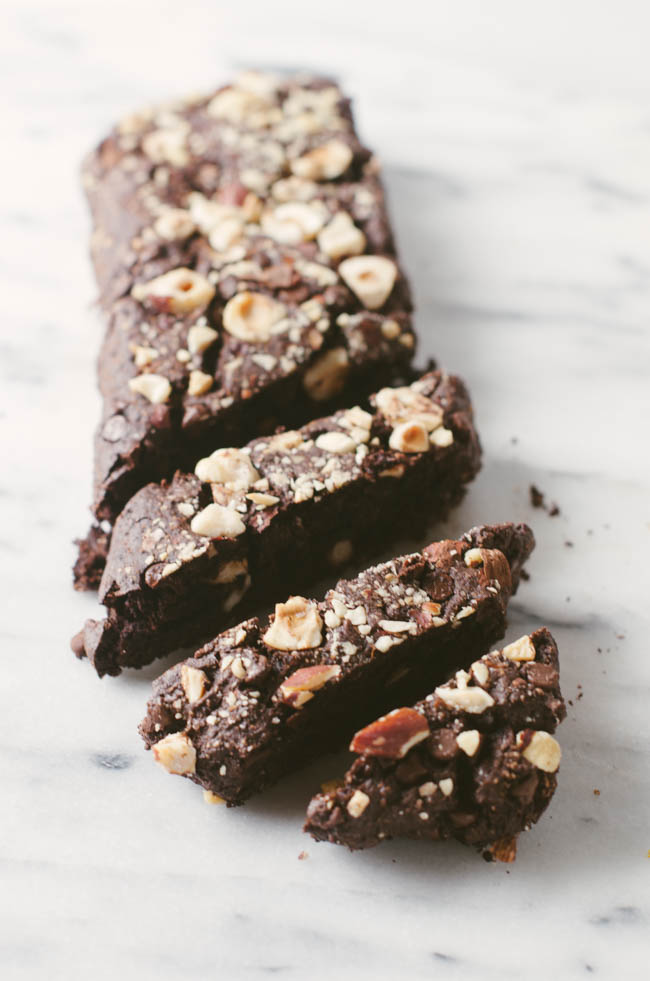 If this blog accurately reflected the amount of biscotti that has come out of my kitchen in the last couple of months, I would have to seriously consider changing my blog name to The Biscotti Merchant. A couple of months ago, I made this Vegan Almond Biscotti and have been obsessed with finding a chocolate version that I like just as much. I found a ton of different recipes to try. Some used eggs, others just the whites. Some used oil, some used butter, some used both and others used none. I wasn't sure how these ingredients affected the final texture, so like an obsessive baking weirdo, I just tested them all. I'm not even kidding, but I've literally made about 20 batches of biscotti in the last few months.
The good news is, I found a favorite! By far, the winner was David Lebovitz's Chocolate Biscotti. It calls for whole eggs but no butter or oil. It's crunchy enough to be distinguishable as biscotti and not just a biscotti shaped cookie, but it's not so hard that it will break your teeth. The best part is that these biscotti get better with age. I actually liked them better on day 3 than when they were freshly baked.
I decided to veganize David Lebovitz's original recipe by replacing the egg with a chia egg, although you can use a regular egg in this if you prefer (you'll just need to omit the water). I also replaced some of the flour with leftover hazelnut meal from making hazelnut milk, but you could also use almond or pecan meal in its place. This recipe makes a small batch of biscotti, but can easily be doubled.
Oh, and I don't want to sound like Ina or anything, but use good cocoa powder, The majority of the flavor in these biscotti comes from the cocoa powder. My absolute favorite brand is Valrhona which I'll splurge on once in a while, but I usually use Cacao Barry
, which is a little more reasonable and also excellent quality.