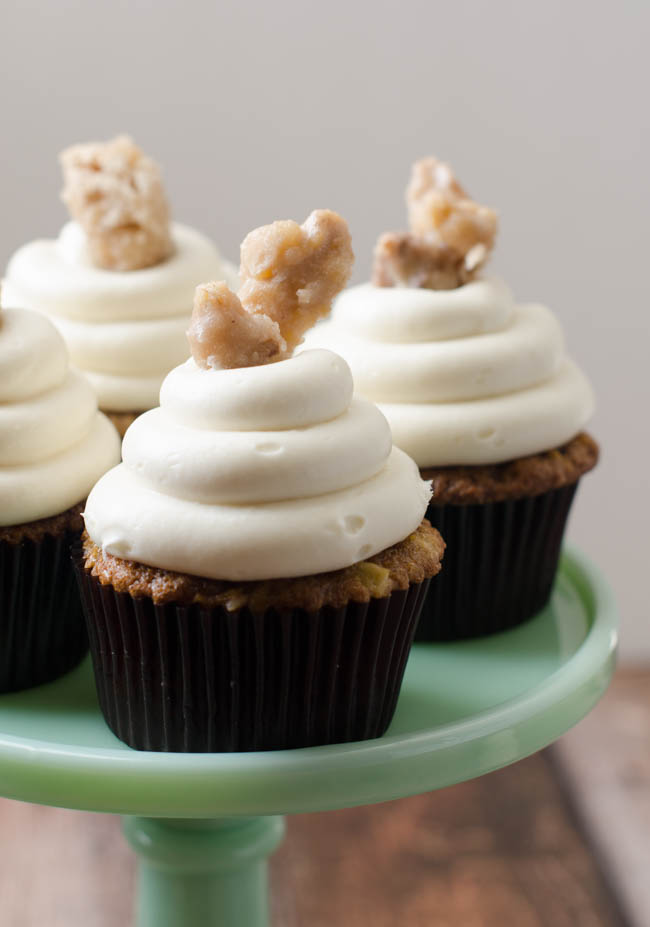 These cupcakes were inspired by pizza. I know that sounds weird, but we like to make our own pizza at home, and Aaron and I both love a pizza that is topped with thinly sliced granny smith apples, toasted walnuts, and big globs of goat cheese. Sounds strange, but it works.
The cupcake epiphany happened as I was drizzling honey on leftover goat cheese and spooning it into my mouth and thinking how good the combo would be as frosting. I wish I could explain to you how much I love this honey goat cheese frosting. Maybe someday in the future, food blogs will offer a tasting feature, but for now, you'll just have to make it. I think I'm going to start adding goat cheese to all of my cream cheese frostings from now on, because it really adds something special. It would be pretty great on pumpkin, carrot, or even red velvet cupcakes, but I liked the fact that these apple cupcakes were slightly different from the standard cupcake fare.
Since these cupcakes have cream cheese and goat cheese in the frosting, you shouldn't leave them at room temperature for more than a few hours. However, the frosting doesn't get too firm in the fridge and the cupcakes don't dry out too easily, so you don't need to bring them to room temp before eating them. Instant gratification = 🙂 Most cupcakes are best when they're fresh, but I actually liked these better on day 2 and even 3. I can't tell you how long they keep after that, because they disappeared pretty quickly.
As for the sugared walnuts, make sure you separate them while they are cooling on the parchment. Otherwise, you'll end up with walnut clusters that look kind of antlers. But hey, they're festive, right?