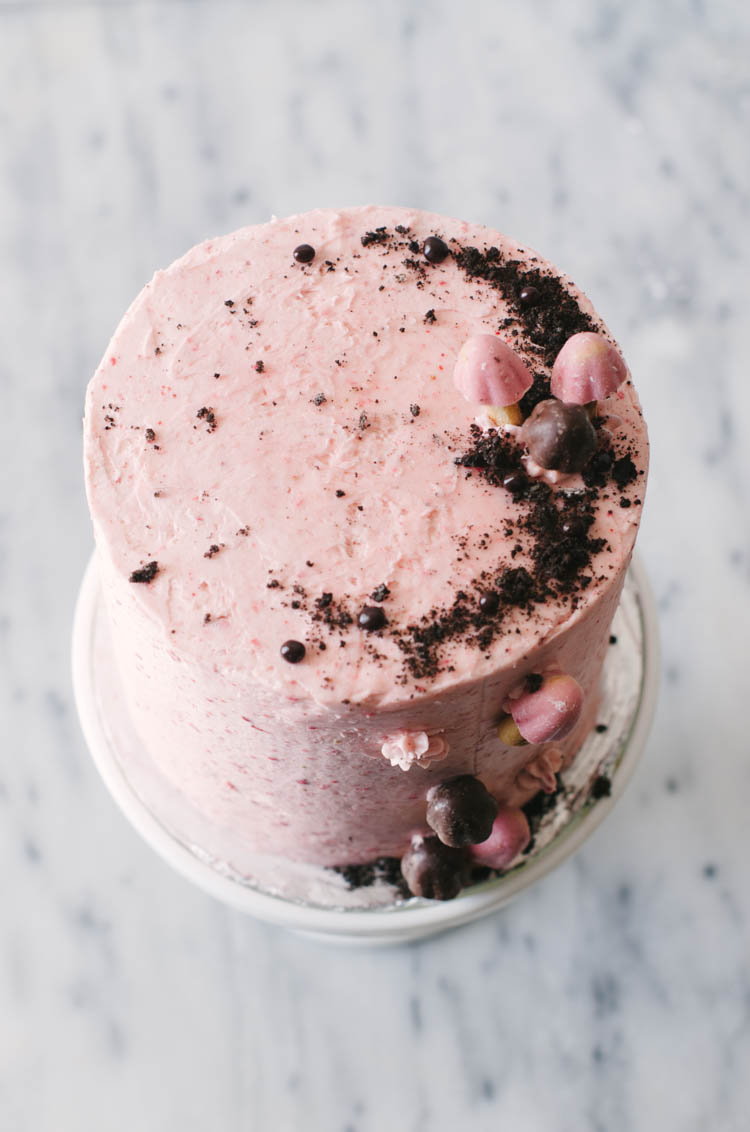 I have a thing for Asian candy. We didn't have a designated Indian grocery store where I grew up. It was all kind of lumped into one "ethnic/all things from the east" store, so when my mom went to buy ghee and mango pickle, I tagged along and got Pocky, Yan Yan, and these little koala cookies
. I think my inner 6-year-old would have gone nuts for little chocolate mushrooms, though. I saw them recently at Daiso, a Japanese version of a dollar(ish) store that opened up near my house. I love browsing all of the miniature knick knacks and aisles of Japanese candy, so when I saw these little mushrooms, I knew I wanted to use them on a cake (except the first time I bought a package I ate the entire thing on the way home and was too embarrassed to go back and get more).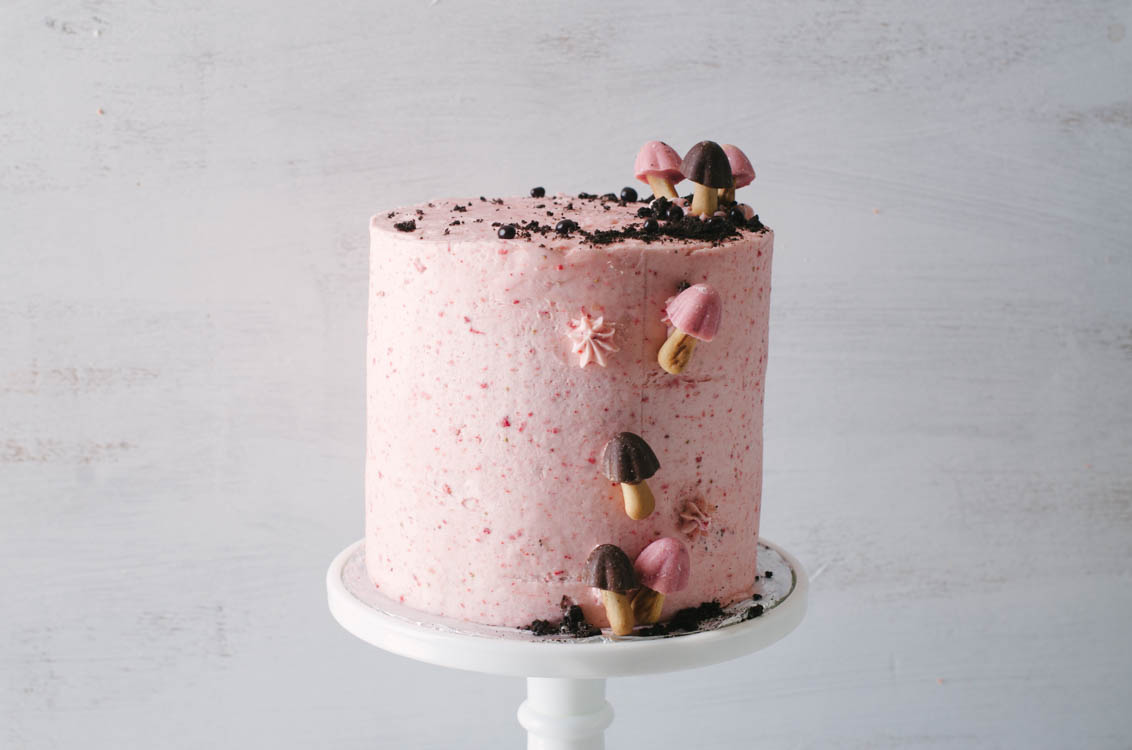 So on my second shopping attempt I bought an extra package for the inevitable snack attack, and this Strawberry Chocoroom Cake was born. It's just in time for Valentine's Day, because nothing says I love you like candy mushrooms.
The cake itself is my go to chocolate cake, which just so happens to be vegan. It's almost exactly the same as what I used for my Marshmallow Madness Cake, but I used water rather than non-dairy milk. I've seen several recipes that do this, and I wanted to see how they compared. I've only tested it once so I can't say for sure if it was because of the water, but this cake was super light and fluffy. I had to chill it for several hours before frosting because it was difficult to work with, but I did like the texture.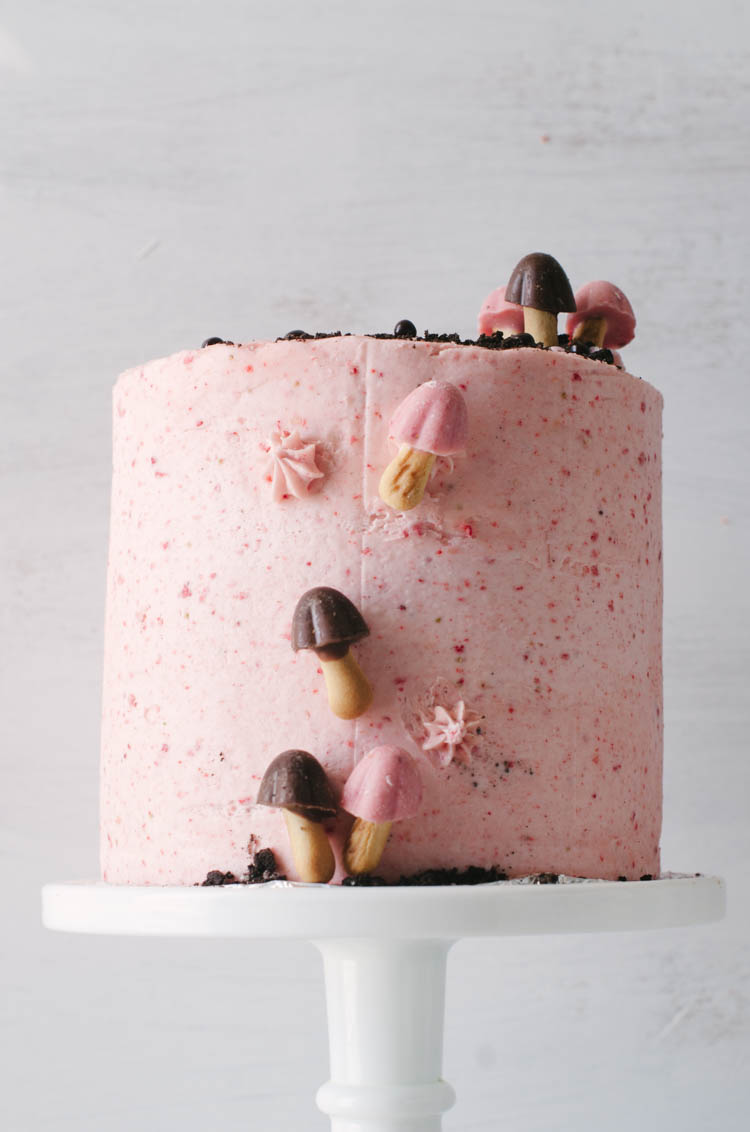 Since fresh strawberries are out of season, I got a package of freeze dried strawberries from Trader Joe's, ground them down into a powder, and then mixed them into the frosting. I liked the end result but it was missing some depth, so I mixed in a teaspoon of red wine vinegar. I do this often to balance out the sweetness of fruit crisps, and I was happy that it worked so well in the frosting.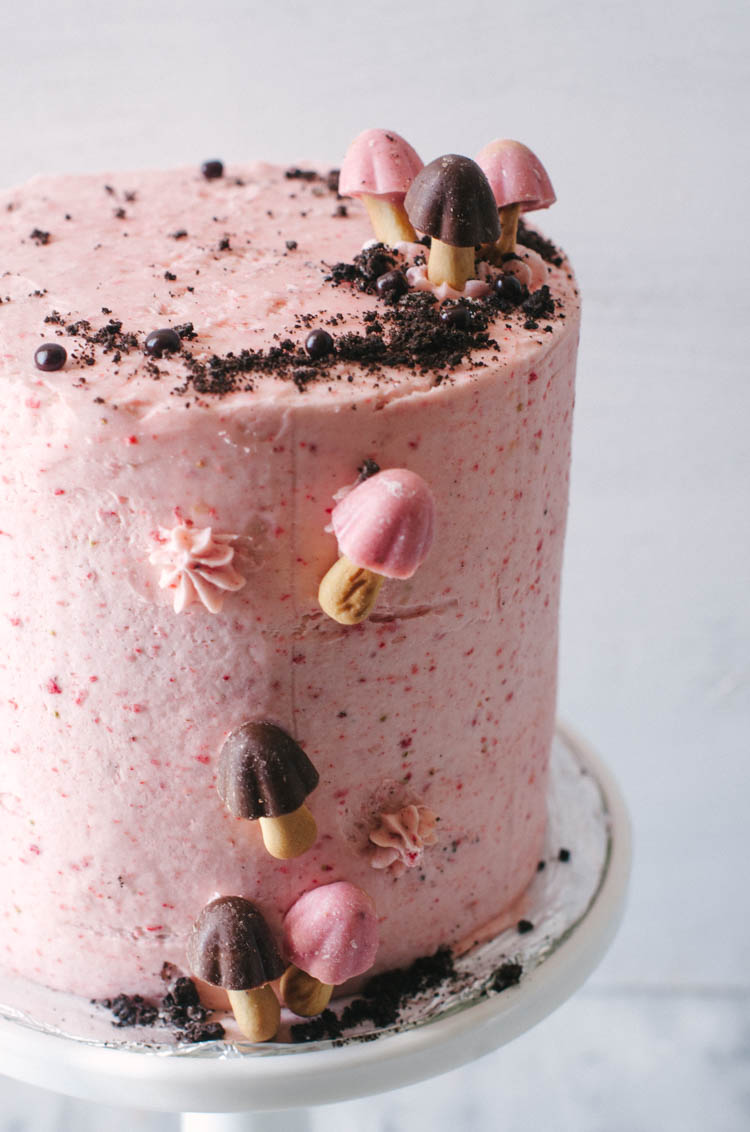 If you can't find Chocorooms
, this cake would be equally adorable covered in meringue mushrooms. If mushrooms are too weird for you, perhaps candy hearts would be a fun substitute.
Not a fan of tall cakes? You can also bake this cake in 2 6-inch cake pans.