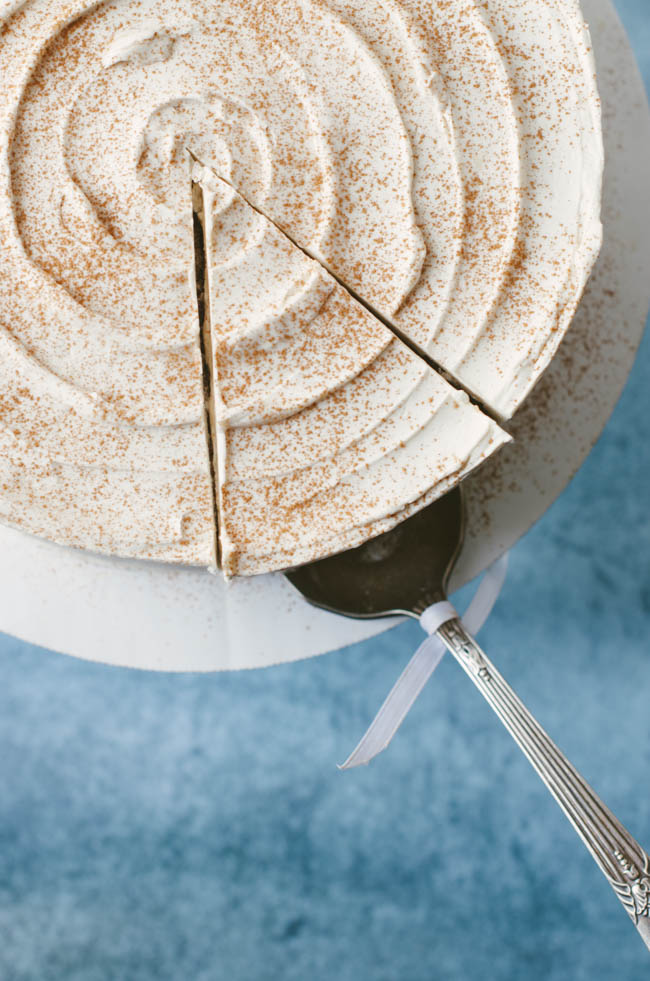 Last week, I found myself wandering around the grocery store and lamenting the price of berries. There were so many berry desserts on my list that didn't get made over the summer, but when I saw the array of apples in the corner, I got distracted from my sadness. I remembered these apple cupcakes that I made last year, which made my list of favorites for 2014, and I had been wanting to make a layer cake version of it ever since.
This time, I replaced the goat cheese frosting (but isn't that the best part?) with a brown sugar and maple cream cheese swiss meringue buttercream. As much as I adore goat cheese frosting, cream cheese SMB has a special place in my heart. Especially when it's made with brown sugar, and even more so when you add maple syrup. In fact, after making this version of cream cheese frosting, it's really hard for me to go back to the overly sweet powdered sugar variety that is so often paired with red velvet or carrot cake. The apples make the cake pretty sweet in itself, so I thought this frosting made for a better balance.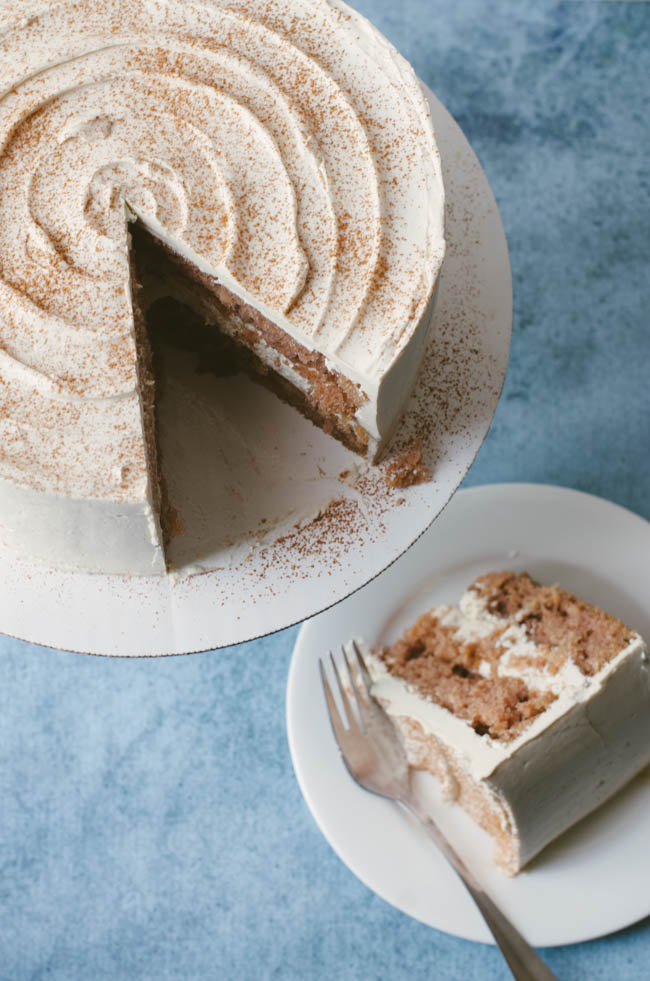 Cream cheese SMB is more time consuming to make than your traditional cream cheese frosting, but so worth it. In the past when I've made cream cheese swiss buttercream, I subbed cream cheese for half of the butter and ended up with a soupy, gloopy curdled mess that would not come together no matter how much I whipped it. After reading this post, I figured out why. Here are a few tips and tricks to get smooth and luxurious cream cheese SMB.
1. Finish your SMB like you normally would with only the butter added.
2. Whip the cream cheese separately until it is smooth.
3. Add the finished SMB to the cream cheese (not the other way around) a little bit at a time until it comes together.
Follow these steps and you'll have a light, fluffy, and not to sweet cream cheese frosting. And because it's softer than traditional SMB, it tastes great straight out of the fridge. Yay for instant gratification!