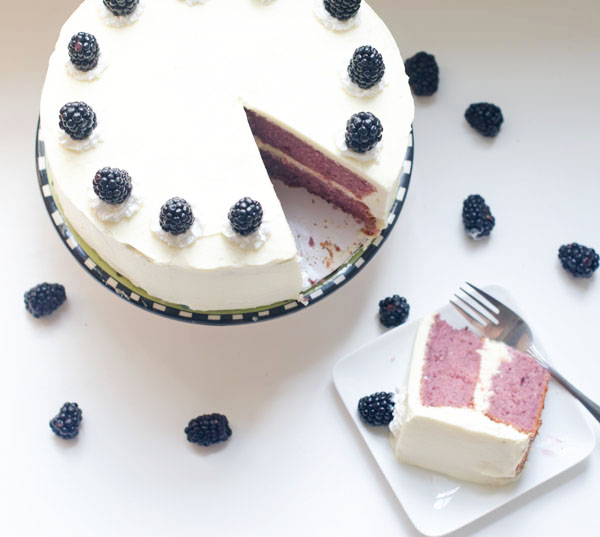 Even though it's still sweltering, I'm happy to be baking again. I'm even happier to that this cake literally took minutes to put together. Up until recently, I was a cake purist. Cake should always be made from scratch, right? Anything else would be sacrilegious.
Well, sometimes life gets in the way, and there just isn't time for a scratch cake. There's a reason that cake mixes have been around for so long. They are fast, easy, and really hard to mess up. And just because you are using a cake mix does not mean you have to follow the directions on the package. There are all sorts of doctored up cake mix recipes that taste really good. This recipe is a variation on a doctored recipe for a strawberry cake. I happened to find some blackberry gelatin at the store, but you could really use any kind of berry. The pureed blackberries give it a beautiful purple color, and who doesn't love purple cake?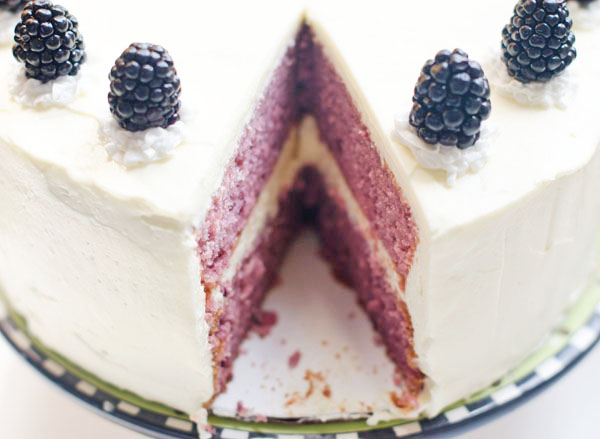 And don't even get me started on this frosting. It's so good, I could eat it by the spoonful. It's a cross between a cream cheese and a whipped cream frosting. It's light, but still sturdy enough to hold it's shape, and not too sweet.