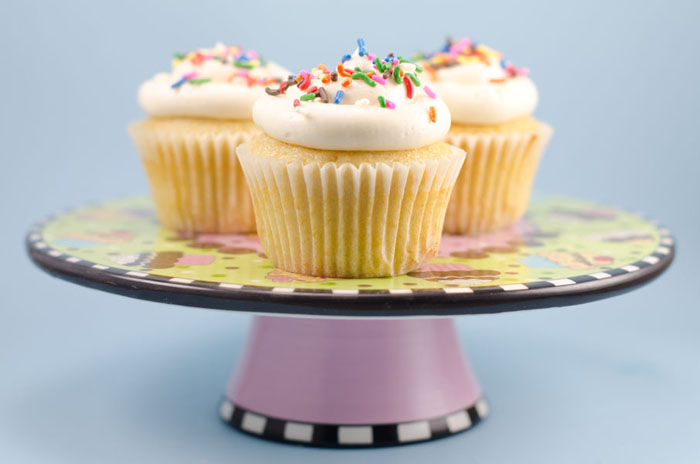 I am a hopeless procrastinator. This can prove to be a problem when baking, since I rarely plan my recipes in advance. I never seem to have butter or eggs and room temperature when I need them.
Have you ever tried to bring butter to room temperature in the microwave? I never seem to be very successful at it. I always end up with a big gloopy mess on my hands, no matter how careful I am. I'm convinced that microwaves hate me.
Fortunately for me, there are vegan cupcake recipes that require no butter or eggs. In fact, I didn't even need a mixer for this recipe. Just a mixing bowl and a whisk will do. Cupcakes in the oven in 5 minutes flat? Yes, please. And they're delicious, too. I've won plenty of friends with these bad boys. And not just vegan friends.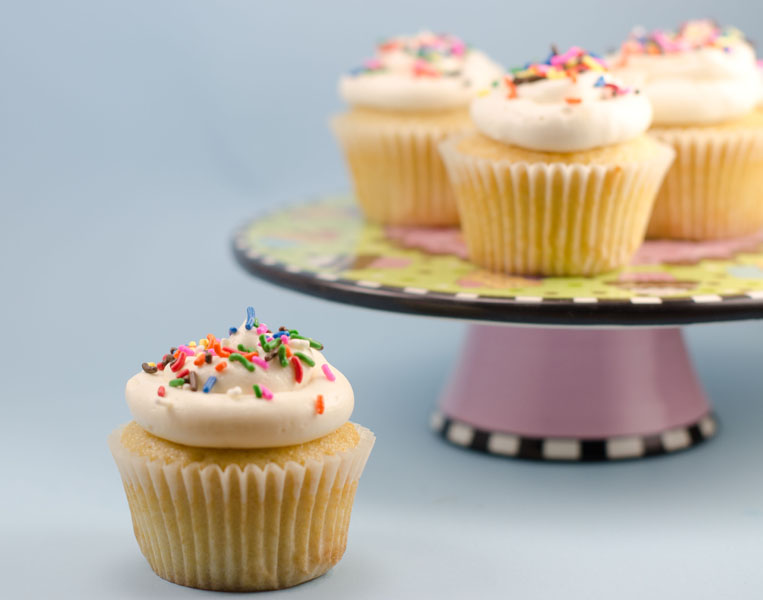 Maybe one day I'll stop procrastinating, but I'll worry about that later. For now, I'll eat this cupcake.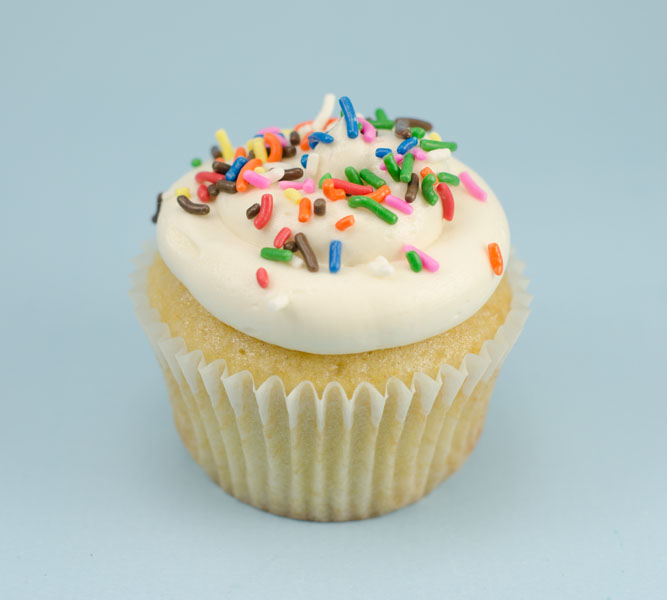 Vegan Vanilla Cupcakes with Vanilla Buttercream Frosting 
from Vegan Cupcakes Take Over the World

makes 12 cupcakes
For the Cupcakes:
1 cup soymilk (or your favorite non-dairy milk)
1 tsp apple cider vinegar
3/4 cup sugar
1/3 cup vegetable or canola oil
2 teaspoons vanilla
1 1/4 cup all-purpose flour
2 tablespoons cornstarch
1/2 teaspoon baking soda
3/4 teaspoon baking powder
1/2 teaspoon salt
For the frosting:
1/2 cup nonhydrogenated shortening (I used Spectrum Organic)
1/2 cup nonhydrogenated margerine (I used Earth Balance)
3 1/2 cups powdered sugar
1 1/2 teaspoons vanilla extract
1/4 cup soymilk or soy creamer
To make the cupcakes:
1. Preheat the oven to 350 degrees and line the cupcake pan with liners.
2. In a large mixing bowl, combine the soymilk and vinegar. Set aside for a few minutes to curdle.
3. Add the sugar, oil and vanilla. Whisk together until foamy.
4. Sift in the flour, baking soda, baking powder, cornstarch, and salt. Whisk together until no lumps remain.
5. Divide the mixture evenly between the 12 cupcake liners. Bake for 20-22 minutes or until done in the center. Cool completely before frosting.
Note: If you're not vegan and only have regular milk on hand, you can sub regular milk for soymilk.
To make the frosting:
1. Beat the shortening and margerine together on medium speed until fluffy.
2. Add the powdered sugar and beat for another 3 minutes. Start your mixer on low until the powdered sugar is just combined, otherwise you'll be wearing it. Then increase the speed to medium.
3. Add the vanilla and soymilk. Beat for another 5-7 minutes on medium high, or until fluffy.
4. Pipe the frosting onto the cupcakes and top with sprinkles of you wish.