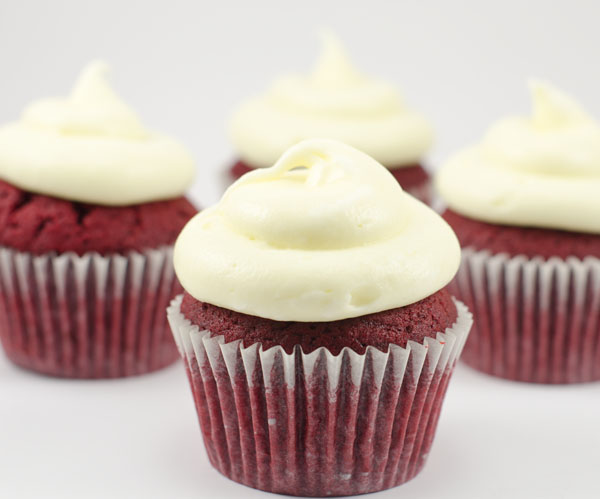 Before I moved to Texas, I had never heard of red velvet cake. I've lived here from almost 4 years now, and I have yet to really understand it. What flavor is red? There are a few tablespoons of cocoa powder in it, but hardly enough to call it a chocolate cake. And why is it red? Why not green, blue, or purple? I'm not sure I'll ever really understand, but I do know that it tastes good, and the cream cheese frosting that is usually paired with it is really good. I also know that people here go bananas for it, and when I ask for cake requests, this is what comes up most often.
Needless to say, I have made my fair share of red velvet cakes over the last few years, and this recipe is one of my favorites. Not only is it delicious, but it's also easy to make and doesn't create a lot of dishes. The original recipe is for a layer cake, but I halved it to make a smaller batch of cupcakes.
On a side note, I used my newly constructed light box to take these pictures since the sun had already gone down when I finished making the cupcakes. After I finished cleaning up the kitchen, I went to put up the light box, and guess who I found lounging inside? This is Miss Violet, Queen of the light box (or any cardboard box, for that matter).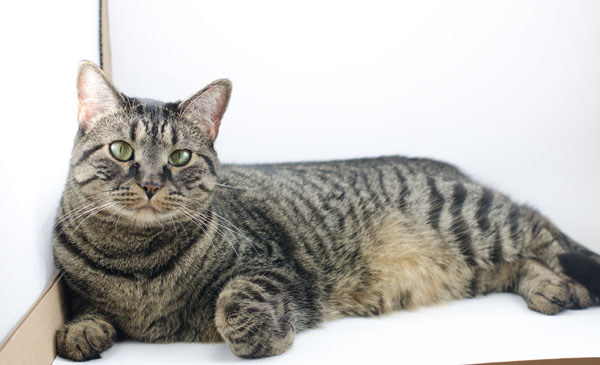 Violet is a fierce jungle cat.
Actually, I just caught her mid-yawn.
One Bowl Red Velvet Cupcakes
Adapted from Piece of Cake via Recipe Girl
makes 12 cupcakes
Ingredients:
Red Velvet Cupcakes:
1 1/4 cups all purpose flour
3/4 cups granulated white sugar
1 1/2 tablespoons unsweetened cocoa powder (not Dutch process)
3/4 teaspoons baking soda
1/2 teaspoon salt
1 large egg, at room temperature
3/4 cups vegetable or canola oil
1/2 cup buttermilk
1 one ounce bottle red food coloring
1 teaspoon vanilla extract
1 teaspoon white vinegar
Cream Cheese Frosting:
1 1/2 cups powdered sugar, sifted lightly to remove any lumps
1 (8-ounce) package cream cheese, at room temperature
1/2 cup unsalted butter, at room temperature
1/2 tablespoon vanilla extract
 For the Cupcakes:
1. Preheat the oven to 350 degrees. Line a cupcake tin with paper liners.
2. Combine the flour, sugar, baking soda, cocoa, and salt in a mixing bowl. Whisk the ingredients together.
3. Add the egg, canola oil, buttermilk, food coloring, vanilla, and vinegar. Beat on low until just combined. Then beat on medium speed for an additional 2 minutes.
4. Divide the batter equally between the cups. Bake for 18-20 minutes, or until a toothpick inserted into the middle comes out clean.
For the Frosting:
1. Beat the butter and cream cheese together on medium speed until light and fluffy, about 1-2 minutes.
2. Add the vanilla and powdered sugar. Beat on low until just combined. Continue beating on medium speed until smooth.
3. Spread the frosting onto the cupcakes, or use a wide tip to pipe onto the cupcakes.
4. Dress them up with some red and blue sprinkles for the 4th of July.