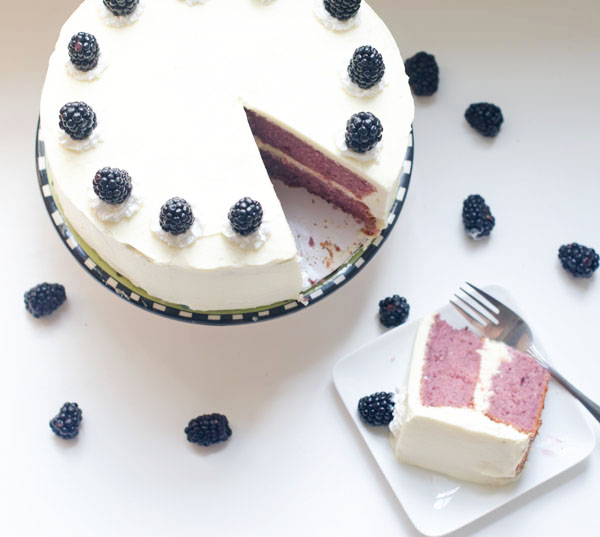 Even though it's still sweltering, I'm happy to be baking again. I'm even happier to that this cake literally took minutes to put together. Up until recently, I was a cake purist. Cake should always be made from scratch, right? Anything else would be sacrilegious.
Well, sometimes life gets in the way, and there just isn't time for a scratch cake. There's a reason that cake mixes have been around for so long. They are fast, easy, and really hard to mess up. And just because you are using a cake mix does not mean you have to follow the directions on the package. There are all sorts of doctored up cake mix recipes that taste really good. This recipe is a variation on a doctored recipe for a strawberry cake. I happened to find some blackberry gelatin at the store, but you could really use any kind of berry. The pureed blackberries give it a beautiful purple color, and who doesn't love purple cake?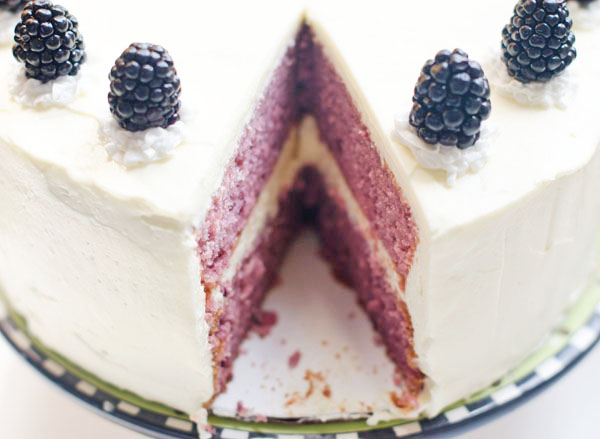 And don't even get me started on this frosting. It's so good, I could eat it by the spoonful. It's a cross between a cream cheese and a whipped cream frosting. It's light, but still sturdy enough to hold it's shape, and not too sweet.
Blackberries and Cream Cake:
adapted from The Cake Mix Doctor
makes a two layer, 8 inch round cake
For the Cake:
1 package white cake mix
1 3 oz package blackberry gelatin
1 cup of pureed blackberries, strained if you don't want seeds in your cake
4 eggs, room temperature
1 cup vegetable oil
1/2 cup milk
1. Preheat the oven to 350 degrees. Grease, flour, and line the pans with parchment.
2. Place all of the ingredients in a large bowl. Beat with an electric mixer or a stand mixer on low until the ingredients are just incorporated. Increase the speed to medium and beat for an additional 1 1/2 minutes.
3. Divide the cake batter evenly between the two pans. Bake for 25-30 minutes, or until a toothpick inserted into the center comes out clean. Let the cake cool for 10 minutes on wire racks before removing from the pans. Gently run a palette knife around the edges and invert the cakes onto racks. Turn the cakes over so that the tops are up to finish cooling completely.
For the Whipped Cream Frosting:
adapted from allrecipes
1 8 oz package of reduced fat cream cheese, at room temperature
1/2 cup granulated sugar
1 tsp vanilla extract
2 cups heavy cream
1. Combine the cream cheese, sugar, vanilla extract in a bowl. Beat the ingredients on medium speed until smooth.
2.While the mixer is still running, slowly our in the heavy cream. Continue beating until stiff peaks form.
Note: You can add 1/2 teaspoon of lemon extract for a lemon whipped cream frosting 
To Assemble the Cake:
1. Place one layer of the cake on an 8 inch cake board. Place 1 cup of the frosting on top, and spread evenly with a palette knife. I like this one.
2. Place the other cake layer on top (face down), and crumb coat the cake. Place a generous scoop of frosting on the top of the cake, and spread evenly across the top of the cake. Work your way around the sides until the entire cake is covered with a thin layer of frosting. I find that a turntable is helpful when frosting a layer cake. Let the crumb coat set in the fridge for about 30 minutes.
3. Once the crumb coat has set, spread a thicker layer of frosting on the top and sides of the crumb coat to create a smooth finish. Use the leftover frosting to pipe onto the cake and top with blackberries.