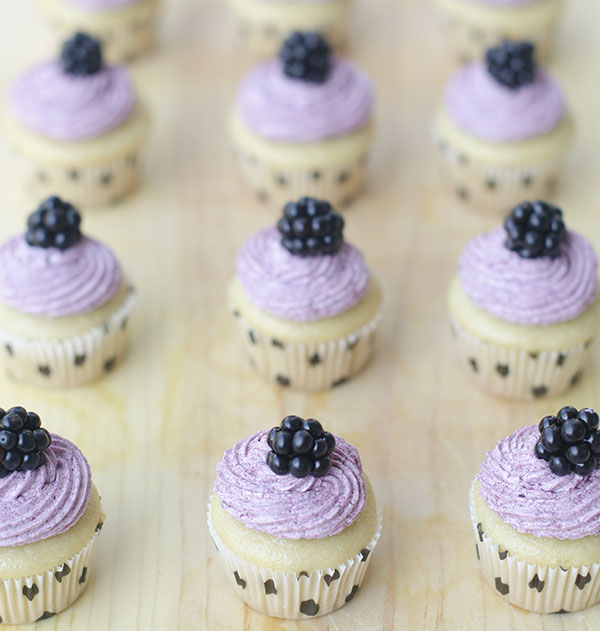 Last week, I got to escape the heat and go to my hometown of Fort Wayne, Indiana. Fort Wayne is not a bustling metropolis, but it beautiful in the summer, and there is a bounty of fresh produce. My parents are avid gardeners, and I love spending time in the kitchen with my mom and cooking with the freshly picked vegetables.
Just down the road, there is a farm that has some of the best berries I've every tasted. Even though there's been a drought in Indiana this year, there were still plenty of berries. They were smaller than usual, but still just as sweet.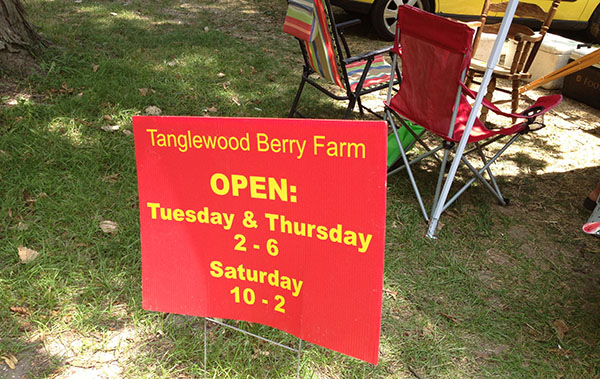 Mmmmm….berries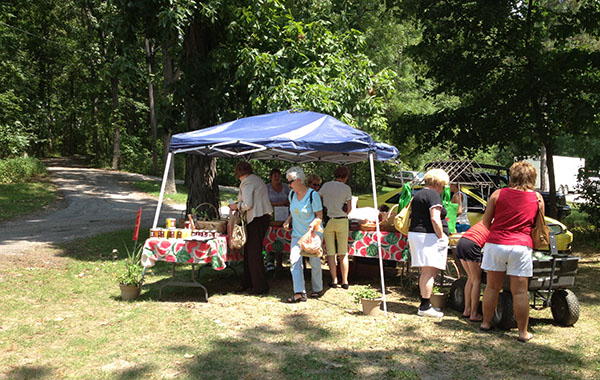 I love blackberry in desserts, and one of my favorite cake recipes is this layer cake that I made a few months ago. This time,  I decided to switch things up and add the blackberries to the frosting instead of the cake. Since we have some vegan friends at home (and dessert is meant for sharing), I decided to make these egg and dairy free, and I made cupcakes instead of the layer cake.
I've always had a slightly unhealthy obsession with all thing miniature, and mini desserts are no exception. The sweet little blackberries made a perfect topper for the mini cupcakes. Plus, mini desserts are built in portion control (unless you eat 6 of them like I did).
Mini Vegan Vanilla Cupcakes with Blackberry Frosting 
adapted from Vegan Cupcakes Take Over the World.
makes 24 mini cupcakes
For the Cupcakes:
1 cup soymilk (or your favorite non-dairy milk)
1 tsp apple cider vinegar
3/4 cup sugar
1/3 cup vegetable or canola oil
2 teaspoons vanilla
1 1/4 cup all-purpose flour
2 tablespoons cornstarch
1/2 teaspoon baking soda
3/4 teaspoon baking powder
1/2 teaspoon salt
For the frosting:
1/2 cup nonhydrogenated shortening (I used Spectrum Organic)
1/2 cup nonhydrogenated margerine (I used Earth Balance)
3 cups powdered sugar
1 1/2 teaspoons vanilla extract
3-4 tablespoons blackberry puree, strained
To make the cupcakes:
1. Preheat the oven to 350 degrees and line the mini cupcake pan with liners.
2. In a large mixing bowl, combine the soymilk and vinegar. Set aside for a few minutes to curdle.
3. Add the sugar, oil and vanilla. Whisk together until foamy.
4. Sift in the flour, baking soda, baking powder, cornstarch, and salt. Whisk together until no lumps remain.
5. Divide the mixture evenly between the 24 cupcake liners. Bake for 9-14 minutes or until done in the center. Cool completely before frosting.
Note: If you want to make regular sized cupcakes, increase the baking time to 20-22 minutes. This recipe makes 12 regular sized cupcakes.
To make the frosting:
1. Beat the shortening and margerine together on medium speed until fluffy.
2. Add the powdered sugar and beat for another 3 minutes. Start your mixer on low until the powdered sugar is just combined, otherwise you'll be wearing it. Then increase the speed to medium.
3. Add the vanilla and blackberry puree. Beat for another 5 minutes on medium high, or until fluffy.
4. Pipe the frosting onto the cupcakes and top with a blackberry.