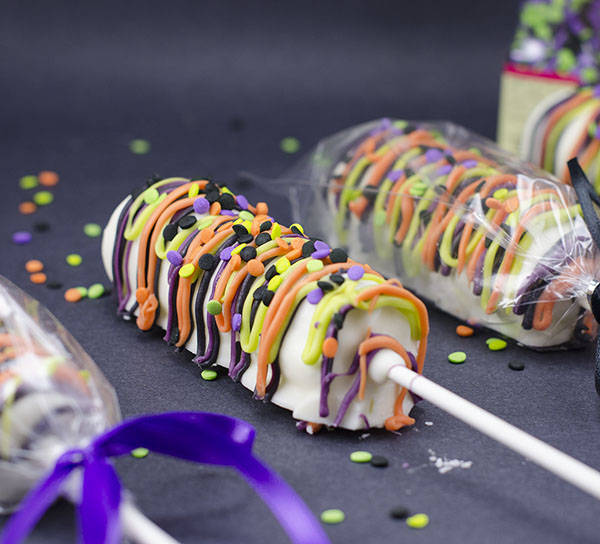 I have a love/hate relationship with Halloween.
I love:
Sugary treats
Babies and small animals in costume
Creative and original costumes
This cake
Casper the Friendly Ghost
I hate:
Scary movies
Slutty halloween costumes
Scary movies
Did I mention scary movies?
General Halloween related obnoxiousness
These marshmallow pops definitely fall into the first category. Plus, they make you look fancy without even having to turn your oven on.
It all started when I came across these sprinkles. They were way too cute to pass up!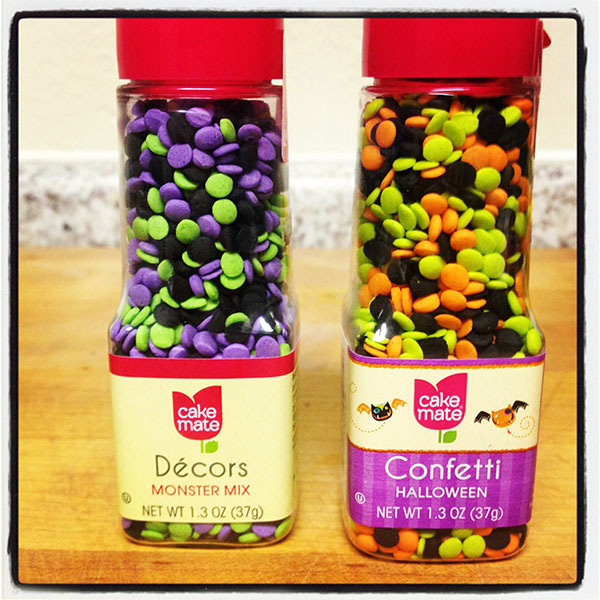 Then I found these matching candy melts.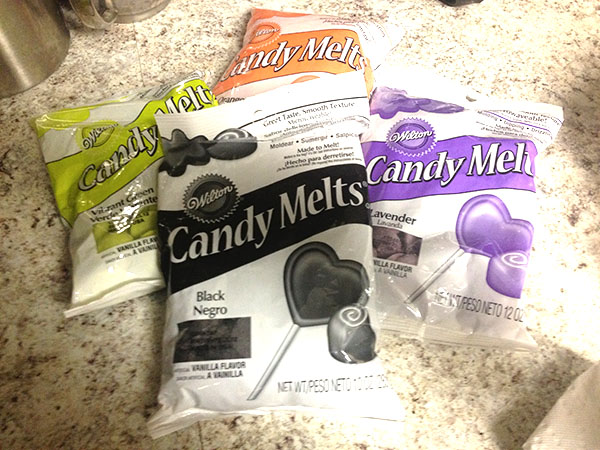 I really wanted to make these adorable twinkies on a stick, but I hate twinkies, so I opted for marshmallow pops instead.
I started by putting 3 marshmallows onto a lollipop stick, and dipping them into white chocolate candy melts.
I put them in the fridge to set up and started to get the colored candy melts ready. After I melted them in separate bowls, I put them into individual icing bags for drizzling.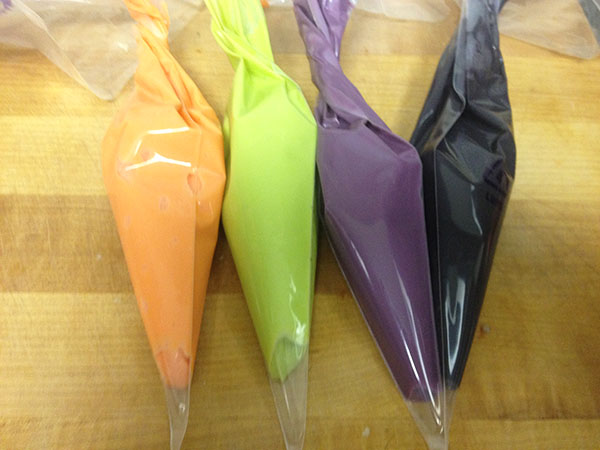 Then, I snipped a small amount off the corner of each bag and drizzled chocolate over the marshmallow pops.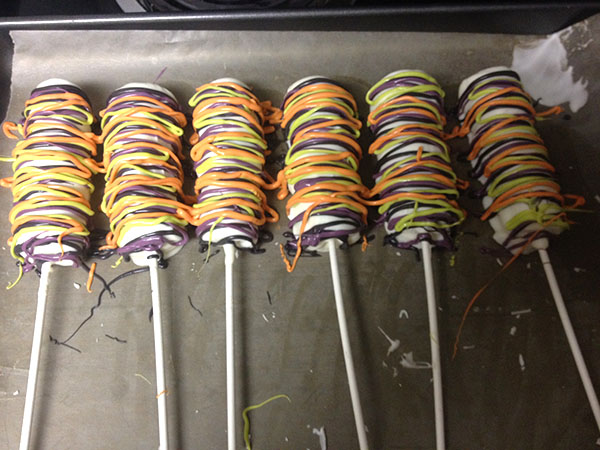 While they were still wet, I topped them with sprinkles.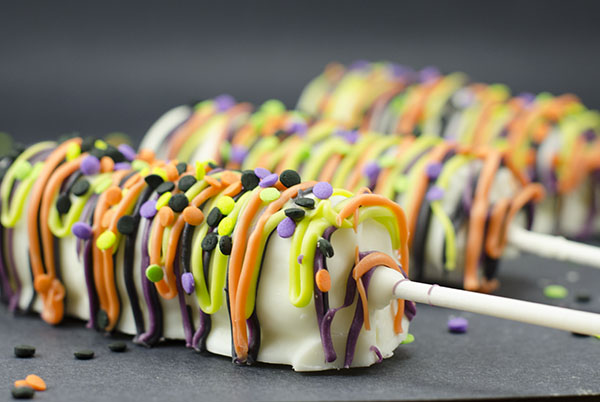 After they were completely dry, I wrapped them in individual treat bags and tied them with colored ribbon.
Halloween Marshmallow Pops
makes about 12 marshmallow pops
To make these, you will need:
1 bag of marshmallows
1 package of 8 inch lollipop sticks
2 bags of white candy melts
1 bag each of black, orange, green, and purple candy melts
Festive sprinkles
Treat bags
Colored Ribbon
Directions:
1. Line 2 cookie sheets with waxed or parchment paper. Melt the white candy melts in the microwave. I used a tall coffee mug so that the entire marshmallow pop would be covered.
2. Put 3 marshmallows on each lollipop stick. Dip the marshmallows in the melted candy melts and place them onto the waxed paper. You may need to replenish the candy melts and microwave them again periodically. After you have finished dipping all of the pops, place them in the refrigerator to cool while preparing colored candy melts.
3. Melt the colored candy melts in separate bowls. I couldn't find the exact color of purple that I wanted, so I mixed a little bit of the black candy melts in to darken the color. Once they are melted, spoon the candy melts into individual icing or ziploc bags.
4. Remove the marshmallow pops from the refrigerator. Snip a small amount of the corner off each icing bag and drizzle over the marshmallow pops. Add the sprinkles while the candy melts are still wet. Put the marshmallow pops back in the fridge to set, and wrap them in treat bags with some colored ribbon. Ta-da! You are now officially fancy.
Note: I got the candy melts, treat bags, and lollipop sticks at Michael's. The sprinkles are from Wal-Mart.