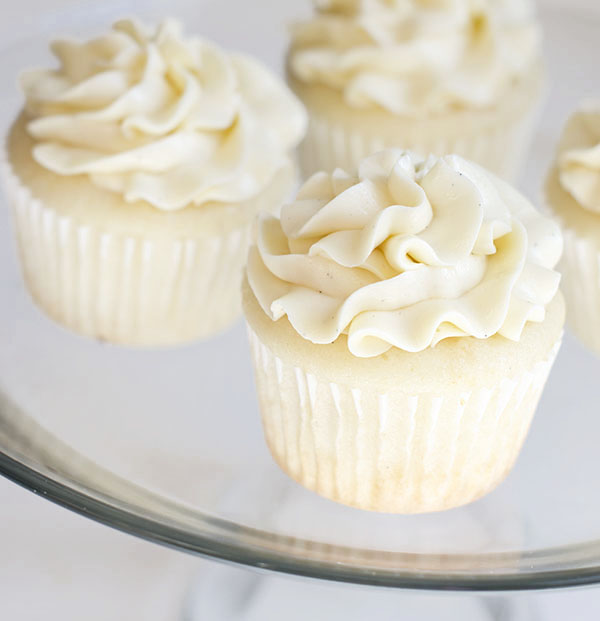 Happy National Vanilla Cupcake Day! It's been vanilla madness at the Cake Merchant residence this week, so really, everyday has felt like Vanilla Cupcake Day. In preparation for a charity event that I am baking for this Sunday, I wanted to find the perfect vanilla cupcake recipe. Several pounds of butter and 5 recipes later, I found it…but this recipe isn't it. However, it is really good, and really easy. 4 of the recipes that I tested were from scratch, and the 5th (this one) was from a doctored cake mix. I had some friends over for a tasting party, and while this recipe wasn't at the top of the list, it consistently ranked pretty high. In fact, no one could tell it was from a mix.
This recipe is a take on what is originally known as White Almond Sour Cream Cake. I upped the vanilla flavor by replacing the sugar with vanilla sugar, which I received as a Christmas gift last year. If you've never experienced vanilla sugar, you can find a description and tutorial on how to make it here. Regular sugar will work if you don't want to make vanilla sugar. I also replaced the vanilla extract with vanilla bean paste (and added a little extra), which I've been doing a lot lately. I just really love seeing the flecks of vanilla beans in the cake and frosting, but a good vanilla extract will work just fine. The original recipe also calls for almond extract, which I think just enhances the flavor (and doesn't make the cupcake taste like almond), but you can leave it out if you prefer.
I promise to share my favorite vanilla cupcake with you soon, but for now, here's a super delicious, foolproof cupcake recipe with no fuss.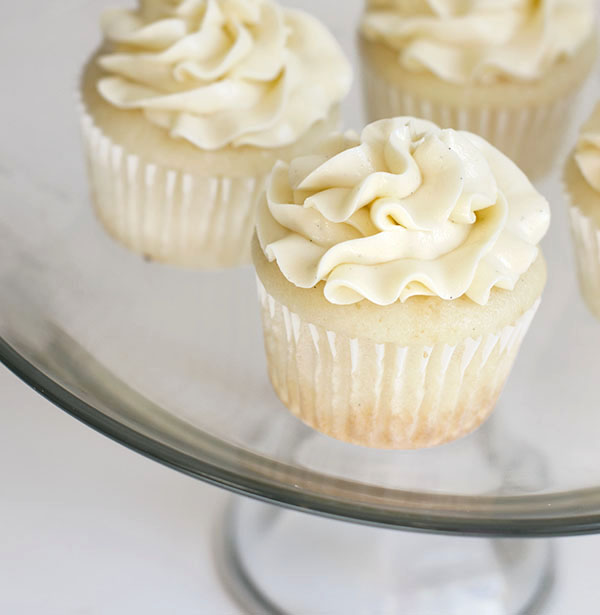 Very Vanilla Cupcakes
adapted from Cake Central
makes about 36 cupcakes
Ingredients
For the Cake:
1 18.25 oz box vanilla or white cake mix (I used a French Vanilla white cake)
1 cup all-purpose flour
1 cup vanilla sugar or granulated sugar
3/4 tsp salt
4 egg whites
1 1/4 cups water
2 Tbsp vegetable oil
1 cup (8oz carton) sour cream
1 tablespoon vanilla bean paste
1 tsp almond extract
For the Frosting:
1 lb (4 sticks) unsalted butter
4 cups powdered sugar, sifted
1 tablespoons vanilla bean paste
2-4 tablespoons heavy cream or milk
To make the cupcakes:
1. Preheat the oven the 325 degrees fahrenheit. Line the cupcake pans with paper liners.
2. In a large bowl, whisk together the dry ingredients. Add the wet ingredients and beat on medium low speed until the ingredients are incorporated, about 2 minutes.
3. Use an ice cream scoop to pour the batter into the paper liners for even distribution. Bake for 15-20 minutes, and cool completely before frosting.
To make the frosting:
1. With an electric mixer or a stand mixer, beat the butter on medium until it becomes pale and creamy (2-3 minutes).
2. Add the powdered sugar and beat on low until combined. Add the vanilla and beat on medium, about 3 minutes. Add the cream 1 tablespoon at a time, until you reach the desired consistency. Pipe or spread the frosting on top of the cooled cupcakes.
Notes: I used a Wilton 2D tip to pipe the frosting.