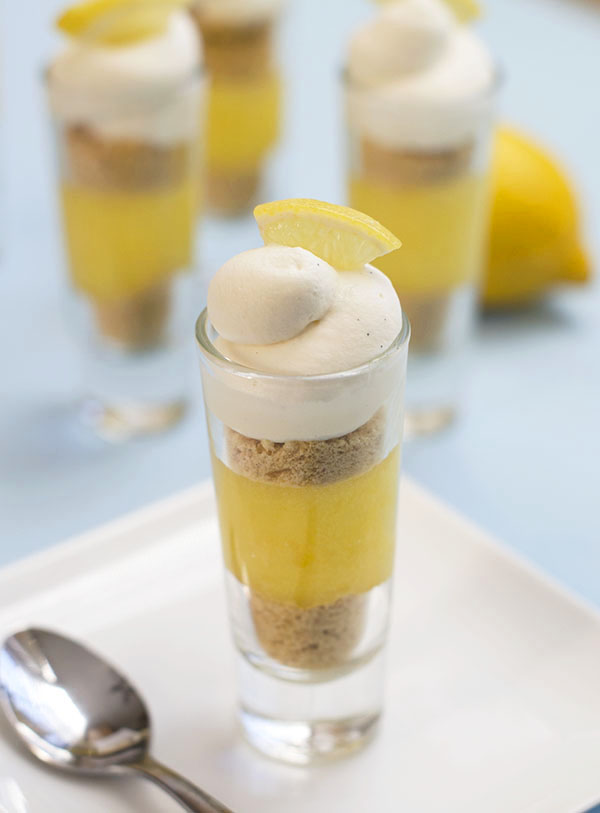 I have a thing for mini desserts. If you follow my blog, you may remember these Peppermint Bark Cheesecake Shooters that I posted a few weeks ago. They were so easy to put together that I decided to do a lemon pie version. I especially love miniature desserts around the holidays. After being bombarded with sweets all season long, a couple of bites of dessert is all it takes to satisfy my sweet tooth. Plus, there's the whole cuteness factor.
These pie shooters are made of 3 things- graham crackers, lemon curd, and whipped cream. If you want to make it really easy on yourself, you can use pre-made lemon curd and cool whip, but I've included the recipes that I used. For me, there's really no substitute for freshly whipped cream.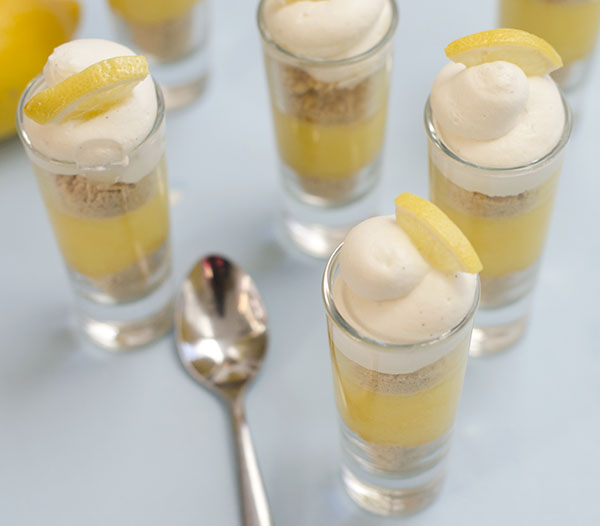 Lemon Pie Dessert Shooters:
makes 10 shooters
For the Crust:
6 graham crackers, crushed (I used the food processor)
For the Lemon Curd:
3 egg yolks
1/2 cup sugar
2 1/2 tablespoons fresh lemon juice (about 2-3 lemons)
1 tablespoon grated lemon zest
1/4 cup cold unsalted butter (1/2 stick butter), cut into 1/8-in slices
Directions:
1. In a saucepan, bring 1 inch of water to a simmer.
2. In a metal bowl, whisk together the egg yolks and sugar until smooth. Add the lemon zest and lemon juice and whisk together until combined. Make sure the bowl is wide enough to fit on top of the saucepan without touching the water. Place the bowl onto saucepan over low heat, and stir constantly with a rubber spatula. Continue stirring for 7-10 minutes until the mixture thickens. It should coat the back of a spoon.
3. Remove from heat and stir the butter in, one piece at a time. Pour into a glass container and cover with plastic wrap to prevent a film from forming. Keep refrigerated.
For the Whipped Cream:
1/2 cup heavy cream
1 tablespoon granulated sugar
1 teaspoon vanilla bean paste (or vanilla extract)
Directions:
Put the cream, sugar, and vanilla in a bowl. Beat until stiff peaks form.
To Assemble:
Fill the bottom of the shot glass with about 1 teaspoon of graham cracker crumbs. Add a layer of lemon curd. I found that filling a decoration bag, snipping off a small corner, and piping it into the shot glass was the neatest method of doing this. Add another layer of graham cracker crumbs and pipe the whipped cream on top. Garnish with some lemon zest or a lemon wedge.
Note: Lemon curd recipe adapted from here