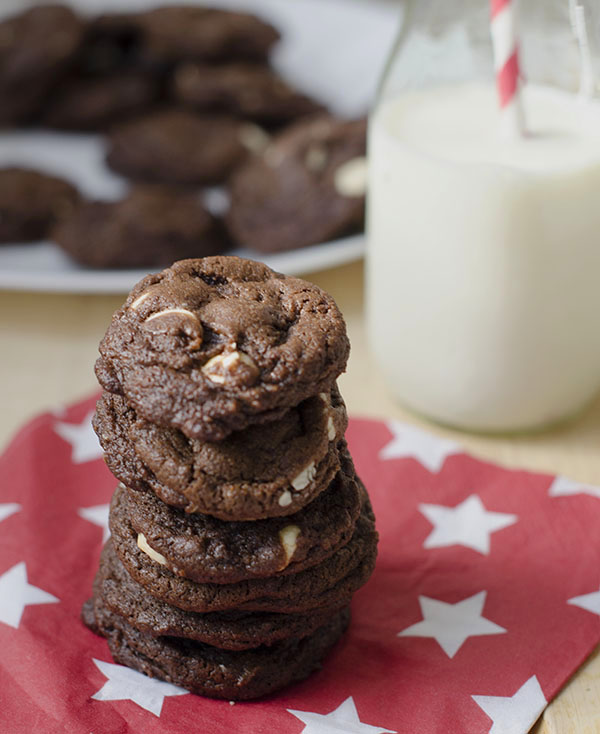 Christmas is just around the corner, and if you're anything like me, you've procrastinated about Christmas shopping until the last minute. This year, all of my friends are getting baked goods. Not only do homemade gifts have a personal touch, but they're perfect for a budget conscious starving artist like myself. So, from now until Christmas, all of my posts will be dedicated to homemade sugary treats that make great gifts.
I'm starting with one of my favorite cookie recipes of all time. I love giving cookies during the holidays. You can package them up in a cute little Christmas themed tin, and they are fairly easy to ship, even in this unseasonably warm weather. These Double Chocolate Espresso Cookies are a twist on the usual chocolate chip cookie. They're also a great cookie to leave out for Santa, since the espresso powder will give him the extra kick he needs to get through the night.
Double Chocolate Espresso Cookies
Ingredients
1 1/2 cups (7 1/2 ounces) all-purpose flour
3/4 cup (2 1/4 ounces) unsweetened cocoa powder, preferably natural
1/2 teaspoon baking soda
1/2 teaspoon baking powder
2 teaspoons finely ground espresso roast coffee beans*
1 cup (2 sticks or 8 ounces) butter, softened but still cool
3/4 cup plus 2 tablespoons (7 1/4 ounces) firmly packed dark brown sugar
1/2 cup plus 1 tablespoon (4 ounces) granulated sugar
1 large egg
1 teaspoon pure vanilla extract
1/2 teaspoon kosher salt
1 1/3 cups (8 ounces) chocolate chips (I used a combination of white and dark chocolate chips)
Instructions
Sift together the flour, cocoa powder, baking soda, baking powder, and ground coffee beans in a medium bowl.
With an electric mixer, beat the butter and both sugars together for about 1-2 minutes, or until smooth. Scrape down the sides of the bowl, and beat in the egg, vanilla, and salt, and beat on medium low until just combined.
With the mixer on low, add the sifted flour mixture to the butter mixture in 2 additions. Mix just until the dry ingredients disappear into the wet ingredients. Do not overmix.
Stir in the chocolate chips. Cover and refrigerate for at least 30 minutes.
Preheat the oven to 350 degrees fahrenheit and line 2 baking sheets with parchment paper. Use a small cookie scoop to place 1/2 inch balls of cookie dough 1 inch apart on the baking sheets. Bake for 10-12 minutes, or until the cookies look puffy but still slightly wet in the center. Cool completely before storing in an airtight container.
http://cakemerchant.com/2012/12/18/double-chocolate-espresso-cookies/
Notes:
Recipe from Demolition Desserts
*Freshly ground espresso beans really add to the flavor of this cookie, but if you don't have a coffee grinder, you can substitute instant espresso powder or coffee extract.
This is my favorite scoop for making cookies.