Scones get a bad rap.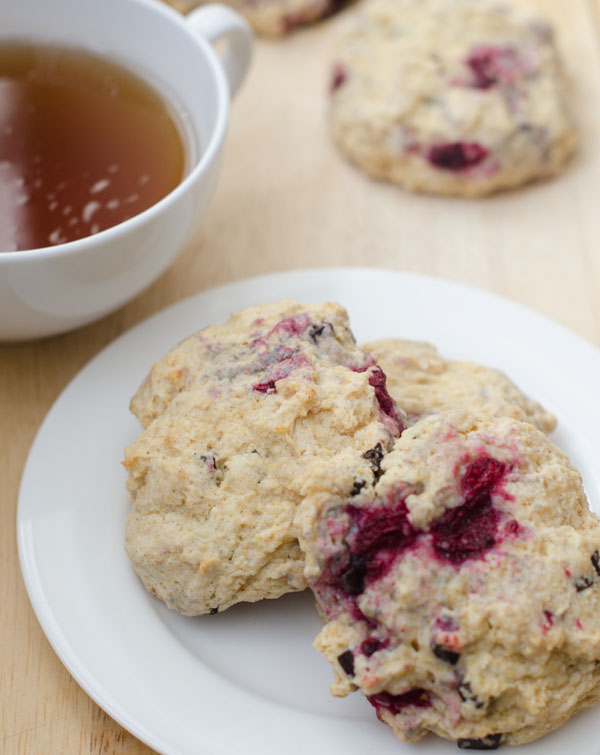 Generally, when I ask people if they like scones, they say no. And when I ask why, the standard answer is, "they're dry." Well sure, who likes dry scones? Not me. But then again, I'm generally not a fan of dry baked goods. My guess it that if you don't like scones, you've probably had a stale one from a not so great bakery, or tried to make one from a mix. But when it comes to scones, there's nothing like fresh out of the oven and made from scratch.
If you're intimidated by making scones from scratch, don't be. This recipe is easier than a mix! It comes together in a few minutes, and I didn't even bother to roll it out. The dough was soft, so I just used a measuring cup to drop it onto cookie sheets. These are truly a lazy girl's scone.
When I started this blog, I decided that I would only share recipes that I loved and would want to make again. While there have been a few failures in the kitchen this past week, this was not one of them. I promise you that these scones are light, flaky, and buttery (even with the lack of butter). But promise me that you won't over bake them. Or overmix them.
Serve these with a spot of tea, a pat of vegan butter, and a side of Downton Abbey.
Vegan Whole Wheat Chocolate Chunk Raspberry Drop Scones
Ingredients
1 1/2 cups cold non-dairy milk (I used almond milk)
2 teaspoons apple cider vinegar
3 cups flour*
2 tablespoons baking powder
1/2 teaspoon salt
1/2 cup granulated sugar, plus extra for sprinkling
1/2 cup cold nonhydrogenated shortening, cut into small cubes (I used Earth Balance)
2 tablespoons canola oil
1 teaspoon pure vanilla extract
1 1/2 cups fresh or frozen raspberries (if frozen, don't bother thawing)
3/4 cups vegan chocolate chips or chunks
Instructions
Preheat the oven to 375 degrees and line 2 baking sheets with parchment paper.
In a large measuring cup, mix the milk and vinegar and set aside to curdle for a few minutes.
In a mixing bowl, whisk together the flour, baking powder, salt, and sugar. Add the cubes of cold butter and use your finger or a pastry cutter to work it into the flour. The butter should resemble small pebbles.
Create a well in the center of the dry mixture. Add the milk mixture, canola oil, and vanilla extract. Mix together with a wooden spoon until the dry ingredients are just moistened. Gently mix in the raspberries and chocolate chips, taking care not to overmix.
Spray a 1/4 cup measuring cup and use it to scoop the dough onto the baking sheets. Sprinkle some granulated sugar onto the tops of the scones, and bake for 18-20 minutes. Remove from the oven when the scones are lightly browned on top and cool on a cooling rack.
http://cakemerchant.com/2013/01/21/vegan-whole-wheat-chocolate-chunk-raspberry-drop-scones/
Notes:
Scone recipe adapted from Vegan Brunch
*I used 2 cups of whole wheat pastry flour and 1 cup of AP flour. You can use any ratio you like.
Tips for success:
1. Make sure your butter and milk are cold.
2. Don't overwork your dough. This will convert the protein to gluten, and your scones will come out tough.
3. Don't over bake. Baking your scones even a few minutes too long can cause them to dry out.
Variations:
Lemon Blueberry Scones: Add 1 tablespoon lemon zest and 2 cups frozen blueberries.
Apricot Ginger Scones: Add 2 cups dried apricots and 1 tablespoon ground ginger.
Chocolate Orange Scone: Add 1 cup vegan chocolate chips and 1 tablespoon orange zest.
Cranberry Walnut: Add 1 1/2 cups of dried cranberries and 1/2 cup of chopped walnuts.