Valentine's Day is just around the corner, and this is one milkshake that will bring all the boys to the yard.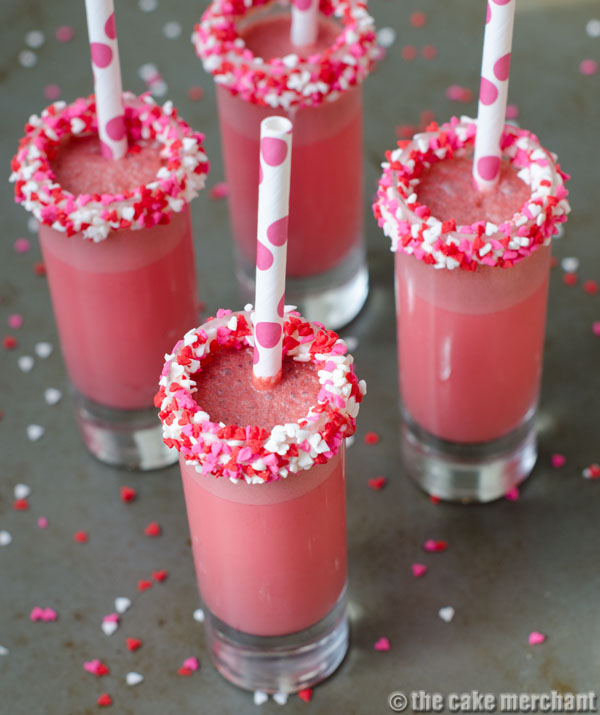 I know, lame joke, but I just had to get that out of my system. Now, on to more important things, like milkshakes! More specifically, cute little milkshakes in shot glasses. And it gets even better- they taste like cake! After seeing these mini milkshake shooters on heygorg.com, I knew I wanted to make a version of these for Valentine's day. I started by dipping the rims of some shot glasses in melted white chocolate, and then coating them with mini heart sprinkles.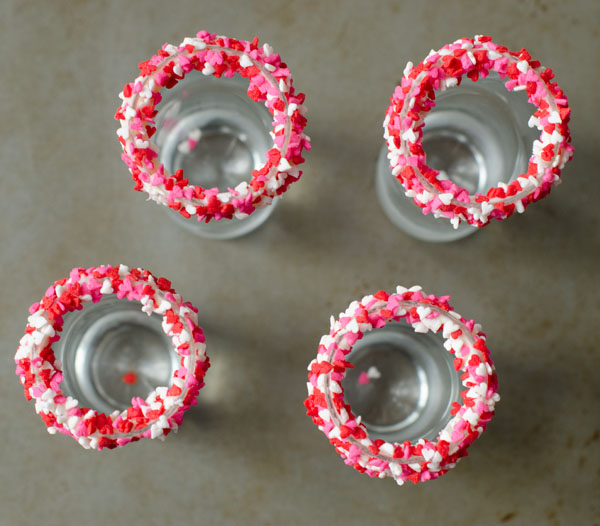 While they were setting up in the fridge, I started to get to work on the milkshake. Ice cream, milk, vanilla extract, red velvet cake mix, and some red food coloring went into a blender.
Blend, pour them into the shot glasses, add some cute straws, and you have dessert in 10 minutes. This recipe makes a small batch (About 4 shooters or 1 full sized milkshake), but you can easily double the ingredients for larger gatherings.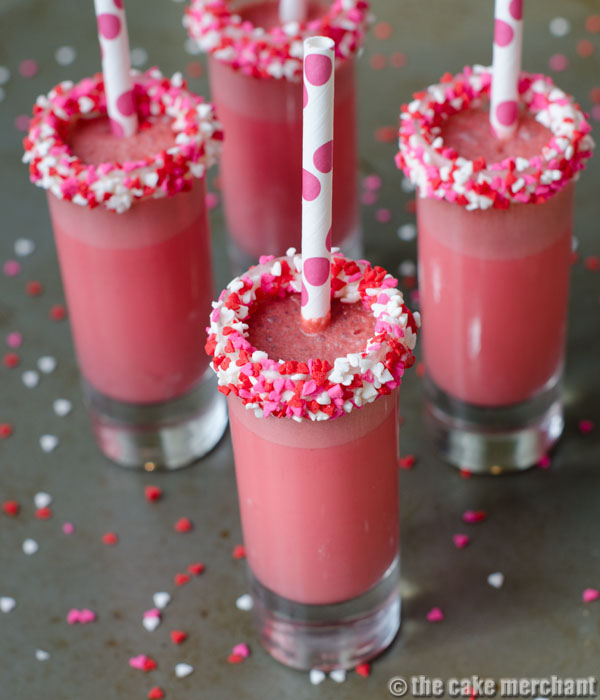 Red Velvet Cake Milkshake Shooters
Ingredients
For the rim:

2 ounces white chocolate, chopped
Mini heart sprinkles

For the Milkshakes:

1 cup cake batter (or vanilla) ice cream
1/3 cup whole milk
1/2 teaspoon vanilla extract
1 tablespoon red velvet cake mix
A couple of drops of Americolor Super Red food coloring (optional)
Instructions
In a double boiler, melt the white chocolate. Dip the rims of the shot glasses in the white chocolate, and while the chocolate is still wet, coat it with the sprinkles. Put the shot glasses in the fridge to set.
Put the ice cream, milk, vanilla extract, cake mix, and food coloring in a blender. Blend until combined and pour into the shot glasses.
http://cakemerchant.com/2013/01/28/red-velvet-cake-milkshake-shooters/
Notes:
I found the sprinkles at Michael's.
The shot glasses are 2.5 ounces and are from World Market.
For a pink milkshake, leave out the red food coloring.
For an adult version, add some cake vodka.