Cake, glorious cake!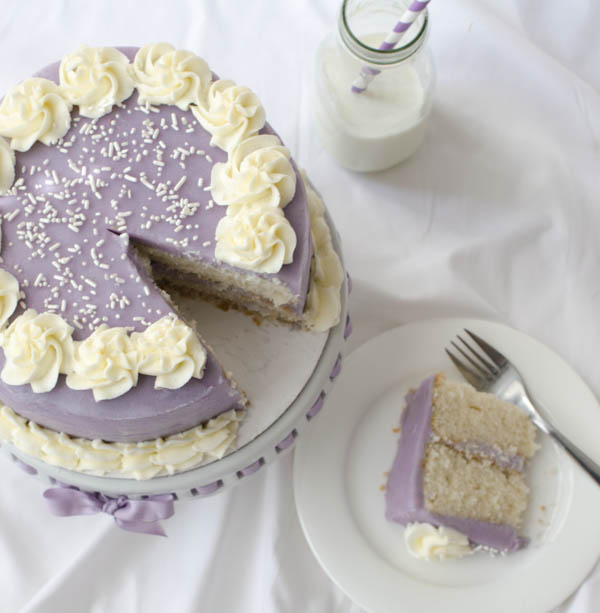 It's hard to believe that until recently, I rarely made vanilla cakes from scratch. In fact, I rarely made them at all. I found them to be too tempermental, bland in taste, and not worth the effort. All I can say in my defense is, what was I thinking?! It's true, when not done right, vanilla cakes can be dull and dry, but they can also be magnificent! The recipe I'm sharing today is my favorite so far. It's light, fluffy, and full of vanilla flavor.
I think that the turning point came for me when I got a kitchen scale
. If you bake often, it's worth the investment. Your cakes will turn out so much better if the measurements are accurate. I do everything by weight when I bake now, especially cakes. The results are so much more consistent. Oh, and if you don't want your cake to be dry, don't over bake this cake. Dry cakes are a sad, sad thing.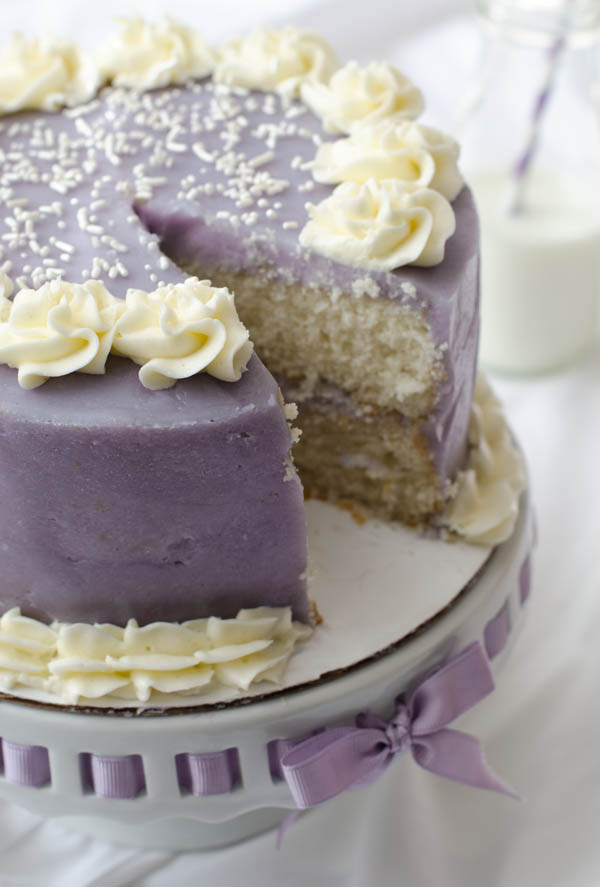 The original recipe, from The Cake Bible
, makes two 9-inch layers, but I scaled it down to fit two 7-inch round pans. I love my 7-inch pans. They're just the right size to make a cake for a small gathering. They're also just big enough to make a proper looking birthday cake that's not too diminutive (although I have nothing against diminutive desserts). This recipe will also work in 8-inch pans, but it won't be as tall, and you may need to adjust the baking time by a few minutes.
I also added a healthy dose of vanilla bean paste to the batter, since I love flecks of vanilla bean in my cake. It just makes it feel more…vanilla-y. If you want a whiter cake, you can use clear vanilla extract, but if you're going for taste, use the good stuff.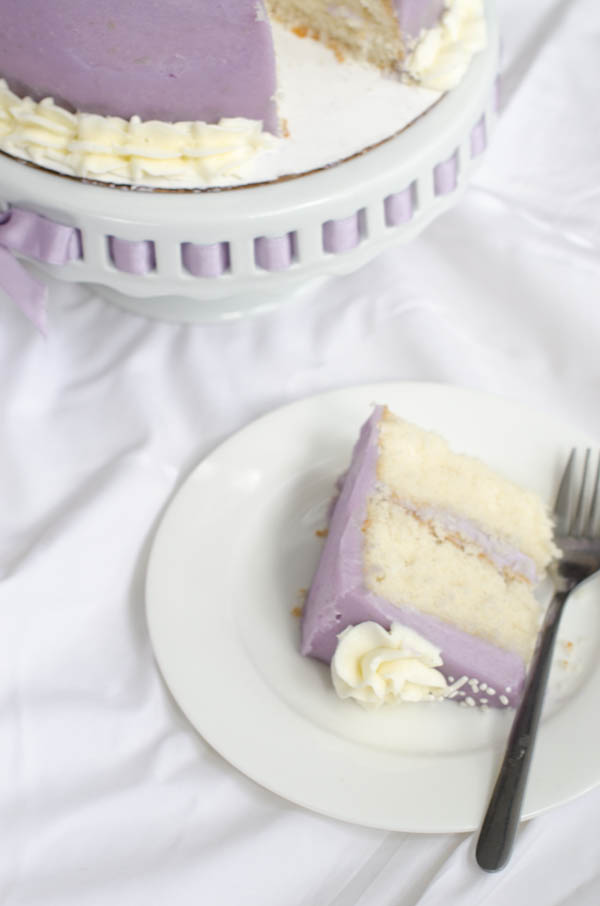 While I love a good vanilla Swiss Meringue Buttercream, my friends prefer the American variety. I was only 1/5 of the equation eating this cake, so I compromised and went with a not to sweet American Buttercream. However, I had to have my way when it came to the color, and in true Cake Merchant fashion, it had to be purple.
Fluffy White Cake with Vanilla Buttercream Frosting
Ingredients
For the cake:

3 large egg whites (90 grams), at room temperature
2/3 cup (160 ml) milk
2 teaspoons (8 grams) vanilla bean paste or pure vanilla extract
2 cups (200 grams) sifted cake flour
1 cup (200 grams) sugar
1 tablespoon (13 grams) baking powder
1/2 teaspoon (3 grams) salt
8 tablespoons (1 stick or 113 grams) unsalted butter, cut into pieces, at room temperature

For the frosting:

3 1/2 sticks (28 tablespoons or 396 grams) unsalted butter, at room temperature
2 1/2 cups (313 grams)  powdered sugar, sifted
a pinch of salt
2 teaspoons (10 ml) pure vanilla extract
3-4 tablespoons (15-20 ml) heavy cream (or milk)
food coloring of your choice (optional)
Instructions
For the cake:

Preheat the oven to 350 degrees fahrenheit. Line 2 7-inch round
In a bowl, combine the egg whites, 1/4 cup of the milk, and the vanilla bean paste.
In the bowl of a stand mixer, combine the cake flour, sugar, baking powder, and salt. Using the paddle attachment, beat on low for 30 seconds to combine.
Add the butter and remaining milk and beat on low until moistened. Turn the mixer up to medium speed and for 90 seconds.
Scrape down the sides of the bowl, and add the egg mixture in 3 separate additions, beating on medium after each addition.
Divide the batter evenly between the 2 pans (I used a scale to do this). Bake for 25-35 minutes, or until a toothpick inserted into the center comes out clean.
Cool the cakes on wire racks for 10-15 minutes. After they are slightly cooled, run a knife around the edge of the pan, and invert the cakes onto the wire racks. Cool completely before frosting.

For the frosting:

With an electric mixer, beat the butter on medium speed until it becomes pale and creamy (2-3 minutes).
Add the powdered sugar and salt and beat on low until combined. Turn up to medium and beat for an additional 2-3 minutes.
Add the vanilla extract and beat on medium, about 3 minutes.
Add the cream 1 tablespoon at a time until you reach the desired consistency. Add the food coloring, one drop at a time until you reach the desired color. Beat until the food coloring is fully incorporated.

Assembly

Place one layer of the cake on an 8-inch cake board. Place 1 cup of the frosting on top, and spread evenly with a palette knife. Place the second layer on top of the first.
Place a generous scoop of frosting on the top of the cake, and spread evenly across the top of the cake. Work your way around the sides until the entire cake is covered with a thin layer of frosting. I find that a turntable is helpful when frosting a layer cake. Let the crumb coat set in the fridge for about 30 minutes.
Once the crumb coat has set, spread a thicker layer of frosting on the top and sides of the crumb coat to create a smooth finish. Use the leftover frosting to pipe onto the cake and top with sprinkles.
http://cakemerchant.com/2013/02/26/fluffy-white-cake-with-vanilla-buttercream-frosting/
Notes:
Cake recipe adapted from The Cake Bible

Don't open the oven too early. If you want to open the oven to check on the cake while it is baking, wait at least 20 minutes before you do, or the cake may fall.
A kitchen scale 
and an oven thermometer
are invaluable tools when it comes to baking cakes.
My favorite video tutorials on crumb coating and smoothing a cake are from Zoe Bakes.
I use a turntable
and an offset spatula
for frosting the cake.
I used two of these
7-inch pans for making this cake.