New Years resolutions. Remember those? Yup, me too. I vaguely recall something about eating less sugar…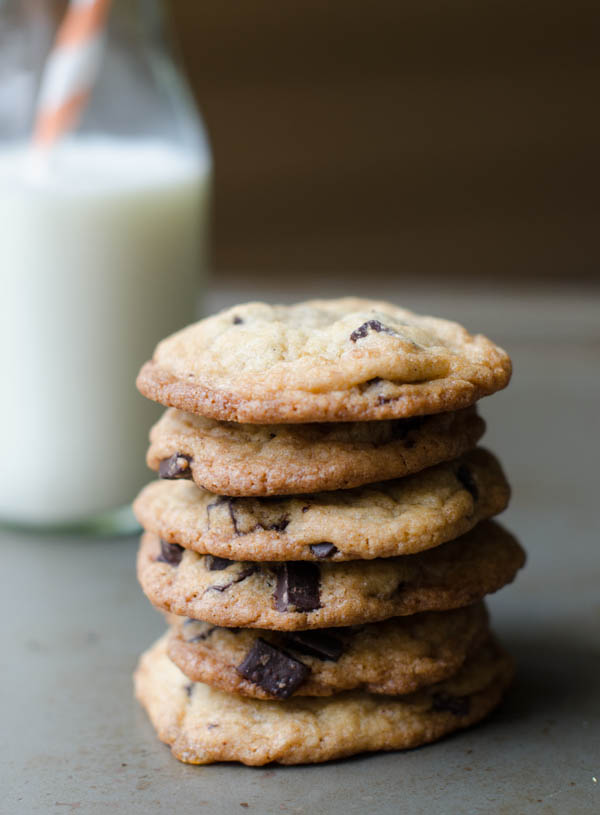 As much as I love baking layer cakes, the dessert that I crave most often is chocolate chip cookies. To me, they're like potato chips- you can't eat just one (or two, or three, or four). I've been known to eat half a batch right out of the oven, which is why I love the recipe that I'm about to share with you. The entire batch is pictured above. Yes, this recipe makes only 6 cookies. I can totally eat half the batch and not feel guilty about it. Gotta love built in portion control.
People often ask me how I bake so much without gaining a ton of weight. In order to eat dessert every day, I can't eat a large quantity of it. I often create my own small batch recipes by cutting an original recipe in half, or sometimes even a quarter. Here are some of my favorite tools for halving recipes.
CIA Measuring Spoon Set
– I like these because unlike most measuring spoon sets, this one has an 1/8 teaspoon measure as well as a 1/2 tablespoon measure. That way, when a recipe calls for 3/4 teaspoon of baking soda/powder and a want to cut it in half, I can measure out 3/8 accurately.
A Kitchen Scale
– I love this for so many reasons. Whether or not you are scaling down a recipe, accurate measurements are essential for a good cake. But sometimes I can't eat a 9-inch layer cake. This allows me to accurately measure ingredients for a 4, 5, or 6-inch layer cake.
Small Batch Chocolate Chip Cookies
Ingredients
1/4 cup plus 2 tablespoons all-purpose flour
1/8 teaspoon baking soda
1/4 teaspoon salt
3 tablespoons unsalted butter
1/4 cup dark brown sugar, firmly packed
2 tablespoons granulated sugar
1/2 teaspoon pure vanilla extract
1 tablespoon plus 1 teaspoon of a well beaten egg
1/2 cup chocolate chunks or chips
Instructions
1. Preheat the oven to 350 degrees fahrenheit and line a baking sheet with parchment paper.
2. In a small bowl, whisk together the flour, baking soda, and salt.
3. In a mixing bowl, beat the butter, brown sugar, granulated sugar, and vanilla with an electric mixer. (I used a handheld mixer since the amount was too small for my stand mixer).
4. Add the egg and beat until combined.
5. Stir in the flour by hand until combined, then stir in the chocolate chips.
6. Use a cookie scoop to place the cookies onto the baking sheet about 2 inches apart, and bake for 10-14 minutes, or until golden brown around the edges. Cool completely (or sneak one when they're still warm).
http://cakemerchant.com/2013/03/11/small-batch-chocolate-chip-cookies/
Recipe adapted from Small-Batch Baking
by Debbie Maugans Nakos
Note: I always chill the dough in the refrigerator for at least 1/2 hour before baking, since it improves the texture of the finished cookie. If you're patient enough, I highly recommend this.